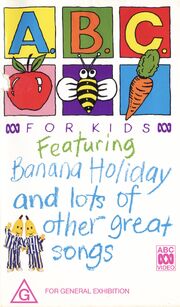 "ABC For Kids: Featuring Banana Holiday and Lots of Other Great Songs" is an ABC For Kids video released in 1994. It features music videos from various artists.
Songs
Lift Off - Theme from the ABC TV series
Spider in the Bath - Theme from the ABC TV series
Dr Knickerbocker - Mike Jackson and Ian Blake
Jollity Farm - Mic Conway
Banana Holiday - B1, B2, The Teddies, Rat in the Hat
Ossie Mozzie - Don Spencer
Surfing with the Seagulls - George Spartels
Hey, Hey, Blinky Bill - Blinky and the Gang
Der Glumph - Benita, Noni, Monica
Bugs and Beetles - Franciscus Henri
I Can Do Magic - Gillian Eastoe
Trivia
Henry the Octopus in this video from Wiggle Time!.
The opening sequence which debuted on this video was so popular at the time (despite being completely all done in CGI animation as it looks a little cheap), it was used as a TV sting for the ABC For Kids TV block on ABC TV from 1995. Also, this was still used until 2009 after it became mostly redundant.

It's also been used in the 1998-2008 ABC For Kids promo, but it was edited to remove the part where the "Lots of Great Songs!" title is being formed.

Jollity Farm and I Can Do Magic are both re-used from ABC For Kids: Live In Concert, although Jollity Farm is now placed in a border. Also, Jollity Farm and I Can Do Magic don't have their song titles from their original video.
Goofs
Gallery
Opening
The Wiggles' Performance
Covers
See Also
The Wiggles Videography
Murray

,

Jeff

,

Anthony

and

Greg

(1993-2006, 2012, 2018)
Wiggle Time! (1993) • Yummy Yummy (1994) • Big Red Car (1995) • Wake Up Jeff! (1996) • Wiggledance! (1997) • Wiggly, Wiggly Christmas (1997) • Wiggle Time! (remake, 1998) • Yummy Yummy (remake, 1998) • Toot Toot! (1998) • The Wiggly Big Show (1999) • It's a Wiggly Wiggly World! (2000) • Hoop-Dee-Doo it's a Wiggly Party (2001) • Yule Be Wiggling (2001) • Wiggly Safari (2002) • Wiggle Bay (2002) • Space Dancing! (2003) • Whoo Hoo! Wiggly Gremlins! (2003) • Top of the Tots (2004) • Cold Spaghetti Western (2004) • Santa's Rockin'! (2004) • LIVE Hot Potatoes! (2005) • Sailing Around the World (2005) • Here Comes The Big Red Car (2006) • It's Time to Wake Up Jeff! (2006) • Splish Splash Big Red Boat (2006) • Wiggledancing! Live In The U.S.A. (2006) • Racing to the Rainbow (2006) • Surfer Jeff (2012) • Celebration! (2012) • The Wiggles Reunion Show (2018)
Feature Film
The Wiggles Movie (1997)
Spin-Offs
The Dorothy the Dinosaur and Friends Video (1999) • Captain Feathersword the Friendly Pirate (2000)
Other
Dorothy the Dinosaur Goes to Hospital (Promo video, 1999) • Bonus Sampler Video (Promo video, 2004) • Happy 15th Birthday! (Documentary, 2006)

Murray

,

Jeff

,

Anthony

and

Sam

(2007-2011)
Wiggledancing! Live In Concert (2007) • Getting Strong! (2007) • Pop Go The Wiggles! (2007) • You Make Me Feel Like Dancing (2008) • Sing a Song of Wiggles (2008) • The Wiggles Go Bananas! (2009) • The Wiggles Big, Big Show! (2009) • Hot Poppin' Popcorn (2009) • Hot Potatoes! The Best of The Wiggles (2010) • Let's Eat! (2010) • Ukulele Baby! (2011) • The Wiggles' Big Birthday! (2011) • It's Always Christmas With You! (2011)
Other
On The Road With The Wiggles (Documentary, 2008) • Wiggle Treats! (Promo video, 2011) • Everybody Clap! Everybody Sing! (Documentary, 2011)

Anthony

,

Lachy

,

Simon

and

Emma

(2013-2021)
Taking Off! (2013) • Furry Tales (2013) • Pumpkin Face (2013) • Go Santa Go! (2013) • Hot Potatoes! The Best of The Wiggles (new version, 2014) • Apples & Bananas (2014) • Wiggle House (2014) • Rock & Roll Preschool (2015) • The Wiggles Meet The Orchestra! (2015) • Wiggle Town! (2016) • Dance Dance! (2016) • Wiggle Around Australia (2017) • Duets (2017) • Nursery Rhymes featuring CinderEmma! A Musical Fairytale! (2017) • Wiggly, Wiggly Christmas! (2017) • The Best of The Wiggles (2018) • Nursery Rhymes 2 (2018) • Wiggle Pop! (2018) • The Wiggles' Big Ballet Day! (2019) • Party Time! (2019) • Fun and Games (2020) • Choo Choo Trains, Propeller Planes & Toot Toot Chugga Chugga Big Red Car! (2020) • We're All Fruit Salad!: The Wiggles' Greatest Hits (2021)
YouTube videos
Nursery Rhymes (2016) • Emma's Bowtiful Ballet Studio (2017) • Nursery Rhymes 2 (2018)
Spin-Offs
Dial E For Emma! (2016) • Lachy! (2017) • The Emma! & Lachy! Show (2018)

Anthony

,

Lachy

,

Tsehay

and

Simon

(2022-present)
Super Wiggles (2022)

Dorothy the Dinosaur

(2007-2012)
Dorothy the Dinosaur's Party (2007) • Dorothy the Dinosaur's Memory Book (2008) • Dorothy the Dinosaur Meets Santa Claus (2009) Dorothy the Dinosaur's Rockin' Christmas (2010) • Dorothy the Dinosaur's Travelling Show! (2011) • Dorothy the Dinosaur's Beach Party! (2012)
More from The Wiggles
ABC For Kids
Video Hits (1991) • Video Hits Volume 2 (1992) • Live In Concert (1993) • Featuring Banana Holiday and Lots of Other Great Songs (1994)
The Kingdom of Paramithi
The Kingdom Of Paramithi (2009) • All Time Favourite Fairytales (2009) • Tales of Enchantment (2010) • All Time Favourite Fairytales Bumper Edition (2010) • Cinderella Pantomime (2011)