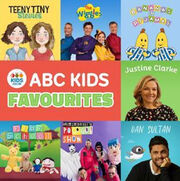 ABC Kids Favourites is a compilation album that was released on September 20th 2019.
Songs
Regurgitator's Pogogo Show – ABC Animals
Dan Sultan – Bwindi
Play School – A Sailor Went To Sea
The Wiggles - I Am a Fine Musician
Justine Clarke – A Banana is a Banana
Teeny Tiny Stevies – How To Apologise
The Sticker Club – Caterpillar
Juice Music – I'm A Little Teapot
The Wiggles - Dance with Your Balloon
Team Rescue – Team Rescue Theme Song
Bananas in Pyjamas – Banana Emergency
The Green Bananas – Do The Ape
Regurgitators Pogogo Show – Pogogo Show Theme
Giggle and Hoot – The Gigglearium Rhyme Song
Pevan & Sarah and Taryn Brumfitt – Embrace
The Wiggles - My Ballet Goat
Dan Sultan – Nali
Sugar Kane Music – Three Little Fishes
Tiptoe Giants – Hello Song
Teeny Tiny Stevies – Shoelaces
The Vegetable Plot – Mango
Justine Clarke – These are some things that are True
The Sticker Club - I Can Jump Puddles
Battlebird – Wait, What?
Giggle & Hoot – Go Gigggleosaurus
The Wiggles - The Alphabet Ballet
Play School – Der Glumph
Teeny Tiny Stevies – Light as a Bubble
Regurgitator's Pogogo Show - The Box
Bananas in Pyjamas- Teddy Bear Twist
Team Rescue – Stop and Think!
Pevan & Sarah – Be Kind
Tiptoe Giants – Tiptoe Giants
The Vegetable plot – The Pajamazon Jungle
Dan Sultan – Macca
Play School – Twinkle Twinkle Little Star
Community content is available under
CC-BY-SA
unless otherwise noted.