ABC for Kids TV Themes is an album released in 2014.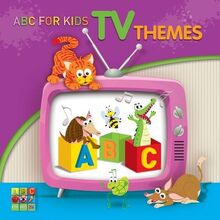 Songs
Play School Theme - Play School
Giggle and Hoot Theme Song - Giggle and Hoot
Bananas in Pyjamas Theme Song - Bananas in Pyjamas
Sesame Street Theme - Sesame Street
In The Night Garden Opening Theme - In The Night Garden
Miffy and Friends (Theme Song/Title Song) - Miffy and Friends
Teletubbies Theme Song - Teletubbies
Ready, Steady, Wiggle! - The Wiggles
Gaspard and Lisa Theme Song - Gaspard and Lisa
Small Potatoes Theme Song - Small Potatoes
Give it Up For Da Easy Crew (Rastamouse Theme) - Rastamouse
I'm Dorothy the Dinosaur! - Dorothy the Dinosaur
Hoot's Lullaby - Giggle and Hoot
dirtgirlworld Theme Song - dirtgirlworld
The Wotwots Theme Song - The Wotwots
Waybuloo Theme - Waybuloo
Mister Maker Theme - Mister Maker
Hoopla Doopla Theme Song - Hoopla Doopla
Honk Your Horns (Chuggington Theme Song) - Chuggington
Yo Gabba Gabba Theme Song - Yo Gabba Gabba
Timmy Time Theme Tune - Timmy Time
Zigby Theme Song - Zigby
Hey Hey Blinky Bill (Blinky Bill Theme Song) - Blinky Bill
The Hive (Main Theme) - The Hive
Bookaboo Theme Song - Bookaboo
Welcome to Lazytown - Lazytown
It's Magic, Magical Tales (Opening Theme Title) - William and Sparkles Magical Tales
Here Comes Maya the Bee - Maya the Bee
Elmo's World - Sesame Street
Mr. Squiggle Theme - Mr. Squiggle
Bananas in Pyjamas (instrumental) - Bananas in Pyjamas
Community content is available under
CC-BY-SA
unless otherwise noted.