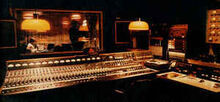 Albert Studios is is one The Wiggles' 3rd recording studios from 2000 to 2001 that they record It's a Wiggly Wiggly World! and Hoop-Dee-Doo! It's A Wiggly Party until they come back to Electric Avenue Studios.
Songs Recorded
It's A Wiggly, Wiggly World!
In The Wiggles' World
Here Come The Wiggles
In The Big Red Car We Like To Ride
Let's Meet Slim Dusty
I Love To Have A Dance With Dorothy
Let's Meet Christine Anu
Taba Naba
Let's Meet Rolf Harris
Tie Me Kangaroo Down Sport
Let's Meet Kamahl
Sing With Me
Let's Meet Human Nature
One Little Coyote
Hey, Hey, Hey We're All Pirate Dancing
Another Cuppa
Let's Meet Tim Finn
Six Months In A Leaky Boat
Blow Me Down
Let's Go (We're Riding In The Big Red Car)
Porcupine Pie
Let's Meet Jimmy Little
MorningTown Ride
Intro To Haru Ga Kita
Haru Ga Kita
Hoop-Dee-Doo It's A Wiggly Party
Wiggly Party Intro
Wiggly Party
Hoop Dee Doo Intro
Hoop Dee Doo
Little Children
Move Like An Emu Intro
Move Like An Emu
Captain's Magic Buttons
Dance The Ooby Doo (With Dorothy The Dinosaur)
Play Your Guitar With Murray
Marie's Wedding Intro
Marie's Wedding
Zoological Gardens Intro
Zoological Gardens
Swim Henry Swim
Wiggle Hula
Fun On The Farm Intro
Fun On The Farm
Let's Spend A Day At The Beach Intro
Let's Spend A Day At The Beach
Caveland
Run Around Run Run
The Wobbly Dance
Community content is available under
CC-BY-SA
unless otherwise noted.