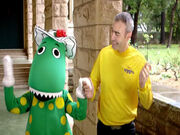 An Irish Dinosaur Tale is a Wiggles song from the Surfer Jeff video and album.
Lyrics
A long time ago in an old Ireland town,
I was born of that I am sure
A flower that grew at the place of my birth
For Dorothy the Dinosaur.

These flowers they travelled across the Earth
To celebrate my birth
For five million years this beautiful planet
Has been shared throughout the Earth.

I love to dance the Irish jig
To swing, to twirl and to dance
I dance with my flower across this land
And taught children my dinosaur dance.
Song Credits
Trad. Arr. Murray Cook, Jeff Fatt, Anthony Field, Greg Page, Simon Pryce (Wiggly Tunes Pty Ltd)
Trivia
Emma Watkins is a Wiggly Dancer in this song.
The song's musical structure is a re-recording of the 1996 instrumental "Pipers Waltz".
Likewise, the tin whistle was removed while the glockenspiel and accordion are added
This song reveals Dorothy's international background.