"Anthony's Friend"

The Wiggles TV Series 1, Episode 1

Information
Airdate

July 31, 1998 (AU)
September 1, 2002 (US)

Tracklist
Approx. Running Time

12:09 (Sprout)
22:36

Episode Guide
Next

"Foodman"
"
You're the funniest turtle!
"
"Anthony's Friend" is the 1st episode of TV Series 1.
Synopsis
Anthony has an imaginary friend, Morty the Turtle, which leaves the other Wiggles confused.
Plot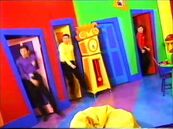 Anthony wakes everyone up by making noise while playing with his "friend" Morty. When Greg, Jeff, & Murray ask him about Morty, they find a mess in the kitchen. Anthony says that Morty was just making breakfast. The three start to wonder if Anthony's playing a trick on them. Dorothy comes and says hi to Morty, when The Wiggles ask Dorothy if she sees him. Dorothy says no but that he's Anthony's friend. Anthony asks if Morty can play at the next concert, but Greg says no-one can see him. Anthony becomes sad that he can't play, but Greg says he didn't say he can't but Anthony gets the wrong message and helps Morty to rehearse. Morty opens the door, puzzling Greg, Murray and Jeff.
Wiggly Trivia
Who made the mess in the kitchen?
Was it Anthony or was it Morty?
Or was Anthony playing a trick on all of us?
Songs
Ponies (from Wiggle Time!)
Henry's Dance (from Yummy Yummy)
Appearances
Alternate titles
Dorothy's Party/The Octomobile! (Sprout title)
Trivia
Even though this is the first episode of The Wiggles aired on TV, it wasn't the first one filmed. This was filmed after "Funny Greg" and "Muscleman Murray", making this likely the third production episode.
For the Disney Channel Australia, this episode aired in 1999 after the broadcast special of The Wiggles' pay television debut: The Wiggles in Disneyland.
The Season 1 intro shows deleted scenes from this episode:

Jeff yawns before he says "Morty, who's Morty?".
Murray smiles in relief after Anthony says that he and Morty won't make any more noises, or maybe it could be a blooper from when he was saying "Anthony there's no-" but he accidentally patted his nose.
An alternate shot of Anthony saying "You can't miss him, he's this big!".

During the Kindergarten segment, there is a Bear in the Big Blue House poster.
The Wiggles Episodes
Wiggle and Learn (2008)
22-minute versions
Move and Groove | Musical Landscape | Wiggle Dance | The King of Swing | Bailar y Cantar | Barnyard Boogie | The Bobby Bounce | The Black Velvet Band | Fun in the Sun | My Fair Lady! | So Early in the Morning | Soy Capitan! | Together We Live So Happily | Oh, Captain! | The Biggest Smile of All | The Queen of the Land | Get the Rhythm of the Hips | Hear the Drumbeat | Teddy Bear Touch the Ground | Meadowsweet and Lady Smocks | Ding, Ding, Dong! | Buzz, Buzz, Buzz | Shall We Dance? | Dance This Way | Kittens and Mittens | Surf, Sand and Sun
11-minute versions
We Feel Like Dancing | The Shimmie Shake | Let's Get the Rhythm | Over in the Meadow | I Spy | Keep Moving! | Who Am I? | Murray Had a Turtle | La Bamba | Oranges and Lemons | Hey Diddle Diddle | This Way and That | Jeff Gets a Letter |This Old Man | A Sailor Went To Sea | Her Eyes Shone Like Diamonds | Beach, Beach, Sandy Beach | Old Dan Tucker | London Bridge | There Was a Princess | The Banana Boat | Incy Wincy Spider | Fairy Dancing! | Getting Strong | Pussycat, Pussycat | Fun at Wigglehouse | Hello! | The Five Senses | Big, Bigger, Biggest! | See-Saw | Musical Landscape | D is for Dorothy | The Sporting Salsa! | Jack and Jill | Wags House | Two Fine Gentlemen | Teddy Bear, Teddy Bear | Wiggletastic | English Country Garden | Circus Fun | Frère Jacques | The Turkey in the Straw | Twinkle Twinkle | Sam Gets a Letter | I'm A Cowboy | Smell Your Way Through the Day | The Horn Pipe | Miss Polly Had A Dolly | Allo, Allo, Allo! | Three Little Kittens | Nick-Nack Paddy-Wack | I Drive the Big Red Car
Community content is available under
CC-BY-SA
unless otherwise noted.