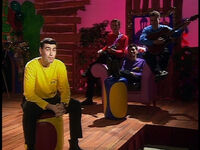 .Away in a Manger is a Christmas song from Wiggly, Wiggly Christmas, Santa's Rockin'! and Go Santa Go!.
Song Lyrics
Away in a manger, no crib for a bed
The little lord Jesus lay down his sweet head
The stars in the night sky look down where he lay
The little lord Jesus asleep in the hay

The cattle a-lowing, the baby awakes
But little lord Jesus, no crying he makes
I love thee lord Jesus, look down from the sky
And stay by my cradle, 'till morning is nigh

Be near me Lord Jesus, I ask thee to stay
Close by me forever and love me, I pray
Bless all the dear children in thy tender care
And take us to heaven to live with thee there
Song Credits
M Cook/J Fatt/A Field/G Page (EMI)
Wiggly, Wiggly Christmas! (2017)
Trivia
The song is sung and played differently in each version.
The 2013 CD version is longer than the DVD version.
The 1996 and 2017 versions play in C where as the 2004 and 2013 versions play in C and D.
The 2017 version of the song was uploaded on The Wiggles' YouTube channel on December 9th 2018.
Video
Community content is available under
CC-BY-SA
unless otherwise noted.