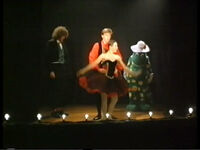 "
Ballerina, Ballerina
" is a song from
The Wiggles Movie
.
Listen
Song Lyrics
Ballerina, Ballerina
Ballerina, Ballerina
Pirouette, temps le ve, Pas de chat
Et Fouette, Et Foutette

See the dancing ballerina
See her jump in the air
Soubre, sauts, et Aventre chat, Allegro,
Allegro, Allegro

Pirouette, temps le ve, Pas de chat
Et Fouette, Et Foutette
Et Fouette, Et Foutette
Song Credits
Written and composed by John Field. Published by Wiggly Tunes Pty Ltd.
Rock & Roll Preschool
Trivia
The guitar is removed on the movie version.
The 1997 version plays in A, The 2005 and 2006 versions plays in A-flat, The 2008 version plays in D, the 2007 and 2009 versions plays in G, and the current version since 2015 plays in E.
On May 21st 2017, the song was uploaded on The Wiggles' YouTube channel as part of Emma's Bowtiful Ballet Studio.
Roger Lemke is not credited for singing lead vocals on the 1997 version. Instead, actor Paul Paddick sings in his unusually operatic tenor voice.
The concert version was the first version to have The Wiggles in it.
Appearances
Video Appearances
Album Appearances
Episode Appearances
Miscellaneous
Community content is available under
CC-BY-SA
unless otherwise noted.