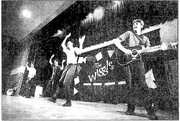 "Big Red Car Tour" is a concert that toured Australia in 1995 and early 1996. It is the first tour that features the original Big Red Car and it's seating arrangement. Magic Greg also appeared on this tour. The December 1995 concerts at the Seymour Centre were referred to as "The Wiggles Happy Holiday Show" at which songs from Wake Up Jeff! are known to have been performed. Some footage was shot for a short segment on the Australian lifestyle television show, Healthy, Wealthy and Wise, in November 1995 and two songs, Can You (Point Your Fingers And Do The Twist?) and D.O.R.O.T.H.Y. (My Favourite Dinosaur), appeared at the end of the Wake Up Jeff! video.
Setlist
1995
Known songs only, may be out of order, song selection may have differed between concerts.
Happy Holiday Show/1996
Out of these additional songs, only Henry's Underwater Big Band is confirmed for the Happy Holiday Show. Others are surmised from photographs that appear to show early 1996 concerts. It is also unknown how many songs from the 1995 Big Red Car tour were kept in for the December 1995 and early 1996 tours.
Rumored Songs
Everybody Is Clever - Photo of The Wiggles doing statues exist and could be part of the song's prologue, if the song was performed.
Tour Dates
(Known dates only)
6-7 March 1995 - Albert Hall, Canberra ACT
Unknown dates between 1 April-13 April and 24 April-28 May 1995 - Australia's Wonderland, Sydney NSW (Note: The Wiggles performed at ABC For Kids Concerts with Monica Trapaga, Incy Wincy, Blinky Bill, Postman Pat and more between these dates as part of Kidz Fest '95)
8 April 1995 (?) - Hampton Park Community Hall, Hampton Park VIC (This is the concert at which a child asked Anthony if he was "real" or "make believe")
14 April 1995 - Royal Children's Hospital, Melbourne VIC (Telecast live for the Good Friday Appeal)
Unknown date, circa April 1995 - Unknown venue, Blackburn VIC (featured in Healthy, Wealthy, and Wise)
17 July 1995 - Adelaide High School, Adelaide SA
18-19 July 1995 - Latvian Hall, Unley High School, Adelaide SA
Unknown date 1995 - Castlereagh School, Willetton WA
2 September 1995 - His Majesty's Theatre, Perth WA
2 September 1995 - Cygnet Cinema, Como WA
25 September 1995 - Newcastle Workers Club, Newcastle NSW
26 September 1995 - Bankstown Sports Club, Bankstown NSW
27 September 1995 - Parramatta Leagues Club, Parramatta NSW
28 September 1995 - Berowra Community Centre, Berowra NSW
29 September 1995 - Shellharbour Workers Club, Shellharbour NSW
2 October 1995 - The Therry Centre, Maitland NSW
3 October 1995 - The Mary Shiel Centre, Campbelltown NSW
4 October 1995 - Pittwater High School, Mona Vale NSW
5 October 1995 - Scot's College, Bellevue Hill NSW
17 October 1995 - Queanbeyan Bicentennial Hall, Queanbeyan NSW
11 November 1995 - David Jones Department Store, Sydney NSW
6 December 1995 - Lea Theatre, Port Augusta SA
18-21 December 1995 - Seymour Centre, Sydney NSW known as "The Wiggles' Happy Holiday Show" (Tagline: "The show follows the adventures of Dorothy the Dinosaur," and is "full of swash buckling piracy, peril on the high seas" and "favourites such as Henry the Octopus, Captain Feathersword, Wags the Dog and Henry's Underwater Animal Big Band")
23 December 1995 - Carols in the Domain (Note: The Wiggles also performed a pre-concert show at 5:30pm, as well as performing in the main event which commenced at 8:00pm)
31 December 1995 - Tumbalong Park (as part of New Year's Eve at Darling Harbour, along with The Simpsons, Jacinta Herrara and Jeff Duff and The Prophets)
8-9 January 1996 - Dallas Brooks Hall, Melbourne VIC (as "Happy Holiday Show")
Trivia
Peter Mackie was a roadie for some concerts on this tour. Apart from this (along with Greg Page, Anthony Field, Jeff Fatt, Murray Cook and Paul Paddick) the cast is currently unknown.
In one of Greg's Wiggly Questions videos, he said that during the song Hat On My Head his pants ripped in half.
Murray

,

Jeff

,

Anthony

and

Greg

(1993-2006, 2012, 2016, 2020, 2022)
Murray

,

Jeff

,

Anthony

and

Sam

(2006-2011)
Anthony

,

Lachy

,

Simon

and

Emma

(2013-2021)
Anthony

,

Lachy

,

Simon

,

Tsehay

,

Evie

,

John

,

Caterina

and

Kelly

(2022-Present)