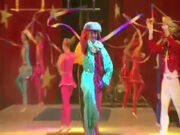 Brad Carroll (born in 1983) is one of The Wiggly Dancers and Purple Wiggle when Jeff was having surgery. He also filled in for Murray briefly in 2010, during the Wiggly Circus tour when Murray was having a family emergency. He also played Captain Feathersword in Dorothy's Traveling Show TV Series.
He appears in The Wiggles Big, Big Show In The Round, Dorothy the Dinosaur's Rockin' Christmas, Greatest Hits, The Wiggles' Big Birthday!, Ukulele Baby! and It's Always Christmas With You!.
He first appeared on the Big Big Show in The Round tour in late 2009. He then filled in for Jeff on the North American leg of the Ukulele Baby tour in 2011, while Jeff had surgery for the first time. He is currently working as a vocalist, accompanist and music coach at Brad Carroll Music Services.
Trivia
He was the only Wiggly Dancer who filled in for both the red and purple wiggle during a Wiggles concert.
He was a member of The Manzillas.