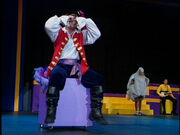 Captain Feathersword's Crying Skit is a scene where Captain Feathersword is feeling very sad.
List of Instances
The Wiggles Big Show, Wiggle Time! (1998), Barney's Musical Castle (VHS Version, only the ending part) World Tour, Yule Be Wiggling Christmas Show, The Wiggles at Wonderland, Sydney, The Wiggles' 10th Birthday Tour, Wiggly Party: Live in Concert, Wiggly Safari Show, Wiggly Safari Tour, The Wiggles Live In Concert (2003 Tour), The Celebration Tour!, Christmas Celebration Tour!, The Wiggles' Wiggly Songtime! Show, Furry Tales, Let's Go Driving in the Big Red Car!, Percussion Party, Joannie Works with One Hammer, Wiggle Wiggle Wiggle! Canada Tour, Wiggle Pop! Big Show, Wiggle Fun Tour!, Party Time Big Show, Little, Little, Little Lord Fauntleroy & The Original Wiggles Reunion Show For Bush Fire Relief - He cries after the part where the 5 little ducks go away from father duck
Jeff the Mechanic - He cries after Wags takes his Feathersword and swaps it for a fake
Lilly - He cries when Wags pours water on him thinking that it's raining
Zardo Zap - He cries when he can't find his hat with a feather
Spooked Wiggles - He cries after being thrown in the water
Nutrition & Captain Feathersword the Friendly Pirate - He cries after Wags tricks him into thinking that he shrunk him (who turns out to be Skally)
Whoo Hoo! Wiggly Gremlins!, Wiggly Animation, Lights, Camera, Action! 好戲上場, and Episodio 9 - He cries when he asks "What about dessert?"
It's Time to Wake Up Jeff! (A.K.A "Wiggle Around the Clock") & Playing a Trick on the Captain - He cries during the part when he forgot to remember his birthday
Hot Poppin' Popcorn - He cries during epilogue scene, due to the circus ending
Dorothy the Dinosaur's Travelling Show! - He cries during during the part when John the Cook (Nat Jobe) tells him he can't have the cake and it's for Dorothy the Dinosaur.
Captain's Birthday Party - He cries when nobody's here at his birthday party.
How Are You Feeling Today? - He cries when Anthony quickly tries to save the vase from breaking again and tosses it to him, only for the vase to miss and breaking once again.
Gallery