These are the several different costume designs of Captain Feathersword from 1993 onward. In his debut, he was portrayed by Anthony Field, John Field and Paul Field, then in 1996, he was portrayed by Paul Paddick, who has played the character ever since.
Design 1
1993-1995: Captain was played by Anthony, John and Paul Field, his hat is wide with black, red and purple feathers and the feathersword is only red. His eyepatch is covering his left eye rather than his right. He has long boots, dark blue trousers (shown in the cartoon version) and a short purple belt.
Appears in
Design 2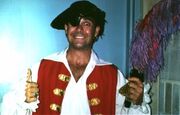 1996-1997: Captain is now played by Paul Paddick and has purple and black on his feathersword. His eyepatch was moved to his right eye from his left. His hat is also smaller and has black and red, but can barely be seen due to the placement of the feathers. 
Appears in
Design 3
1997-2001: Captain's jacket has become slightly smaller and the buttons are bigger. His trousers are now black with the gold stripe. His belt is also a different shade of purple. There are 6 versions of his hat and sword, but his jacket, vest and trousers stay the same.
Version 1 appears in
Version 2 appears in
Version 3 appears in
Version 4 appears in
Version 5 appears in
Version 6 appears in
Design 4
2001-2006: The buttons on his jacket have gotten smaller and shinier, the jacket is also a slightly darker shade of red. The collar is also different. The trousers are less looser than the previous design, they keep the same colour and the gold stripe. There are different variations of the hat and sword as well. In Wiggly Safari, Captain's wetsuit makes its first appearance and also makes an appearance in Live Hot Potatoes.
Version 1 appears in
Version 2 appears in
Version 3 appears in
Version 4 appears in
Version 5 appears in
Version 6 appears in
Version 7 appears in
Design 5
2006-: 
Design 6
2012-Present