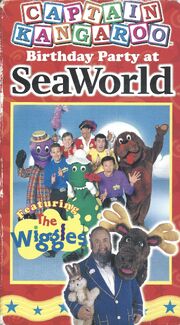 Captain Kangaroo's Birthday Party at Sea World is a VHS released by Fox Family in 1999. It features The Wiggles as special guests. It could be possible that this aired on the Fox Family Channel before or after it was released on home video[1]
Official VHS Description
Come join the fun as the whole Treasure House gang Mr. Greenjeans, Mr. Moose, Bunny Rabbit, Joey and Grandfather Clock wish Captain Kangaroo the merriest birthday ever.
Shamu will be there! So will penguins...and seals...huge sea turtles and long-legged flamingos, because the Captain's birthday bash is at SeaWorld.
In honor of the Captain, there are all kinds of surprises...magic and jokes and gifts galore. Best of all, Australia's silliest singing group, The Wiggles, are joining the celebration with songs and dances that will have you wiggling, too. So won't you help make the Captain's big day special? The only gift you need to bring is a smile.
Songs
Reference