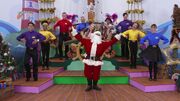 Christmas Special is the third episode of Fruit Salad TV that was uploaded to The Wiggles' YouTube channel on December 10, 2021.
Songs
Trivia
The Wiggles' coloured stocking from Yule Be Wiggling returns in this video.
Because Paul Paddick was unable to attend filming due to border closures living in Queensland as well as a family member's illness, Victor Valdes fills in as the role of Captain Feathersword in this special, as does Anthony as the secondary voice of Santa Claus.
This is the first Fruit Salad TV episode where Tsehay wears yellow rather than red due to the departure of Emma.
This is also the first holiday themed episode the wiggles have ever done, not counting the OG Wiggles Series 1 episode Spooked Wiggles, in which fans consider it as a Halloween themed episode.
Dominic Field returns to pursue the role of Santa Claus, as well as providing his voice for the first time.
There are seven Wiggles in this episode rather than eight due to Tsehay replacing Emma, leaving Simon as the only red Wiggle in the series until they find a second one.
This episode marks the first appearence of Paloma the Mermaid.
This is the first episode since Do The Twist! to be filmed on location.
This is the first episode where Say Goodbye, Pizza Pie! was not sung at the end.
One song from the album, When Joseph Was an Old Man, does not appear in this special.
Video