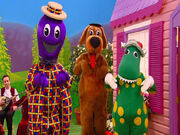 Come On Let's Jump is a short song from the Yummy Yummy album. It later appeared on the Furry Tales video and album.
Listen
Lyrics
Come on, let's jump.
It's fun to do like a kangaroo.
Song Credits
Written Murray Cook, Jeff Fatt, Anthony Field and Greg Page, published by Wiggly Tunes Pty Ltd, previously published by EMI Music.
Trivia
The Live from Hot Potato Studios version was uploaded on July 30, 2020.
The 1994 and 2013 Versions play in A whilst the 2007 version plays in D.
The 2013 version was the first time where its music video had The Wiggles in it.
While filming the 2013 clip, Wiggles' fan Michael King visits the set.
Performances/Appearances
Video Performances
Album Appearances
Episode Appearances
Video