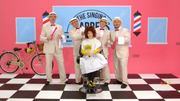 "Daisy Bell (Bicycle Built for Two)" is a popular song, written in 1892 by British songwriter Harry Dacre, with the well-known chorus, "Daisy, Daisy / Give me your answer, do. / I'm half crazy / all for the love of you", ending with the words, "a bicycle built for two".
The song is said to have been inspired by Daisy Greville, Countess of Warwick, one of the many mistresses of King Edward VII.
The Singing Barbers at the The Singing Barbers of Wiggle Town sing this song during Emma's haircut in the Wiggle Wiggle Wiggle! episode: The Singing Barbers.
Lyrics
Daisy, Daisy give me your heart to do
I'm half crazy, hopeful in love with you
It won't be a stylish marriage
I can't afford the carriage
But you look sweet upon the street
On a bicycle built for two