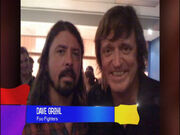 David Eric "Dave" Grohl (born, January 14, 1969) is an American rock musician, multi-instrumentalist, singer-songwriter, and producer who is best known as the former drummer for the grunge band Nirvana and the founder and front man of the rock band Foo Fighters, with which he serves as its main songwriter, lead singer, and rhythm guitarist.
He is also the drummer and co-founder of the rock supergroup Them Crooked Vultures. Grohl has additionally written all the music and performed all the instruments for his short-lived side projects Late! and Probot, as well as being involved with Queens of the Stone Age numerous times throughout the past decade.
He has performed session work (as a drummer) for a variety of musicians, including Garbage, Killing Joke, Kristeen Young, Nine Inch Nails, David Bowie, Paul McCartney, The Prodigy, Slash, Iggy Pop, Juliette and the Licks, Tenacious D, RDGLDGRN, Tom Petty and the Heartbreakers, Lemmy, Stevie Nicks, Zac Brown Band and Ghost.