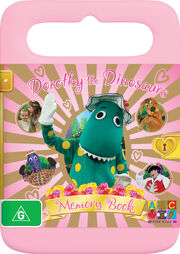 Dorothy the Dinosaur's Memory Book is a Dorothy the Dinosaur video released in 2008. It is a clip show of her second TV series, as she and Wags the Dog look through a scrapbook of memories doing various tasks and meeting several guest stars.
In the US and Canada, the video was sold under the title "The Wiggles Present: Dorothy the Dinosaur" (the original title remained on the DVD menu and video itself, and was referenced on the back cover). It was the first Dorothy-centred video to be released in those countries, and to tie it in with The Wiggles more, a bonus jukebox of songs from Wiggledancing! Live In Concert was included, as well as a Wiggles music video for the song Wash Your Hands.
Song List
The Wiggles Jukebox (North America only)
Note: All songs taken from Wiggledancing! Live In Concert.
Special Features
Release Dates
Australian DVD Release: February 28, 2008 (ABC DVD/Roadshow)
UK DVD Release: July 3, 2008 (Hit Entertainment)
American DVD Release: February 24, 2009 (Warner Home Video)
Trivia
Goofs
The Wiggles Videography
Murray

,

Jeff

,

Anthony

and

Greg

(1993-2006, 2012, 2018)
Wiggle Time! (1993) • Yummy Yummy (1994) • Big Red Car (1995) • Wake Up Jeff! (1996) • Wiggledance! (1997) • Wiggly, Wiggly Christmas (1997) • Wiggle Time! (remake, 1998) • Yummy Yummy (remake, 1998) • Toot Toot! (1998) • The Wiggly Big Show (1999) • It's a Wiggly Wiggly World! (2000) • Hoop-Dee-Doo it's a Wiggly Party (2001) • Yule Be Wiggling (2001) • Wiggly Safari (2002) • Wiggle Bay (2002) • Space Dancing! (2003) • Whoo Hoo! Wiggly Gremlins! (2003) • Top of the Tots (2004) • Cold Spaghetti Western (2004) • Santa's Rockin'! (2004) • LIVE Hot Potatoes! (2005) • Sailing Around the World (2005) • Here Comes The Big Red Car (2006) • It's Time to Wake Up Jeff! (2006) • Splish Splash Big Red Boat (2006) • Wiggledancing! Live In The U.S.A. (2006) • Racing to the Rainbow (2006) • Surfer Jeff (2012) • Celebration! (2012) • The Wiggles Reunion Show (2018)
Feature Film
The Wiggles Movie (1997)
Spin-Offs
The Dorothy the Dinosaur and Friends Video (1999) • Captain Feathersword the Friendly Pirate (2000)
Other
Dorothy the Dinosaur Goes to Hospital (Promo video, 1999) • Bonus Sampler Video (Promo video, 2004) • Happy 15th Birthday! (Documentary, 2006)

Murray

,

Jeff

,

Anthony

and

Sam

(2007-2011)
Wiggledancing! Live In Concert (2007) • Getting Strong! (2007) • Pop Go The Wiggles! (2007) • You Make Me Feel Like Dancing (2008) • Sing a Song of Wiggles (2008) • The Wiggles Go Bananas! (2009) • The Wiggles Big, Big Show! (2009) • Hot Poppin' Popcorn (2009) • Hot Potatoes! The Best of The Wiggles (2010) • Let's Eat! (2010) • Ukulele Baby! (2011) • The Wiggles' Big Birthday! (2011) • It's Always Christmas With You! (2011)
Other
On The Road With The Wiggles (Documentary, 2008) • Wiggle Treats! (Promo video, 2011) • Everybody Clap! Everybody Sing! (Documentary, 2011)

Anthony

,

Lachy

,

Simon

and

Emma

(2013-present)
Taking Off! (2013) • Furry Tales (2013) • Pumpkin Face (2013) • Go Santa Go! (2013) • Hot Potatoes! The Best of The Wiggles (new version, 2014) • Apples & Bananas (2014) • Wiggle House (2014) • Rock & Roll Preschool (2015) • The Wiggles Meet The Orchestra! (2015) • Wiggle Town! (2016) • Dance Dance! (2016) • Wiggle Around Australia (2017) • Duets (2017) • Nursery Rhymes featuring CinderEmma! A Musical Fairytale! (2017) • Wiggly, Wiggly Christmas! (2017) • The Best of The Wiggles (2018) • Nursery Rhymes 2 (2018) • Wiggle Pop! (2018) • The Wiggles' Big Ballet Day! (2019) • Party Time! (2019) • Fun and Games (2020) • Choo Choo Trains, Propeller Planes & Toot Toot Chugga Chugga Big Red Car! (2020) • We're All Fruit Salad!: The Wiggles' Greatest Hits (2021)
YouTube videos
Nursery Rhymes (2016) • Emma's Bowtiful Ballet Studio (2017) • Nursery Rhymes 2 (2018)
Spin-Offs
Dial E For Emma! (2016) • Lachy! (2017) • The Emma! & Lachy! Show (2018)

Dorothy the Dinosaur

(2007-2012)
Dorothy the Dinosaur's Party (2007) • Dorothy the Dinosaur's Memory Book (2008) • Dorothy the Dinosaur Meets Santa Claus (2009) Dorothy the Dinosaur's Rockin' Christmas (2010) • Dorothy the Dinosaur's Travelling Show! (2011) • Dorothy the Dinosaur's Beach Party! (2012)
More from The Wiggles
ABC For Kids
Video Hits (1991) • Video Hits Volume 2 (1992) • Live In Concert (1993) • Featuring Banana Holiday and Lots of Other Great Songs (1994)
The Kingdom of Paramithi
The Kingdom Of Paramithi (2009) • All Time Favourite Fairytales (2009) • Tales of Enchantment (2010) • All Time Favourite Fairytales Bumper Edition (2010) • Cinderella Pantomime (2011)