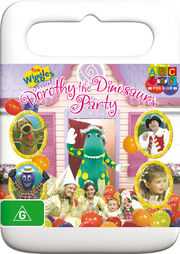 Dorothy the Dinosaur's Party is the first DVD in the Dorothy the Dinosaur series, a tie-in to her first TV Series.
This is the second release to not feature The Wiggles, and to focus on Dorothy, after The Dorothy the Dinosaur and Friends Video.
Song List
Plot
More coming soon!
Release Dates
Australia: June 17th, 2007
Trivia
This is the second video that The Wiggles don't appear in.
Greg wrote a most of the songs in this video before he left due to Orthostatic Intolerance.
Goofs
The Wiggles Videography
Murray

,

Jeff

,

Anthony

and

Greg

(1993-2006, 2012, 2018)
Wiggle Time! (1993) • Yummy Yummy (1994) • Big Red Car (1995) • Wake Up Jeff! (1996) • Wiggledance! (1997) • Wiggly, Wiggly Christmas (1997) • Wiggle Time! (remake, 1998) • Yummy Yummy (remake, 1998) • Toot Toot! (1998) • The Wiggly Big Show (1999) • It's a Wiggly Wiggly World! (2000) • Hoop-Dee-Doo it's a Wiggly Party (2001) • Yule Be Wiggling (2001) • Wiggly Safari (2002) • Wiggle Bay (2002) • Space Dancing! (2003) • Whoo Hoo! Wiggly Gremlins! (2003) • Top of the Tots (2004) • Cold Spaghetti Western (2004) • Santa's Rockin'! (2004) • LIVE Hot Potatoes! (2005) • Sailing Around the World (2005) • Here Comes The Big Red Car (2006) • It's Time to Wake Up Jeff! (2006) • Splish Splash Big Red Boat (2006) • Wiggledancing! Live In The U.S.A. (2006) • Racing to the Rainbow (2006) • Surfer Jeff (2012) • Celebration! (2012) • The Wiggles Reunion Show (2018)
Feature Film
The Wiggles Movie (1997)
Spin-Offs
The Dorothy the Dinosaur and Friends Video (1999) • Captain Feathersword the Friendly Pirate (2000)
Other
Dorothy the Dinosaur Goes to Hospital (Promo video, 1999) • Bonus Sampler Video (Promo video, 2004) • Happy 15th Birthday! (Documentary, 2006)

Murray

,

Jeff

,

Anthony

and

Sam

(2007-2011)
Wiggledancing! Live In Concert (2007) • Getting Strong! (2007) • Pop Go The Wiggles! (2007) • You Make Me Feel Like Dancing (2008) • Sing a Song of Wiggles (2008) • The Wiggles Go Bananas! (2009) • The Wiggles Big, Big Show! (2009) • Hot Poppin' Popcorn (2009) • Hot Potatoes! The Best of The Wiggles (2010) • Let's Eat! (2010) • Ukulele Baby! (2011) • The Wiggles' Big Birthday! (2011) • It's Always Christmas With You! (2011)
Other
On The Road With The Wiggles (Documentary, 2008) • Wiggle Treats! (Promo video, 2011) • Everybody Clap! Everybody Sing! (Documentary, 2011)

Anthony

,

Lachy

,

Simon

and

Emma

(2013-present)
Taking Off! (2013) • Furry Tales (2013) • Pumpkin Face (2013) • Go Santa Go! (2013) • Hot Potatoes! The Best of The Wiggles (new version, 2014) • Apples & Bananas (2014) • Wiggle House (2014) • Rock & Roll Preschool (2015) • The Wiggles Meet The Orchestra! (2015) • Wiggle Town! (2016) • Dance Dance! (2016) • Wiggle Around Australia (2017) • Duets (2017) • Nursery Rhymes featuring CinderEmma! A Musical Fairytale! (2017) • Wiggly, Wiggly Christmas! (2017) • The Best of The Wiggles (2018) • Nursery Rhymes 2 (2018) • Wiggle Pop! (2018) • The Wiggles' Big Ballet Day! (2019) • Party Time! (2019) • Fun and Games (2020) • Choo Choo Trains, Propeller Planes & Toot Toot Chugga Chugga Big Red Car! (2020) • We're All Fruit Salad!: The Wiggles' Greatest Hits (2021)
YouTube videos
Nursery Rhymes (2016) • Emma's Bowtiful Ballet Studio (2017) • Nursery Rhymes 2 (2018)
Spin-Offs
Dial E For Emma! (2016) • Lachy! (2017) • The Emma! & Lachy! Show (2018)

Dorothy the Dinosaur

(2007-2012)
Dorothy the Dinosaur's Party (2007) • Dorothy the Dinosaur's Memory Book (2008) • Dorothy the Dinosaur Meets Santa Claus (2009) Dorothy the Dinosaur's Rockin' Christmas (2010) • Dorothy the Dinosaur's Travelling Show! (2011) • Dorothy the Dinosaur's Beach Party! (2012)
More from The Wiggles
ABC For Kids
Video Hits (1991) • Video Hits Volume 2 (1992) • Live In Concert (1993) • Featuring Banana Holiday and Lots of Other Great Songs (1994)
The Kingdom of Paramithi
The Kingdom Of Paramithi (2009) • All Time Favourite Fairytales (2009) • Tales of Enchantment (2010) • All Time Favourite Fairytales Bumper Edition (2010) • Cinderella Pantomime (2011)