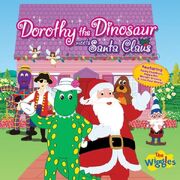 "Dorothy the Dinosaur Meets Santa Claus" is a Dorothy the Dinosaur video released on November 5th 2009. This is the fourth Wiggles-related Christmas video released, after Santa's Rockin!.
Promo Summary
What happens when Dorothy the Dinosaur meets Santa Claus? There's singing, dancing, reindeers and fun! Here's Dorothy's first animated adventure featuring Santa Claus, Washington the Elf, Dorothy the Dinosaur and a host of friends from the North Pole. Washington thinks Santa needs a rest and so uses a computer to sort toys for the children of the world, but things don't go as planned. It takes Captain Feathersword, Dorothy and Santa's little helpers to sort things out. So follow these Christmas stars to a land of Yuletide magic as Dorothy the Dinosaur meets Santa Claus.
Song List
Bonus Live-Action Songs
A Miracle In A Manger (Starring John Paul Young)
Dorothy On Santa's Sleigh (Starring Kasey Chambers and Bill Chambers)
Trivia
This is the second video in cartoon form, the first being Space Dancing!. However, unlike Space Dancing!, this video is animated in 2D, instead of using CGI, and it didn't start or end in live action.

The Wiggles aren't shown in this video but a Big Red Car toy is shown in "Toys, Toys, Toys!" and a picture of Jeff is shown in Henry's Place.

A man is seen wearing a shirt with "The Cockroaches" on it, a reference to Anthony and Jeff's old band.
Joey the Crab and Catfish from the Underwater Big Band make cameos in Henry's Place.
The Shellophone from The Wiggles (TV Series 1) returns in this video.
This video was reissued/included as a bonus feature on the US version of It's Always Christmas With You!.
Captain Feathersword imitates the beep horn's imitation of the song "Dixie Land" while guessing what Santa's present is.
The Wiggles didn't appear in this video, however, they did appear in the Cinema Live promo for this video.
This video is in 60 frames per second.
On December 18th 2020, the video was uploaded on The Wiggles' YouTube channel, although it's currently blocked in Australia only.
Likewise, it's the first video project of Dorothy the Dinosaur (and technically the Sam era) for The Wiggles to upload on their YouTube channel.
Goofs
In the opening scene, if you slow it down to 0.25x, a black screen that says "Take 10" is clearly visible during the page flip transition.
The rose on Dorothy's hat is pink in some scenes.
In the scene where Wags gets the wrong CD, for one shot, you can see that he has two tails, in different positions. Also, his mouth doesn't move when he speaks, even though his voice is heard.
Captain's pants changes it's colour to black after he presses the reverses button of the broken computer.
For the YouTube upload of this video, the endboard was from The OG Wiggles playlist, despite being made in the Sam era, and The Wiggles weren't seen in the video
Album
Dorothy the Dinosaur Meets Santa Claus
Video
The Wiggles Videography
Murray

,

Jeff

,

Anthony

and

Greg

(1993-2006, 2012, 2018)
Wiggle Time! (1993) • Yummy Yummy (1994) • Big Red Car (1995) • Wake Up Jeff! (1996) • Wiggledance! (1997) • Wiggly, Wiggly Christmas (1997) • Wiggle Time! (remake, 1998) • Yummy Yummy (remake, 1998) • Toot Toot! (1998) • The Wiggly Big Show (1999) • It's a Wiggly Wiggly World! (2000) • Hoop-Dee-Doo it's a Wiggly Party (2001) • Yule Be Wiggling (2001) • Wiggly Safari (2002) • Wiggle Bay (2002) • Space Dancing! (2003) • Whoo Hoo! Wiggly Gremlins! (2003) • Top of the Tots (2004) • Cold Spaghetti Western (2004) • Santa's Rockin'! (2004) • LIVE Hot Potatoes! (2005) • Sailing Around the World (2005) • Here Comes The Big Red Car (2006) • It's Time to Wake Up Jeff! (2006) • Splish Splash Big Red Boat (2006) • Wiggledancing! Live In The U.S.A. (2006) • Racing to the Rainbow (2006) • Surfer Jeff (2012) • Celebration! (2012) • The Wiggles Reunion Show (2018)
Feature Film
The Wiggles Movie (1997)
Spin-Offs
The Dorothy the Dinosaur and Friends Video (1999) • Captain Feathersword the Friendly Pirate (2000)
Other
Dorothy the Dinosaur Goes to Hospital (Promo video, 1999) • Bonus Sampler Video (Promo video, 2004) • Happy 15th Birthday! (Documentary, 2006)

Murray

,

Jeff

,

Anthony

and

Sam

(2007-2011)
Wiggledancing! Live In Concert (2007) • Getting Strong! (2007) • Pop Go The Wiggles! (2007) • You Make Me Feel Like Dancing (2008) • Sing a Song of Wiggles (2008) • The Wiggles Go Bananas! (2009) • The Wiggles Big, Big Show! (2009) • Hot Poppin' Popcorn (2009) • Hot Potatoes! The Best of The Wiggles (2010) • Let's Eat! (2010) • Ukulele Baby! (2011) • The Wiggles' Big Birthday! (2011) • It's Always Christmas With You! (2011)
Other
On The Road With The Wiggles (Documentary, 2008) • Wiggle Treats! (Promo video, 2011) • Everybody Clap! Everybody Sing! (Documentary, 2011)

Anthony

,

Lachy

,

Simon

and

Emma

(2013-2021)
Taking Off! (2013) • Furry Tales (2013) • Pumpkin Face (2013) • Go Santa Go! (2013) • Hot Potatoes! The Best of The Wiggles (new version, 2014) • Apples & Bananas (2014) • Wiggle House (2014) • Rock & Roll Preschool (2015) • The Wiggles Meet The Orchestra! (2015) • Wiggle Town! (2016) • Dance Dance! (2016) • Wiggle Around Australia (2017) • Duets (2017) • Nursery Rhymes featuring CinderEmma! A Musical Fairytale! (2017) • Wiggly, Wiggly Christmas! (2017) • The Best of The Wiggles (2018) • Nursery Rhymes 2 (2018) • Wiggle Pop! (2018) • The Wiggles' Big Ballet Day! (2019) • Party Time! (2019) • Fun and Games (2020) • Choo Choo Trains, Propeller Planes & Toot Toot Chugga Chugga Big Red Car! (2020) • We're All Fruit Salad!: The Wiggles' Greatest Hits (2021)
YouTube videos
Nursery Rhymes (2016) • Emma's Bowtiful Ballet Studio (2017) • Nursery Rhymes 2 (2018)
Spin-Offs
Dial E For Emma! (2016) • Lachy! (2017) • The Emma! & Lachy! Show (2018)

Anthony

,

Lachy

,

Tsehay

and

Simon

(2022-present)
Super Wiggles (2022)

Dorothy the Dinosaur

(2007-2012)
Dorothy the Dinosaur's Party (2007) • Dorothy the Dinosaur's Memory Book (2008) • Dorothy the Dinosaur Meets Santa Claus (2009) Dorothy the Dinosaur's Rockin' Christmas (2010) • Dorothy the Dinosaur's Travelling Show! (2011) • Dorothy the Dinosaur's Beach Party! (2012)
More from The Wiggles
ABC For Kids
Video Hits (1991) • Video Hits Volume 2 (1992) • Live In Concert (1993) • Featuring Banana Holiday and Lots of Other Great Songs (1994)
The Kingdom of Paramithi
The Kingdom Of Paramithi (2009) • All Time Favourite Fairytales (2009) • Tales of Enchantment (2010) • All Time Favourite Fairytales Bumper Edition (2010) • Cinderella Pantomime (2011)