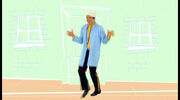 Lyrics
Doctor Knickerbocker, Knickerbocker, number nine
He likes to dance and he keep in time
So let's get the rhythm of the feet
Now we've got the rhythm of the feet

Now let's get the rhythm of the number nine
One, two, three, four, five, six, seven, eight, nine

Doctor Knickerbocker, Knickerbocker, number nine
He likes to dance and he keep in time
Now let's get the rhythm of the hips
Now we've got the rhythm of the hips

Now let's get the rhythm of the feet
Now we've got the rhythm of the feet
Now let's get the rhythm of the number nine
One, two, three, four, five, six, seven, eight, nine

Doctor Knickerbocker, Knickerbocker, number nine
He likes to dance and he keep in time
Now let's get the rhythm of the hands
Now we've got the rhythm of the hands

Now let's get the rhythm of the hips
Now we've got the rhythm of the hips
Now let's get the rhythm of the feet
Now we've got the rhythm of the feet
Now let's get the rhythm of the number nine
One, two, three, four, five, six, seven, eight, nine

Doctor Knickerbocker, Knickerbocker, number nine
He likes to dance and he keep in time
Now let's get the rhythm of the head
Now we've got the rhythm of the head

Now let's get the rhythm of the hands
Now we've got the rhythm of the hands
Now let's get the rhythm of the hips
Now we've got the rhythm of the hips

Now let's get the rhythm of the feet
Now we've got the rhythm of the feet
Now let's get the rhythm of the number nine
One, two, three, four, five, six, seven, eight, nine
Song Credits
Wiggle House (AU DVD Booklet)
Wake Up, Lachy!
Nursery Rhymes
Trad. Arr. Anthony Field, Lachlan Gillespie, Simon Pryce, Emma Watkins, Oliver Brian, Alex Keller (Wiggly Tunes Pty Ltd)
Vocals: Lachlan Gillespie, Simon Pryce, Emma Watkins
Acoustic Guitar: Anthony Field
Bass Guitar: Alex Keller
Electric Guitar: Anthony Field
Drums: Anthony Field
Percussion: Anthony Field
Keyboard: Lachlan Gillespie
MUSIC PRODUCED BY Anthony Field & Lachy Gillespie
Music Recorded at Hot Potato Studios, Sydney
Music Recorded & Mixed by Alex Keller
Trivia
A children's song with a similar name, "Mr. Knickerbocker" is performed by on Barney & Friends. As well, another version of that song is performed on "The Wee Sing Train".
The Nursery Rhymes version of the music video was uploaded on The Wiggles' YouTube channel on April 10th 2017 and the Live from Hot Potato Studios version was uploaded on August 6, 2020.
On Fun and Games, the song is titled as "Dr Knickerbocker, Knickerbocker".
Performances/Appearances
Video Appearances
Album Appearances
Episode Appearances
Wiggle and Learn
11-minute versions
22-minute versions
Ready, Steady, Wiggle! (Season 1)
TV Specials
Video