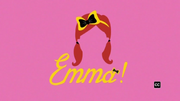 Season 2 of Emma! premiered on May 20th 2019 in Australia, and on Treehouse TV in Canada on the 25th of the same month.
This series is quite a bit different from the first. At 11 minutes rather than 4, Emma is no longer confined to her room as we now also see her visit her garden, dance studio and dream room, as well as outside locations. She also interacts with others, from children to adults from all over the world and all walks of life, often with their own types of dance or music to teach. Similar to the Lachy! TV series, fellow Wiggles make appearances, though not as their Wiggles characters. The series will consist of 26 episodes, a few episodes less than first series' 30 episodes.[1]
Episodes
Gallery
Opening
Closing
Behind the Scenes/Promo Pictures
Home Video Releases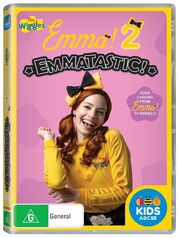 Like the first series, the episodes were compiled into DVD releases, but unlike the first, they were split into two separate DVD's. The first release, Emma! 2: Emmatastic!, contained the first 13 episodes of the series (with the notable exception of When I Go To School, which was replaced by One Big Smile!) and was released in Australia and New Zealand in late 2019, before being released in North America in early 2020.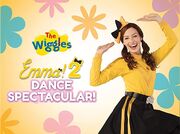 The second DVD, Emma! 2: Dance Spectacular!, contained the last 12 episodes (and once again skipped When I Go To School), and was once again released in Australia and New Zealand in spring 2020 first, with the North American DVD being released in August of that year. Both compilations contain a Photo Gallery and Emma's Sign Language Time as bonus features.
The compilations were also released to digital platforms (like iTunes), using artwork similar to the DVD's. However, When I Go To School was once again skipped, leaving the episode to not have a home video release in some capacity, and the only episode of the series to be that way.
Trivia
Filming began on August 8th, 2018.[2]
During production, Emma and others often posted photos online. The caption for one photo contained a lyric from Ponies.[3]
Lachy posted a few snippets of him performing some songs on the set, such as Uncle Noah Is Calling You[4].
Francisco Meid of The Latin American Wiggles returned to The Wiggles HQ to appear in this series.
The Wiggles upload new episodes of this series every Monday for American fans, the reason being that Universal Kids is not airing the new series, so The Wiggles decided to show it in the USA themselves via their YouTube channel. 
The music box scene is the only part of this series to have Spoken Dialogue, however, Emma did Spoken Dialogue during some songs.
References
Community content is available under
CC-BY-SA
unless otherwise noted.