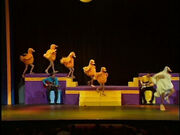 Listen
Song Lyrics
Five little ducks went out one day
Over the hills and far away
Father duck said quack, quack, quack, quack
But only four little ducks came back

Four little ducks went out one day
Over the hills and far away
Father duck said quack, quack, quack, quack
But only three little ducks came back

Three little ducks went out one day
Over the hills and far away
Father duck said quack, quack, quack, quack
But only two little ducks came back

Two little ducks went out one day
Over the hills and far away
Father duck said quack, quack, quack, quack
But only one little duck came back

One little duck went out one day
Over the hills and far away
Father duck said quack, quack, quack, quack
But none of the five little ducks came back

Oh, dear. That made father duck really sad.

Captain Feathersword: (He's crying, because he's very sad about little duckies gone.)

Murray: That's Captain Feathersword!

Captain Feathersword: (In a high pitched, while crying.) All the five little duckies are gone, Murray!

Murray: Oh, Captain!

Captain Feathersword: (He's sobbing.) Oh, boo-hoo.
.
Murray: (He is comforting him grabbing a red bucket & a hanky.) Oh, he's very sad.

Captain Feathersword: Oh, very sad.

Murray: Don't cry, Captain. Here's a handkerchief.

Captain Feathersword: Oh, thank you, Murray. (He is using a handkerchief, while he's crying loudly again about the little ducks still didn't come back.)

Murray: Oh, Captain! Oh, poor Captain.

Captain Feathersword: (He inhales deeply and very loudly. Then, he continues to wails loudly that he plays peek-a-boo without saying "peekaboo".)

Murray: Captain...

Captain Feathersword: (He is squeezing a handkerchief, until the water comes out, and stops crying.)

Murray: Ooh! Lots of tears, Captain!

Captain Feathersword: (He laughs, until more water squeezing into a red bucket.)

Murray: You finished? Oh, still going. You finished now? Oh! Okay?

Captain Feathersword: (He's laughing over that funny part, while he's not crying anymore.) All right, I think. Oh, boo-hoo.

Murray: Now, Captain, are you all right? Because there's...

Captain Feathersword: (He is laughing over that funny little duckies are coming back now.)

Murray: Cheer up, Captain. I think he is cheered up. He's cheered up already. Hey, Captain, guess what?

Captain Feathersword: (He chuckles.) What, Murray?

Murray: There's a happy ending. Did you know that?

Captain Feathersword: Oh, wow!

Murray: I thought you must know that because you're laughing already. Captain, there's a happy ending.

Captain Feathersword: (He laughs.) Wow!

Murray: Father duck went looking for the five little ducks.

Captain Feathersword: Hurrah!

Old father duck went out one day
Over the hills and far away
Father duck said quack, quack, quack, quack
And all of the five little ducks came back
Song Credits
Emma's Bowtiful Day!
Trivia
Murray is the only Wiggle who appears in the 2006 version of the video.
The 1996 and Taiwanese versions play in C where as later versions like the 1997 live, 2006 and 2013 versions play in D and the 2020 version plays in A.
On Xuxa's album and video "Xuxa Só Para Baixinhos", the Brazilian version is called Cinco Patinhos, only the mother duck is used.
Captain Feathersword didn't cry in the 2006 version.
When the current version of The Wiggles do the song now, it is called three little ducks. Unlike the original, Lachy and Captain Feathersword now perform it while standing up and Captain Feathersword doesn't cry during the song, because he's playing Father Duck (the three little ducks are played by Oliver, Simon and Anthony).
This is one of the very few songs where Greg played the bass guitar instead of singing the song.
When The Wiggles' original line up did this song at their concerts, Murray and Captain Feathersword sang it while sitting down, while Jeff was on the Keyboard, Anthony was on the Electric or Acoustic Guitar (by Takamine and Maton) and Greg was on the Electric Bass (mostly by Fender).
Unlike The Wiggles' other songs, Murray Cook did the lead vocals on this song, instead of Greg Page, even in case they have Sam Moran filling in for Greg, starting at a 2002 American Show in Santa Barbara, when Greg's mother in law, Jane Hill died.
It's rumoured that the song was on the unreleased version of Wake Up Jeff.
The part where in live versions of the song of Captain Feathersword being sad in the middle and becoming happy again at the end also happened in the song Vegetable Soup.
Performances/Appearances
DVD Video
Audio CD
Episode Appearances
Miscellaneous
Live Appearances
Gallery
Community content is available under
CC-BY-SA
unless otherwise noted.