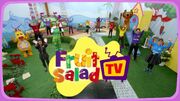 Fruit Salad TV is a YouTube exclusive series that was first uploaded to The Wiggles' YouTube channel on September 3, 2021. This series so far consists of two 20 minute specials featuring 8 Wiggles: Anthony, Lachy, Simon, Emma, Evie, John, Tsehay and Kelly. These specials focus on diversity and their hit song We're All Fruit Salad!.
Episodes
Trivia
Anthony got his inspiration for this series from James Harkness who stated to him during the production of The Wiggles' World TV Series that while the band had people from different cultures sing and dance with them, the four Wiggles colours were not worn by anyone else, meaning to be a part of the group they had to wear yellow, blue, red and purple skivvies.[1]

Because four pairs of two each wear the same colour, their names are printed on their skivvies.

Tsehay was 15 during the series' production.
Officer Beaples, Shirley Shawn the Unicorn and Bok the Hand Puppet were all confirmed non-binary in this series. Although Bok uses he/him pronouns in the song about him.
This series as of now is only a two episode pilot, but Anthony was stated that there is potential for more episodes to make a full series seeing as fan's responses are looking very well.[2]
References