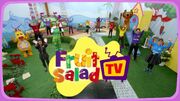 Fruit Salad TV is a YouTube exclusive series that was first uploaded to The Wiggles' YouTube channel on September 3, 2021. Each episode features eight Wiggles: Anthony, Lachy, Simon, Tsehay, Evie, John, Caterina and Lucia. These specials focus on diversity and their hit song We're All Fruit Salad!.
Episodes
Trivia
Anthony got his inspiration for this series from James Harkness who stated to him during the production of The Wiggles' World TV Series that while the band had people from different cultures perform with them, the four Wiggles colours were not worn by anyone else, meaning to be a part of the group they had to wear yellow, blue, red and purple skivvies.[1]

Because four pairs of two each wear the same colour, their names were printed on their skivvies for the first two episodes.

Officer Beaples, Shirley Shawn the Unicorn and Bok the Hand Puppet were all confirmed non-binary in this series. Although Bok uses he/him pronouns in the song about them.
Emma made her last appearence as a wiggle in the second episode of this series before being replaced by Tsehay. As of now, Caterina Mete has been chosen to be the second red wiggle along side Simon.
This series inspired the TV series Wiggly Fruit Salad.
The upcoming concert special, will be Kelly's last appearance as the second yellow wiggle. Blue Wiggle Evie, will replace her as the new second yellow wiggle, it'll be the first time wearing the yellow skivvy since the We're All Fruit Salad! music video. And Anthony's daughter Lucia Field will be taking over from Evie as the blue wiggle.
References