Greff



Characters

Status

Best friends

Rivals
Greff (Gr/eg and J/eff) is the relationship between Greg and Jeff as wiggles, or real-life humans.
Trivia
Jeff was the oldest Wiggle.
They are both Non-realistic Wiggles.
They are also Unforgotten Wiggles or Professional Wiggles, as long as you include Captain Feathersword.
Greg was the youngest Wiggle before Sam Moran and Emma Watkins.
Greg is much younger than Jeff Fatt.
They both have been the driver the Big Red Car.
They both were the first two drivers of the Big Red Car.
Both Greg and Jeff each have heart diseases both starting with 'o' and have four syllables in the first part of the name.
In Spring 1992, they both wore white khakis.
Greg and Jeff left the wiggles at the same time, 2012.
They both cross-dressed as cows.
They both played all 3 instruments.
They are both Original Wiggles.
Gallery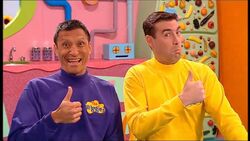 Click here to view the gallery.