Here Comes The Big Red Car is the twenty-fifth Wiggles video special, released in 2006. It is a remake of the 1995 video special Big Red Car, making it the third video special to be a re-recording after Yummy Yummy.
Most songs are the original recordings from the 1995 album, plus one from 1997, re-filmed with new video clips. Songs featuring Captain Feathersword and the Friendly Pirate Crew were newly recorded, including two new songs (adapted from songs by The Cockroaches) which are part of Sailing Around the World-style skits.
Songs from this video were also used in The Wiggles Show! (series 5). The video was followed by another remake, It's Time to Wake Up Jeff!.
Overview
Let's all go for a ride in the Big Red Car! Join The Wiggles on the freeway of fun as Captain Feathersword shows us how to Nicky Nacky Nocky Noo, Dorothy the Dinosaur invites us to her Dance Party and Wags the Dog and Henry the Octopus get their waist benders and toe tappers wiggling! For the first time ever on DVD, this re-recording of Big Red Car includes the catchy songs I Want To Wear The Jacket and Sorry Again, as well as the all new animated I'm A Cow.
Song List
Note: All songs are from the album of the same name, except where noted otherwise.
Plot
Greg and Wags introduce the second song and ask if you can do the movements.
Song #2: Can You (Point Your Fingers And Do The Twist?)
Song #9: Brown Girl In The Ring
Song #10: Georgia's Song
Greg introduces everyone to the Captain Feathersword segment.
Captain Feathersword is beachside with his friendly pirate crew. He has some good news; they will be receiving a visit from an officer from the Royal Navy and his name is Admiral GoodBloke. Captain says how the admiral has a nice house, hat, and jacket. Maybe the jacket is what makes him popular? They also love the jokes he tells. He ponders how great the jacket is. Now they need to find a way to bring Admiral GoodBloke over to Pirate Park. They can't use the SS Feathersword as it is being cleaned. Any ideas? Gallant George suggests swimming to the Admiral, put him on his back, and swim back. Benny Bandicoot doesn't think it is safe. Caterina suggests finding another boat. Lucia says Bill O'Reilly has one. Oh really? No O'Reilly. But Bill is in New Zealand. Who else can pick him up? Captain mentions food, and then Anthony and Jeff appear. Anthony suggests using the Big R-r-r-red boat. They have some Blow Me Down jokes, and the two Wiggles head off to pick up Admiral Goodbloke.
Captain has the Admiral inspect the crew. Aido does a back flip. Admiral says they are very happy. He starts to tell some jokes, and the crew laughs. "He really is a good bloke" He asks Dapper Dave a knock-knock joke. Captain asks the Admiral if he could wear his jacket.
Song #11: I Want To Wear The Jacket
Captain has the jacket on, and he tells a joke. Everyone laughs, but then the Admiral tells another funny joke. Everyone laughs. "He really is a Good Bloke" Captain thought the jacket is what made him funny? The Admiral tells Captain he is still the friendliest and funniest pirate captain whether he wears that jacket or not. Captain asks his crew if that's true, and they agree. "Well, blow me down!" Everyone blows Captain Feathersword down. Captain says, "I've gotta stop saying that!" Everyone laughs.
Jeff introduces Captain Feathersword as he has a pirate school.
Song #13: Nicky Nacky Nocky Noo
Song #14: Dorothy's Dance Party
Anthony introduces the Captain Feathersword segment where everyone says Sorry.
Captain Feathersword says ahoy there. Today is shoe inspection day. He will check that everyone's shoe is clean. Friendly pirates Benny Bandicoot, Alfonso, and Elefterios are on the dock. Captain orders them to please advance one clean shoe. They do a dance and then present a shoe.
Benny Bandicoot is first. Captain checks his shoe but his boot is covered in soot. Benny bends down to wipe his boot but he bumps heads with the Captain, knocking him backwards. Benny apologizes. Captain comes back with some wrapping around his head and thanks Benny for saying sorry. He has Benny do some more chores.
Alfonso is next. He presents his clean shoe. Captain tells him great job, and Alfonso is so happy he hooks his arms with Captain's and swings around in a pirate jig. But he goes too quickly that Captain falls over. Captain comes back with a sling around his arm. Alfonso apologizes. Captain thanks Alfonso for saying sorry, and then rewards Alfonso with a book with recipes to cook.
Elefterios is the third and final crewman. He presents his shoe and it is clean, but his shoelace is untied. Elefterios says he'll do it right, and as he goes down to tie his shoe, he leans on Captain, who falls over again. Oops! Sorry! Captain comes back with a sling on his other arm, but thanks Elefterios for saying sorry.
Song #15: Sorry Again
Song #16: Henry's Dance
More coming soon!
Cast
The Wiggles
The Wiggles' Friends
Voice Talents (Uncredited)
Wiggly Dancers
Friendly Pirate Crew
Children
Irish Dancers
Also Featuring
Album Songs
Main article: Here Comes The Big Red Car (album)
Special Features
Lights, Camera, Action, Wiggles! Bonus Episodes
Trivia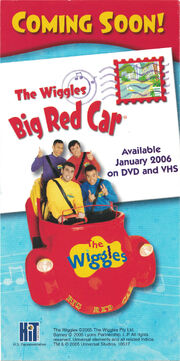 This video was originally going to be called Big Red Car, like the original. It was first teased with this title in an insert included with HIT Entertainment releases of Sailing Around the World.
Although songs from this video were featured in their newest TV series, special song introductions were filmed exclusively for this video. These featured a unique backdrop which showed the working Big Red Car title.

These were likely filmed before the song intros in It's Time to Wake Up Jeff!, as that video's backdrop showed its finalized title.

This is the final Wiggles video to be released on VHS in Australia. The last in the USA would be Wiggle Around the Clock.
This is Lyn's first video as Dorothy the Dinosaur.
For Georgia's Song, the final two shots are of:
The DVD's photo gallery shows a photo of a deleted scene where Anthony introduces a song in pirate gear. The song in question was most likely "Nicky Nacky Nocky Noo".
The video's introduction for "Nicky Nacky Nocky Noo" features Jeff in his life-jacket, recycled from TV series 5. In Splish Splash Big Red Boat, the song is instead accompanied by a skit featuring Captain and his crew, which was also used in the TV series.
Background elements from the video for "Tie Me Kangaroo Down Sport" are reused in "Di Dicki Do Dum" and "Hat On My Head".
Greg's skivvy appears somewhat orange in the chroma key portions of "Brown Girl In The Ring".
Despite not appearing in the video, HIT Entertainment's trailer used "Toot Toot, Chugga Chugga, Big Red Car" and "We're Dancing With Wags The Dog" from Toot Toot! as background music.
HIT Entertainment's releases show a copyright date of 2005, despite being released in early 2006 because it was prepared for release at the end of 2005. Specifically, the files on their DVD are dated October 27, 2005, indicating they were prepared then. This also means that it was going to be released 10 years after the original Big Red Car video.
The US VHS had several variants, including a yellow tape (similar to Bob the Builder releases), a white tape (similar to Barney releases) and a standard black one, each with a label of the same colour (although some black tapes had yellow labels). Later, 20th Century Fox re-released the black tape with ink printing.
This is the last known screener DVD released in the United States.
This is HIT Entertainment's only Wiggles DVD to originally come in a black case, although promotional images show it was intended to use a red case.
This is the final Wiggles video to be independently distributed by HIT Entertainment in America, due to their US distribution branch closing in March 2006.
The video was uploaded to various WildBrain YouTube channels in parts, starting on January 2, 2022; it has since been privated. "Dorothy's Dance Party" has been uploaded to The Wiggles' YouTube channel as part of a compilation video.
Ben Murray's hair is reverted to blonde in this video.
Apart from the end credits, the Australian (and UK) DVDs are de-interlaced. The North American DVD releases feature an NTSC conversion which is interlaced.
Revised song credits are used for "Hat On My Head" which credit Murray, Jeff and Greg.
Filmed early 2005 alongside It's Time to Wake Up Jeff! and The Wiggles Show! (Series 2).
Goofs
Despite being written by John Field, Murray, Jeff, Anthony and Greg were credited for "Dorothy's Dance Party" in the UK inlay.
During "Wags the Dog", a camera tripod is seen during the main moving shot. Also in one shot of Murray, Wags and Jeff's feet disappears because of the green screen editing.
A cameraman and his camera tripod can be seen during the shot where Captain talks about Admiral Goodblooke.
Near the end of "I Want To Wear The Jacket", a camera wire is seen during the sky view shots.
In the intro to "Wags the Dog", Greg said that Jeff fell asleep again, but there was no point that Jeff fell asleep before that intro (apart from in previous videos, of course).
In the intro to "Dorothy's Dance Party", despite Murray and Jeff wearing their Elvis dance clothes, they do not wear them as the song starts, instead they are in their regular skivvies.
A tripod can be seen during Can You (Point Your Fingers And Do The Twist?).
On the Australian DVD, the aspect ratio is listed as 4:3, when it is actually 16:9.
The copyright screen says "2005" rather than "2006", meaning the video was finished in late 2005 but pushed to be released in early 2006.
The Wiggles Videography
Murray

,

Jeff

,

Anthony

and

Greg

(1993-2006, 2012, 2018)
Wiggle Time! (1993) • Yummy Yummy (1994) • Big Red Car (1995) • Wake Up Jeff! (1996) • Wiggledance! (1997) • Wiggly, Wiggly Christmas (1997) • Wiggle Time! (remake, 1998) • Yummy Yummy (remake, 1998) • Toot Toot! (1998) • The Wiggly Big Show (1999) • It's a Wiggly Wiggly World! (2000) • Hoop-Dee-Doo it's a Wiggly Party (2001) • Yule Be Wiggling (2001) • Wiggly Safari (2002) • Wiggle Bay (2002) • Space Dancing! (2003) • Whoo Hoo! Wiggly Gremlins! (2003) • Top of the Tots (2004) • Cold Spaghetti Western (2004) • Santa's Rockin'! (2004) • LIVE Hot Potatoes! (2005) • Sailing Around the World (2005) • Here Comes The Big Red Car (2006) • It's Time to Wake Up Jeff! (2006) • Splish Splash Big Red Boat (2006) • Wiggledancing! Live In The U.S.A. (2006) • Racing to the Rainbow (2006) • Surfer Jeff (2012) • Celebration! (2012) • The Wiggles Reunion Show (2018)
Feature Film
The Wiggles Movie (1997)
Spin-Offs
The Dorothy the Dinosaur and Friends Video (1999) • Captain Feathersword the Friendly Pirate (2000)
Other
Dorothy the Dinosaur Goes to Hospital (Promo video, 1999) • Bonus Sampler Video (Promo video, 2004) • Happy 15th Birthday! (Documentary, 2006)

Murray

,

Jeff

,

Anthony

and

Sam

(2007-2011)
Wiggledancing! Live In Concert (2007) • Getting Strong! (2007) • Pop Go The Wiggles! (2007) • You Make Me Feel Like Dancing (2008) • Sing a Song of Wiggles (2008) • The Wiggles Go Bananas! (2009) • The Wiggles Big, Big Show! (2009) • Hot Poppin' Popcorn (2009) • Hot Potatoes! The Best of The Wiggles (2010) • Let's Eat! (2010) • Ukulele Baby! (2011) • The Wiggles' Big Birthday! (2011) • It's Always Christmas With You! (2011)
Other
On The Road With The Wiggles (Documentary, 2008) • Wiggle Treats! (Promo video, 2011) • Everybody Clap! Everybody Sing! (Documentary, 2011)

Anthony

,

Lachy

,

Simon

and

Emma

(2013-2021)
Taking Off! (2013) • Furry Tales (2013) • Pumpkin Face (2013) • Go Santa Go! (2013) • Hot Potatoes! The Best of The Wiggles (new version, 2014) • Apples & Bananas (2014) • Wiggle House (2014) • Rock & Roll Preschool (2015) • The Wiggles Meet The Orchestra! (2015) • Wiggle Town! (2016) • Dance Dance! (2016) • Wiggle Around Australia (2017) • Duets (2017) • Nursery Rhymes featuring CinderEmma! A Musical Fairytale! (2017) • Wiggly, Wiggly Christmas! (2017) • The Best of The Wiggles (2018) • Nursery Rhymes 2 (2018) • Wiggle Pop! (2018) • The Wiggles' Big Ballet Day! (2019) • Party Time! (2019) • Fun and Games (2020) • Choo Choo Trains, Propeller Planes & Toot Toot Chugga Chugga Big Red Car! (2020) • We're All Fruit Salad!: The Wiggles' Greatest Hits (2021)
YouTube videos
Nursery Rhymes (2016) • Emma's Bowtiful Ballet Studio (2017) • Nursery Rhymes 2 (2018)
Spin-Offs
Dial E For Emma! (2016) • Lachy! (2017) • The Emma! & Lachy! Show (2018)

Anthony

,

Lachy

,

Tsehay

and

Simon

(2022-present)
Super Wiggles (2022)

Dorothy the Dinosaur

(2007-2012)
Dorothy the Dinosaur's Party (2007) • Dorothy the Dinosaur's Memory Book (2008) • Dorothy the Dinosaur Meets Santa Claus (2009) Dorothy the Dinosaur's Rockin' Christmas (2010) • Dorothy the Dinosaur's Travelling Show! (2011) • Dorothy the Dinosaur's Beach Party! (2012)
More from The Wiggles
ABC For Kids
Video Hits (1991) • Video Hits Volume 2 (1992) • Live In Concert (1993) • Featuring Banana Holiday and Lots of Other Great Songs (1994)
The Kingdom of Paramithi
The Kingdom Of Paramithi (2009) • All Time Favourite Fairytales (2009) • Tales of Enchantment (2010) • All Time Favourite Fairytales Bumper Edition (2010) • Cinderella Pantomime (2011)