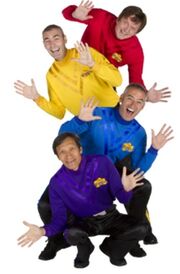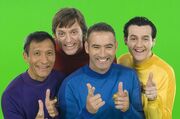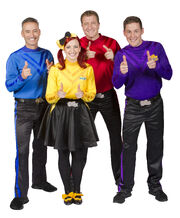 This info is taken from Hits And Rarities.
The Early Days
It all started with a young Anthony Field, who was studying to be a pre-school teacher at Sydney's Macquarie University. It was there that Anthony learnt all about child development, child psychology, how children think, and the importance of play in the children's lives. He loved the course and enjoyed campus life. He recalls, "At university, there were maybe four or five guys and over four hundred women, which was a bit overwhelming. I think the blokes got together as a bit of a bonding thing." Most of the four or five blokes at university were musicians and included Murray Cook (bass player for Finger Guns) and Greg Page (singer for Dead Giveaway and former Cockroaches roadie), so they naturally jammed together. Anthony would often ask his brother John (who played guitar with The Cockroaches with Anthony) to join them for these lunchtime sessions. These sessions were so enjoyable that the guys decided to take them to the streets of Sydney and busk for fun and the occasional coins thrown into Greg's guitar case. Anthony enlisted another member of The Cockroaches, Jeff Fatt, to play the accordion for the busking group. And so, armed with their knowledge of early childhood education and a developing cachet of songs, this group, without a name, would take their first step towards success. In fact, during one of these busking sessions, John Field led the group with a call-and-response song that was fun to sing and also caused the audience to toss in large numbers of coins. The song became one of The Wiggles' biggest hits, Hot Potato.
Anthony was nearing the end of his university studies in Early Childhood Education and would soon be looking for a job. He thought that if he recorded an album of children's music he might increase his chances of a job as a pre-school teacher. So he pulled together his busking group as well as another musician from university, Phillip Wilcher, and recorded an album.
Anthony recalls, "We used to wear different coloured shirts, not skivvies, but we wore shirts with very busy patterns. We thought that was kind of bright. Murray, Greg, Jeff and I were all rock 'n' rollers. We could put a bit of music that had a rock 'n' roll beat and also incorporate what we'd learnt about children and what they respond to. And that was the first Wiggles album." The group now needed a name and so they looked to a dance song John Field had written called Get Ready to Wiggle. Wiggle seemed a good description for the way young children moved and The Wiggles seemed a fun name. The aim was simply to record the album and the highest hope was to get the album released (and for Anthony to get a job teaching).
The Wiggles Get Signed!
Anthony did get a job as a pre-school teacher at Temple Emanuel in Sydney and the guys approached Australia's national broadcaster, the ABC, who are the leaders in early childhood broadcast, in hope that they would release The Wiggles' album.
Murray remembers, "When we took it to the ABC, we wrote a screed about our philosophy, quite an academic kind of treatise really I guess. I think maybe they thought, there must be something to this." At the time, a new head of ABC Music had just been appointed, Meryl Gross. Jeff recalls, "Meryl already knew about us because we were signed to Festival Records (where she had worked) as The Cockroaches, so she had seen that success."
In 1991, children's entertainers were basically solo acts performing for children. Meryl Gross recounts, "At the time, I really felt that it was probably time for something different and this was what The Wiggles presented us." And so in her first week of heading ABC Music, Meryl signed The Wiggles!
The Wiggles started to play some live shows to help promote the forthcoming album. Greg recalls in his book, Now and Then, that after The Wiggles performed at a childcare centre in Randwick, Sydney in July 1991, Phillip Wilcher felt uncomfortable about performing live and resigned from the group. Phillip's resignation took place four weeks before the release of the first album.
The Birth of the Skivvies
The Wiggles then made an inspired decision, they would shoot a full-length video of all the songs on their first album. They would also refresh their sound to reflect their musical roots and they would refresh their look. The Wiggles changed from wearing various multi-coloured and patterned shirts to one specified colour for each Wiggle. They all travelled into a Sydney department store and each picked out a colour, Murray red, Jeff purple, Greg yellow and Anthony initially picked a green shirt (a few years later Anthony changed his colour to blue as Dorothy was green). The Wiggle Time video shoot was a "do it yourself" affair as the lack of funds dictated. Jeff and Greg helped construct a few simple painted flats for the background and these were perfect for the project. Anthony recalls, "Our studies told us that children prefer a simple set as they are concrete and centred thinkers." The children in the video were Anthony's nieces and nephews. This first video featured the song voted by Wiggles fans as their favourite, Rock-A-Bye Your Bear.
Do It Yourself Touring
The Wiggles then begun touring around Australia and, in many ways, they have never stopped. In the early tours, they worked with Playgroup Associations, Nursing Mothers' Groups, pre-schools and community groups who would act as promoters while also raising funds for their own organisations. The number of shows they performed in those early days grew as their reputation for putting on a great show also grew. Anthony, Murray and Jeff travelled in a van together with a trailer, while Greg drove a van with the PA system. The Wiggles loaded and set up the equipment themselves and at times played three to four shows a day, 26 days in a row.
And so each year, The Wiggles would release a new video and album and tour for ten months of the year to promote it. Eventually, this increased to two titles per year and even more. Greg recalls that in 1994 in one tour The Wiggles performed 63 shows in 17 days, with only one day off in that period. The original Big Red Car video featured a Big Red Car made of plywood, held up on plastic milk crates and constructed by Jeff! The early videos were eventually all re-shot, though you can catch glimpses of the original productions on the internet and many people have pointed out that in that first video it was Jeff that drove the car. Given Jeff's penchant for sleeping, it was good that Greg eventually replaced him as the driver! And while the production quality of those early videos was rudimentary, the early childhood principles The Wiggles applied and the infectious melodies of the songs meant that Big Red Car (released as Dance Party in the USA) remains one of the highest selling videos of The Wiggles' history.
Wiggly Characters
At first, when The Wiggles performed shows they would play the parts of their characters on stage. Anthony, Murray and Jeff would dash off stage and don the suit and return to perform a song or two as a Wiggly character. Murray, who first created Dorothy's famous laugh, would also dress up in the suit (the sight of a friendly dinosaur reaching over six feet is quite different from the tiny size of Dorothy now). Jeff would be Henry the Octopus and Anthony played Wags the Dog and Captain Feathersword. Eventually, this was proving to be too hard and so Anthony suggested they get an actor to assist. Anthony thought of a friend of his, Paul Paddick.
Ahoy There, Captain!
Anthony had met Paul Paddick when he was performing in West Side Story. As Paul had been trained at WAAPA (Western Australian Academy of Performing Arts) Anthony thought he could do almost anything in the world of performing and he would need those skills in the days immediately ahead of him. Anthony needed to have an operation which meant he would be away for a week or so. In those days of non-stop touring there was no time to rest and rather than "simply" performing the role of a number of characters, Paul would be performing as a Wiggle as well! In the lead up to the tour, Paul was assured he'd be instructed in the content of the show and have the time to rehearse as well, but things didn't exactly turn out as planned. Paul remembers, "I had no idea. I hadn't seen the show, hadn't seen the other guys. I hadn't met Greg or Murray or Jeff at that point." Murray recalls, "We said, 'Oh, when we get there we'll take you through everything', but when we got there it was pretty late. So we said, 'Oh, tomorrow before the show, we'll give you a quick run through.' So basically, he had no rehearsal at all." Paul Paddick was quickly shown the type of moves Dorothy, Wags and Henry did and then joined in with whatever was thrown his way. No wonder Paul became a legendary "theatre sports" performer! Anthony comments, "Paul came back maybe a stone lighter, but he loved the experience. And the boys said to me, 'We've got to keep him.' He's really funny and he's been brilliant ever since."
500 Shows A Year
By 1995 and 1996, The Wiggles were performing 500 shows a year in Australia, which meant three to four shows a day. The shows themselves were just under an hour. Greg recalls, "We might play three shows in Lithgow one day, three the next day in Bathurst, four shows in Dubbo, then the same in Young and Griffith where we had sold out four shows of 1,000 people." The Wiggles relentless touring schedule helped build their audience who loved the music and videos, they released. The Wiggles started to receive sales awards for the sales of their music and videos which achieved gold, platinum and multi-platinum status, as well as APRA awards for the most performed song. The Wiggles were sometimes playing up to four shows a day right around the country. The shows were energetic and joyful events that seemed to sell out with little more than through the word-of-mouth of parents. This is well before the internet and the concept of blogs existed and, although the medium has changed, a parent's recommendation often has more credibility than an expensive advertising campaign.
The Wiggles Movie
The Wiggles' popularity had grown to such an extent that The Wiggles decided to make a movie for release in cinemas around Australia! Filmed over twelve weeks, Twentieth Century Fox distributed The Wiggles Movie, which premiered in December of 1997. It was later released in North America as The Wiggles Magical Adventure! Produced with local investors, The Wiggles forfeited a performance fee to give the movie the best chance of making a profit. The Wiggles Movie was popular and the cinemas were filled with children who had never seen a movie in a theatre before. There was only one problem, cinemas had a policy of not charging for children under the age of three and that was half of the audience! Despite this hurdle, the movie did big business on video and made a profit, a rare thing in the Australian film industry.
Wiggly TV
The Wiggles had limited broadcast for a number of years. ABC TV had aired film clips from Wiggles videos, but there was not a TV series to sustain a hungry audience. The Wiggles created and self-funded their first TV series in 1998. It was initially broadcast on Channel 7 and the Disney Channel (which had just launched in Australia). Things started to happen in the USA in 1998 and The Wiggles were broadcast with Fox Kids. The Wiggles performed at theme parks in the USA and, although they were humble beginnings, it was clear that audiences in the USA would enjoy The Wiggles as much as in Australia.
It's A Wiggly World
By 1999, The Wiggles had begun to see their international success grow even more. They had self-funded their second TV series which was an investment in their own future. The series was broadcast in the UK, Australia and the USA. The Wiggles had also started to tour overseas in the UK, Ireland, the USA and New Zealand. Of course, tours of Australia continued at a great pace, which saw The Wiggles travel beyond regional areas into country towns and the outback where very few acts toured. The Wiggles also continued to delight their audiences with new music and video releases each year. The Wiggles had changed the way parents entertained their children. Parents and carers expected to have a great CD for the car, a video for times at home and a live concert for a special event once or twice a year. The Wiggles delivered on all fronts as audiences embraced the appeal of the fab four of fun! The Wiggles found that even mall appearances were jam-packed with families. The Wiggles were able to look back on their first seven years with a great sense of pride and achievement, they had a very real presence around most of the English speaking world of entertainment. As the song goes, things would only get better!
G'Day USA!
A TV promotion with the Disney Channel in Australia would later allow The Wiggles to gain video and music distribution in the USA. The Wiggles performed at Disneyland, California and were filmed for a TV special for Australia, but in the crowd that day were executives from Lyrick Studios in Dallas, Texas. Lyrick Studios had received a video from The Wiggles' Australian office and they'd all sat down to review it. Sloan Coleman, former executive of Lyrick Studios, recalls, "I'd looked at it and said, 'Oh my gosh, they're brilliant. This is fantastic.' And so Debbie Reis (former Vice President at Lyrick) flew to Disneyland. She recalled, "There was an audience of American children mostly, that had never seen The Wiggles before and they immediately got up and started dancing and interacting with the music. That's when I knew for sure that we had something that would be really big!" Following the Disneyland appearance, The Wiggles were signed to Lyrick Studios, the home of Barney the Friendly Dinosaur.
It's worth putting this in perspective. The USA is the centre of the entertainment universe, and so it traditionally viewed pre-school shows from overseas with sceptical eyes and ears. Remember, the USA market re-voiced English shows such as Thomas the Tank Engine (even recording over Ringo Starr's narration!) and Bob the Builder, fearing that children from North America might not understand the English accents and expressions. The Wiggles knew that from an early childhood point of view, as long as they can be understood, children will not have a problem with an accent. Ironically, in the world of entertainment, so much is done to make you appear like everything else in the market, then once you are in the market, they search desperately for a point of difference. The Wiggles stayed true to themselves and of course families in North America embraced The Wiggles and their expressions. Apart from some light-hearted discussions about the way The Wiggles pronounced banana, once children in the US saw The Wiggles, they loved it!
If They See Them, They'll Love Them
And so the next challenge was getting Americans to see The Wiggles. While there had been some film clips shown on TV, their exposure was limited. Lyrick had a mantra which was "If they see them, they will love them" and so Lyrick worked with The Wiggles' team on a way of getting The Wiggles seen. The first step was to put Wiggles film clips as trailers on Barney videos. This proved very successful, as many parents found their child wanting to see Hot Potato again and again and again. The next step agreed on was to get The Wiggles in front of a live audience. Knowing that The Wiggles put on a great live show, they knew this could work and so The Wiggles became the support act for Barney. Barney is an American icon and in the 1990s was a huge live attraction. When Barney played a season at Radio City Music Hall in New York City the first show sold out in 21 minutes, which was a record at the time. Eventually, there were 60,000 tickets sold to the season and The Wiggles performed in the intermission. There were even Wiggles videos at the famous FAO Schwarz toy store in New York. After the season, two Wiggles videos shot to number one and number two on the Amazon charts and shortly after, Wal-Mart stocked The Wiggles' videos in their stores and they became widely available for the American public, despite their pronunciation of banana!
The Band That Rocks The Cradle
The Wiggles continued to tour for most of the year and in one calendar year toured Australia, New Zealand, USA, Canada, Hong Kong, the UK and Ireland. The first shows The Wiggles did by themselves in the USA were in small theatres and church halls. I had flown to the USA and appointed a small promoter, D19 Productions, to book their shows in North America for a number of years. Other promoters in the USA didn't know who The Wiggles were at that stage, but after selling out these shows they were suddenly very interested. It was during these tours that the New York Times first wrote about the growing phenomenon of The Wiggles, calling them "the band that rocks the cradle." It seemed to be the start of something pretty magical in the USA. Live shows were selling out, their videos were topping sales charts and they were embraced by the most American of events, The Macy's Thanksgiving Day Parade! This is the event that millions watch on the streets of New York, while tens of millions watch the event at home. It was a huge honour for The Wiggles to be a part of the parade.
Tie Me Kangaroo Down
Back home in Australia, The Wiggles continued to receive awards for their music and video sales, while still touring around the country and recording and filming more content. The crowds in Australia grew larger for everything they did. In December 1998, in the city of Adelaide, a shopping centre appearance by The Wiggles made TV news around the country when it had to be cut short due to dangerously large crowds.
The Wiggles were able to start to draw on friends from the music industry who were now fans of the group. Crowded House drummer Paul Hester joined The Wiggles for a recording session on a few songs including Move Your Arms Like Henry and then did a cameo as John the Cook on a re-worked Fruit Salad and Hot Potato video.
Anthony Field was crowned Bachelor of the Year by Australia's Cleo magazine in their annual poll. Dame Edna Everage presented Anthony with the award and he may have only just now got over the embarrassment. It did mean random offers of marriage and one woman who drove alongside Anthony as he walked his dogs and stopped the car to introduce her daughter aged in her mid-twenties to him. The daughter is probably only now getting over the embarrassment as well.
The Wiggles released their first Christmas album and video, Wiggly, Wiggly Christmas. It proved hugely popular and would be the first of four Christmas releases for The Wiggles.
A duets album called It's a Wiggly, Wiggly World! saw The Wiggles perform with some of their dearest friends, Australian country legend Slim Dusty, Tim Finn, Jimmy Little, Rolf Harris, Human Nature, Kamahl, Christine Anu, and Atsuko Arai from Japan, who sung songs from around the world. The release remains one of the favourites of Wiggle fans.
2001 saw The Wiggles produce Hoop-Dee-Doo It's a Wiggly Party, which may take the award for the longest title of a Wiggles video! The Governor-General of Australia at the time, Sir William Deane, presented The Wiggles with the Starlight Foundation Lifetime Achievement Award for their work supporting and entertaining sick children and their families.
The World Changes
The world really changed when New York was attacked on September 11th, 2001. It was a time of grief and uncertainty. Performers and even sporting teams around the world, not just in the USA, cancelled tours and events for fear of being attacked. The Wiggles were due to tour New York City, Washington and many other cities in the USA and there were very real fears about what might happen. At this time, the American public reached out to The Wiggles and said if ever there was a time we need you, it's now! And so, The Wiggles did tour the USA and performed in a very emotional Macy's Thanksgiving Day Parade. Anthony recalls, "When we did the Macy's parade, we asked our cast if anyone had any problem or if they were worried about security, 'cause it was a bit scary. You don't have to go in the parade, but everybody did. I'll never forget the emotion and the feeling of, you know, this has happened to us, but we're all going to work through this together. It had an incredible community spirit." Murray agrees, "It was incredibly moving. It was almost a statement of New York's bravery, I guess, that they weren't going to be put down by what had happened." Like the rest of the world, The Wiggles had seen news of the suffering that many had endured. They also got to meet a family who had lost one of their own. Brian Cannizzaro was a loving son, husband and father who delighted in watching The Wiggles with his infant son Christopher. Brian and his wife Jackie had bought tickets to see The Wiggles in Connecticut with Christopher. But Brian was a fire-fighter with Ladder 101 in Brooklyn and was one of the first fire-fighters to arrive at the Twin Towers and after assisting people evacuate the building, he was tragically killed when the Towers collapsed. After his death, the dreadful tragedy was played out over and over on TV screens around the world. Jackie Cannizzaro recalls, "I had my son and I had to protect him from these images. And the only way I could think of doing that in those early days was to have The Wiggles on, and they were. They were on in my house 24/7." Brian's father Sam remembers, "Christopher was too young, he didn't realise Brian was gone. But The Wiggles put him in such a great frame of mind. He was just happy, just laughing all of the time." And so in those dreadful weeks that followed Brian's death, the family and friends decided that they would take Christopher to see The Wiggles and try and meet them. Jackie recalls, "A friend contacted The Wiggles office and told them the story that we were watching The Wiggles all the time and how, in many ways, The Wiggles were just sunshine in a time of horrendous darkness." And so The Wiggles met Jackie, Christopher and their friends and some fire-fighters at the show in Connecticut. Murray remembers, "Their story really touched us, because it made it a human thing. It was upsetting enough to watch it unfold on the day, but to then meet someone who'd been devastated so personally by it was incredibly moving." The Wiggles flew Jackie and her family out to Australia for a healing holiday. Brian's father fondly recalls, "For someone, strangers, to give a part of themselves the way The Wiggles did is, it's incredible. " The Wiggles held a concert at Brian's station and donated $50,000 to his foundation which has helped to educate children in the area. In an emotional scene, Jackie presented The Wiggles with a cross made from the steel from the World Trade Center, as a thank you from the families they had helped. The Wiggles would return to New York many times and the city embraced its Aussie sons by the Council of the City of New York awarding them at Engine 34 firehouse at 440 West 38th Street in Hell's Kitchen.
Wiggly Safari
On their return to Australia, The Wiggles got together with the Crocodile Hunter, Steve Irwin, to make one of their most famous videos, Wiggly Safari. Of course, it featured many songs about Australian animals and was filmed at Steve and Terri Irwin's Australia Zoo. Steve, Terri and Bindi were fans of The Wiggles and the filming made them even better mates. While the shoot was fun, it was a very hot film shoot and so filming would begin very early in the day, as the cast and crew would be drenched in sweat by lunchtime! Wiggly Safari was also dedicated to Brian Cannizzaro and those who lost their lives in the attacks on September 11.
Disney Digs The Wiggles
In 2002, The Wiggles were asked to be a part of the launch of Playhouse Disney on the Disney Channel in the USA. The Wiggles even wrote and performed the theme song for this channel.
The Wiggles TV show was broadcast each day and so this brought The Wiggles to a massive audience and to the attention of TIME magazine who under the headline of 'Music for the Pre-Ironic' warned that "The Wiggles may be singing and dancing their way into the heart of a toddler near you." And so they did, and over the years, amongst those fans were some very famous parents who watched The Wiggles on TV and DVD and then took their children to see them perform live in concert.
Lights, Camera, Action!
The Wiggles launched a co-production TV series with Australia's national broadcaster, the ABC, called Lights, Camera, Action! This series was their first to be broadcast on the ABC and was a great success. The rest of 2003 powered along, but one event remains a highlight of The Wiggles' career and is a historical moment in Australian music. The Wiggles performed twelve sold out shows at Madison Square Garden Theatre in New York City. To put this in some perspective, The Strokes were one of the coolest bands in the world at that time. They were on the cover of Rolling Stone magazine the week The Wiggles performed there. The Strokes sold out one show, The Wiggles twelve. I rest my case, your honour! Anthony enthuses, "Incredible as it may sound, it's now on the Trivial Pursuit game in America. It asks 'Who sold out twelve shows at Madison Square Garden Theatre?' And it suggests as the answer, The Stones, The Who, The Wiggles and someone else. It's pretty cool!" Murray agrees, "You know, when we first recorded that album in 1991, we had no idea that we'd probably ever visit Madison Square Garden, let alone play there!"
The Fab Four of Fun
Returning to Australia, The Wiggles received ARIA's Outstanding Achievement Award. Comedian and TV show creator Andrew Denton made the induction speech which was broadcast around the country, here's an excerpt of his introduction: "There are few supergroups worthy of the name. The Beatles, The Stones, U2 ... maybe Moving Pictures. Each characterised by superbly talented individuals who when they get together create pure magic. Tonight, we are here to honour the latest in this legendary line. Four men who despite being told that skivvy bands were on the way out, have gone on to dominate every part of the world not yet one metre high. Their passion for what they do, their genuine affection for their fans, the enthusiasm of their stage shows and their determination to sing about spotted dinosaurs and giant hat wearing octopuses without once being checked into rehab. All these are the hallmarks of greatness. Songs crafted for an audience already high on life, they never fail to fill their young audience with joy. But do not be fooled by their simplicity for their music is up there with the greats. As Lennon gave us Cold Turkey, The Wiggles gave us Hot Potato, as Prince sung Little Red Corvette they gave us Big Red Car. Share with me as we take a glimpse at the phenomenon that is The Wiggles."
Wiggling Along The Great Wall
The Wiggles did a whirlwind tour of Asia, firstly Hong Kong, then a US military base in Japan and finally onto China to film a special for the Disney Channel in Australia. The Wiggles travelled and performed in Shanghai and Beijing. While a large ex-pat audience attended the shows, The Wiggles did perform a couple of shows to an audience of non-English speaking children (from local schools) in Beijing. The children danced and clapped along to The Wiggles and loved to meet the characters. But during the introductions to the songs, The Wiggles noticed that the language barrier kicked in and the children grew restless. So within a couple of songs, The Wiggles started doing the quickest introductions of their careers! Once the song kicked in, the children could have easily been from Sydney, London or San Francisco!
Anthony, You're A Doll!
We met with Canadian toy maker Spin Master at the licensing show in New York and they created a range of goods for the mass market, including a Wiggles guitar, the Big Red Car and a musical hot potato! At one stage, you could walk into Toys 'R' Us in Times Square and see a Wiggles section. My wife commented at the time, "It's kind of surreal to walk into a store in New York and see a doll of your brother!" The Wiggles supported the launch of the toy range with an appearance and a performance and people were lined up around the block to gain entry. The Wiggles guitar would win an award for best new toy at the Toy Fair.
Muzza
Murray made an appearance on Who Wants to Be a Millionaire? He raised $32,000 for CARE Australia. Well done, Muzza!
Santa's Rockin'!
Santa's Rockin'! was released with special appearances by rock legend John Fogerty singing Rockin' Santa! and Great Big Man in Red; Barry Williams from The Brady Bunch sung Wags Stop Your Barking, It's Almost Christmas Day. As we watched, we all remembered Barry as Greg Brady and 'Greg Groovy' back in that wonderful Californian bungalow that housed the Brady Bunch! Barry's pants were suitably flared for his performance. Fresh from his appearance as King Mondo, Ross Wilson joined us for a beautiful song about the birth of baby Jesus, This Little Baby Is Born Again.
The then Governor of Louisiana, Kathleen Babineaux Blanco, presented The Wiggles with an award for entertaining and educating children. Louisiana had a Wiggles Appreciation day! Followed by an award presented by the City of New York.
NASA
(Houston, we have a Hot Potato!) The Wiggles visited the Johnson Space Center in Houston, Texas twice, in August 2004 and 2005, and both times it was so exciting! As most of us grew up as children during the Space Race era, the idea of astronauts and NASA was the stuff of dreams! You knew The Wiggles had made it in the USA when NASA called you! And so, The Wiggles were first invited to tour the facility on Thursday, August 5th, 2004 where they participated in a live talkback conversation with astronaut Mike Fincke who, at the time, was living on the space station! Astronaut Finke and his family were big fans of The Wiggles and so it was a special outer space bonding session with his young son to be able to sing with The Wiggles from outer space and to see each other and converse and sing on the big screen. The Wiggles sang Hot Potato and it was broadcast live via satellite to TV stations nationwide and on NASA TV and NASA's website. The Houston Chronicle reported that "The fab four also made a surprise visit to the on-site day-care centre where little astronauts were excited to see them." The visit was a feature on ABC World News and still gives The Wiggles a buzz to think the song that started as a busking melody on the streets of Sydney would be beamed to a space station from NASA, wow!
I wanted to film the guys the second time we visited NASA and it took quite a while to negotiate this. As you can imagine, after 9/11, it would take weeks to process security badges and we needed clearance for our film crew, even though they were local. Luckily, the Public Affairs person was a mother of a wiggle fan and she smoothed the waters for us! I received our schedule from NASA via email. We were all so excited and I loved seeing on our schedule that we'd be meeting an astronaut. Even the streets had space age names!
Here it is below: 6:15 am Arrive for badging at Bldg. 110 (main entrance off NASA Parkway and Saturn Lane) 6:30–6:45 am Scout Rocket Park for possible filming 7–8:30 am Film at Bldg. 9 - Space Shuttle mockup (floor only; cockpit/middeck) 8:45–9:45 am (Possible filming at Rocket Park - if not, move to Bldg. 30) 10–11:30 am Film at Bldg. 30 - Apollo Flight Control Room (I'll have a graphics person on hand to help with the images on the background screens) 11:30–11:45 am Meet/Greet (awaiting word of the Director and astronaut and family) 11:45–12 noon Wrap-up/teardown
We got to see the Mission Control area where the lunar landings were controlled. It was kind of scary to hear that the whole of the computer systems they used in Mission Control when Apollo 11 went to the moon wouldn't have the power of an average computer nowadays. They were smart guys back then. At the end of the day, I was given a thank you gift from astronaut Bob Cabana, who had flown the space shuttle! His signed photo thanked me for my support of space exploration. All of us had loved every minute, oh and we got footage for a film clip for Walking on the Moon. Dare I say, mission accomplished!
Wiggles World
In September 2005, Dreamworld opened Wiggles World, a Wiggles themed entertainment area for preschool children. Previously, most theme parks had failed to cater for preschool children and so this Australian park made a revolutionary move that worked tremendously well. Wiggles World now features the Big Red Car ride, Dorothy's Rosy Tea Cup ride, The Fun Spot and the SS Feathersword, as well as a Wiggles shop and café. Wiggles World went so well that they opened up Wiggle Bay at WhiteWater World which is a wet and wiggly world of fun in a mini water park designed for the under-fives!
Hola Todos!
Over the years, The Wiggles had interest from different non-English speaking territories to develop Wiggles songs. At first, a children's artist in Brazil named Xuxa asked for permission and then started to do versions of Wiggles songs. Her videos were very successful, which showed that there were real possibilities for development of Wiggles music overseas. And so rather than waiting for others to do it , The Wiggles themselves created a TV series for the Latin American market and, in partnership with Disney, one for the Taiwanese market. The Wiggles first saw a Taiwanese version of the group in a Disney office in Hong Kong. Greg, Murray, Jeff and Anthony were all seated when three guys and a gal burst through the door and introduced themselves in Mandarin and then went on to sing Hot Potato in Mandarin with perfect choreography. It was both joyous and surreal for all to watch this group in action. The Taiwanese group faced some unique challenges, military conscription is mandatory and so one of the group had to leave to serve his term in the army. The live scene in Taiwan was also not enough to sustain the group and so some members changed before a TV series was made. Arthur Chen, who was the yellow Wiggle in the group, eventually moved to Australia and worked with the Dorothy the Dinosaur troupe. He remains one of the most vibrant performers we've come across.
The Latin American Wiggles were cast in Australia and we found two men and two women to play the roles. Their backgrounds were Mexican, Peruvian, Colombian and Chilean. A series was shot and broadcast on the Disney Channel throughout Latin America. While it was well received, a majority of viewers had access to satellite broadcast of the US networks showing The Wiggles from Australia. So many wanted the group broadcast in the USA (the Aussie Wiggles). And so the lesson for The Wiggles was that dubbing is the easiest and most efficient way of introducing your music into non-English speaking territories. Both The Wiggles and the Dorothy the Dinosaur Show have been able to be broadcast in over 100 countries. For example, in Italy (on JimJam) The Wiggles sing in English but their speech is dubbed in Italian. As a producer of the shows, it is fun to receive the different voice audition tapes and listen to the different Anthony's or Dorothy's and to pick the one that best suit our characters. With dubbing working well in other territories, we decided that both the Latin American and Taiwanese Wiggles would not continue.
Tickets Are Selling Like Hot Potatoes!
2005 saw The Wiggles continue to tour across the USA, Canada, Australia and New Zealand. The pace was constant and the shows as energetic as ever. The Wiggles received another ARIA award for the Best Children's Album for Live Hot Potatoes!
You know that your band or show is a hot property when ticket brokers are touting your tickets! Up there with the hottest acts in the world, U2, Oasis the LA Lakers and Coldplay, was The Wiggles! My brother-in-law, Simon, is in the Police Force so he can tell me with great certainty that the photo (left) showing the ticket agency was taken in May, 2005 at the intersection of Sunset Blvd and Wilcox Ave, Los Angeles!
Racing To The Rainbow
By 2006, The Wiggles had been creating music and characters for fifteen years. Children who had been early Wiggles fans were now adults themselves! The Wiggles celebrated their 15th birthday with events in Sydney, Melbourne and Dreamworld in Queensland. A special disc was distributed free with Sunday newspapers showing film clips and behind the scenes footage of over 15 years of fun. A new season of The Wiggles Show! was broadcast on the ABC featuring segments such as 'Dorothy's Dancing Alphabet', 'Jeff's Animal Facts' and Wiggly animation. The most exciting release of the year was their DVD Racing to the Rainbow.
Racing to the Rainbow, written by Wiggles writer Greg Truman, was one of the first pre-school DVDs to be filmed in high definition. It was a fun adventure and featured some special guests such as Georgie Parker as the Queen of the Rainbow, Kamahl as the King of the Road, and one of Elvis Presley's cars loaned to us by Greg.
The Wiggles had also made a new CD and DVD with Greg called Wiggle and Learn, but these songs with Greg would never be released due to his retirement.
The Wiggly Zeitgeist
The Wiggles by this stage were really a part of popular culture both here in Australia and around the world. They'd been referred to in TV shows such as ER and The West Wing! It was clear that to be referring to The Wiggles in a show for adults indicated that all ages would presumably understand the reference, and was another sign that The Wiggles had reached a new level of awareness. Other TV shows and movies that made reference to or showed The Wiggles include Scrubs, The Crazy Ones, How I Met Your Mother, Two and a Half Men, The Family Guy, Six Feet Under, Arrested Development, Saturday Night Live, Kath & Kim and movies such as Knocked Up, Life as We Know It and Just Like Heaven. Of course The Wiggles also appeared on TV shows such as Yes, Dear; The View; Entertainment Tonight; TODAY Show; Jimmy Kimmel Show; The Late Late Show with Craig Ferguson; The Panel; Enough Rope with Andrew Denton and Sunrise.
Doctor Wiggles
The Australian Catholic University awarded The Wiggles their highest honour, Doctor of the University, (Honoris Causa) in acknowledgement of their outstanding contribution to early-years education and child development through the arts. Speaking of The Wiggles achievements, ACU's National Vice-Chancellor, Professor Peter Sheehan, said how The Wiggles "had used their knowledge of early childhood education, the value of the preciousness of individuals and their keen interest in music and art to bring joy, humanity and great happiness to young children." In reply, Murray Cook said, "We're only partly joking when we say we're still teaching, only now our classroom has 2000 children rather than 20!" At the time of the presentation Greg was ill, a portent of things to come.
Something Is Wrong
The sustained touring of The Wiggles over the years was unprecedented by any successful popular group in history (remember they've performed more shows than The Rolling Stones) and it has taken its toll physically on all of The Wiggles in different ways and at different times.
Both Murray and Greg at one stage wore knee guards as a result of years of bouncing around on stage. Anthony's physical challenges (bad back, poor diet, little rest, etc.) were well-documented in his book How I Got My Wiggle Back, and Jeff has faced his own physical limitations, but perhaps most notably though, Greg's challenges would ultimately lead to his retirement from The Wiggles.
Greg Page had felt shortness of breath going way back to 1992 which was later discovered to be a symptom of a more serious health issue. Greg mentioned in his book, Now and Then, that by 1995 the shortness of breath he experienced had gotten worse, but a doctor told him that he could find nothing wrong with him. Greg's symptoms, such as chest pain, shortness of breath and feeling faint seemed to get worse over the years and most people would easily attribute these symptoms to the heavy touring schedule. When Greg toured Hong Kong, during the SARS epidemic, he felt ill during a show and so fearing that he might have contracted SARS, he was taken to hospital and had a battery of tests. Still nothing could be found to explain his symptoms. He started to miss quite a few shows due to his health or to have tests done, though not everyone was sympathetic. Some fans complained about Greg's absence and a press reporter in New Zealand asked me why we would tour or perform without our singer. "It's like the Stones going on without Mick Jagger," the reporter said. I did say to the reporter (to use a 1960's analogy) that the Beatles tour of Australia went ahead when Ringo got tonsillitis and that he was temporarily replaced by Jimmy Nicol. There would be no question that those screaming Beatles fans back in 1964 would prefer a show without Ringo than no show at all!
The Wiggles' show was different to one from a normal pop or rock band. The appeal of a Wiggles show has many facets, the songs and characters, and although a member might be missed, the show must go on! Children can be quite accepting as long as things are explained to them and whenever Greg was ill, we would tell our audience. By this stage, we had understudies in the show, so that if anyone was sick or needed to be with family, their role would be covered by another performer. Brett Clarke and Sam Moran were often Greg's understudies and they did the job well. Sam recalled, "There were times where he would run off stage midway through a song and indicate for me to take over because he had to take a break. There were also times when the overture was playing and he realised he couldn't go on and I had to quickly put the yellow skivvy on and run out there and start the show."
Poor Greg continued to battle some serious physical challenges. He would finish a show only to have his hands trembling and his legs feeling weak and he still didn't know why. In his book, Greg tells how he started to be less active on stage, where he would stand playing the keyboard or the guitar rather than dancing as he simply did not have the energy anymore. Greg would faint at different times; I remember him coming into Hot Potato Studios and watching a Dorothy show rehearsal and he felt light-headed and fainted. I called an ambulance who attended and tested Greg but found nothing wrong. Eventually, after a lot of testing, Greg was diagnosed with a disorder called Orthostatic intolerance. At least he knew what had caused him so much distress, but his physical condition was such that he could not continue performing or, in fact, doing much else but concentrating on his health. People wouldn't understand just how physically Greg was affected. I remember seeing him at a Christmas party. My wife and I were walking about a hundred metres away from a man walking very slowly with a cane; he looked weak and slow like an old man, but it was Greg.
I Read The News Today
Greg got to the stage where he really couldn't commit to a future performing. His body wouldn't allow him to continue anymore. I had been cold called many times by radio stations and newspapers asking about Greg's condition. There was a lot of speculation and so we prepared to formalise his departure. I shot footage of Greg talking about his departure and handing over his yellow shirt to Sam, it was a very emotional experience for all there. We would use this footage to play at live shows so that the audience would see for themselves Greg's announcement. We held a press conference in Perth and issued the video footage and a press release quoting Greg: "This emotional decision was one which was very difficult, as I have dedicated almost half my life to The Wiggles, and with a question mark over my health, I feel that this is the right decision. I will miss The Wiggles and the other guys very much, as well as seeing all the children in the audiences that we perform in front of. I wish the guys continued success and welcome Sam Moran with open arms to the Yellow skivvy. I know he is a great performer and is well-equipped to be the Yellow Wiggle."
Murray was quoted as saying, "The four of us started from humble beginnings 15 years ago and we've been though many adventures together. We will miss Greg as a superb singer, performer and songwriter but mostly we'll miss him on the road as a friend and ally."
If proof was ever needed to show the success of The Wiggles, news of Greg's departure was reported worldwide. Rock journalist Paul Stewart commented, "The fact that Greg's departure was reported on the front page of the New York Times, that wouldn't happen to any band in Australia, or the world." The news was on the covers of most newspapers and led the TV news broadcasts. In the USA, shows such as Saturday Night Live even used the news in a skit.
Sam I Am
So Sam Moran replaced Greg Page, but who was Sam before he became a Wiggle? At first, our audience really didn't know him and they were still grieving over Greg's emotional departure. Sam came to our attention through Anthony and my brother, John Field. John (Mr Hot Potato) Field writes songs for The Wiggles, but he has also written a number of musicals. One of these musicals was called Evie and the Birdman. When John held auditions for his show, Sam turned up to sing for him. Sam was working in computers at the time, but had studied classical voice and music at the Sydney Conservatorium of Music. John called Anthony and said, "You've got to hear this guy sing, he's amazing," and that's how Sam came across Anthony's orbit. Anthony was putting on a musical of his own called Haste to the Wedding and used Sam as a singer on that project. Sam's background was very much musical theatre, he had performed in productions of Forever Plaid, Sweeney Todd and even Seven Little Australians. Anthony suggested that Sam become the host of the Dorothy the Dinosaur live show so that he would hone his dancing skills and his early childhood performance skills. The Dorothy show travels around Australia in smaller venues than The Wiggles show, often travelling to far-flung rural towns and cities. It's a hard slog as you set up your own PA and set, do the show and then bump out. However, the Dorothy show also toured overseas to New Zealand and the USA. As The Wiggles' music producer, Anthony also started using Sam as a backing vocalist on Wiggles albums. Soon after, Sam became part of The Wiggles' cast and understudied Greg. Luckily for Sam, he also met his future wife Lyn on The Wiggles tour. In those days, we would pick up some dancers from the USA to play our character parts over there (we did this for a few years but eventually took our Aussie cast with us overseas). Lyn was part of The Wiggles' cast, initially playing the role of Dorothy and then a Wiggly dancer.
We Have To Re-Shoot
The last filming project Greg had finished before he retired was the Getting Strong! CD and DVD. Once he left, we faced the question of what do we do with this material? Greg has now left, so do we release it after he has gone or re-shoot with Greg's replacement Sam? We decided to re-record the CD and re-shoot the DVD of Getting Strong!
Dorothy The Dinosaur Superstar!
Dorothy the Dinosaur is The Wiggles' most popular character. She has spawned three TV series that are broadcast in over 80 countries, in many different languages. This Wiggly character came about from a simple observation of what children like. Anthony remembers, "Dorothy came out of Murray's classroom. Murray was teaching and he noticed, like most children, that the children in his class loved dinosaurs." So, using the melody of an old Cockroaches song, Murray wrote a song about finding a dinosaur in your backyard whose name is Dorothy. Murray comments, "Anthony took the tape and gave it to a couple of kids to take home. A parent came back and said, 'My child played that song over and over.' So we thought, well maybe that's the hit!"
When we sat down to create the Dorothy the Dinosaur TV series, we discussed that it might be more than one series. The first series would be set in Dorothy's house and garden with her friends coming to see her. In the second series, Dorothy would go out into her world (the world familiar to a pre-schooler) to the library, a bakery, a fruit shop and a dance studio. The third series would actually see Dorothy go out into the world and visit countries overseas. This is the way the series did unfold. However, the first step for us was establishing the look.
Anthony and I spoke about wanting to make the series look different from The Wiggles TV shows. In this series we would see Dorothy's house for the first time and it needed to be pretty special and unique. As Dorothy is a female we needed a feminine touch, which neither of us have, and so we turned to our mother Marie, a floral artist, who gave us some inspiration. We asked Mum's friend Michele Lynch, who hand paints furniture and craft, to assist in choosing the colour schemes. Marie and Michele physically worked on the sets and helped make Dorothy's world one of great beauty!
We also had a number of special guests appear in Dorothy the Dinosaur's TV series; some of Australia's best performers joined us for series 2. Leo Sayer is originally from the UK and is one of the world's most famous performers and luckily for us, he has moved to Australia. Leo sung with that infectious chart-topping voice as Doctor Leo! The incredibly gifted Australian country artist, Troy Cassar-Daley, who has a voice that could charm the whistle off an evening train, was our singing librarian and sang I Love it When It Rains. One of Australia's most famous early childhood performers, Play School's Don Spencer, performed as Don the Postman; he was magical! Australian opera singer David Hobson crooned with Dorothy on Dance a Cachuca! The fabulous actress/producer Jane Kennedy was Jane the Dentist, delightfully singing I Look in the Mirror. We were privileged to work with Kathy Gothadjaka (Gotha), an elder from the Warramirri people on Elcho Island. She spoke and sung with Dorothy in a beautiful song called We Are All in God's Family (Ngalman Djangu Godku Yumarrku). Elcho Island is a special place indeed and is also where the great singer Geoffrey Gurrumul Yunupingu grew up.
Wiggle And Learn!
The Wiggles jumped into production of a new TV series following the theme set with Greg's last recordings. The TV series was called Wiggle and Learn and was shot at Hot Potato Studios on green screen which meant that the backgrounds were quite bright and colourful. Apart from the engaging songs and dances, the series offered a range of educational opportunities concerning mathematics (matching and sorting), literacy (sounds and letters) and physical development (healthy eating). The Wiggles included their friends from Elcho Island when Henry the Octopus travelled to Australia's north to entertain the children there. Wiggle and Learn was broadcast around the world.
Pop Go The Wiggles!
Most early childhood acts start their careers making albums with nursery rhymes and The Wiggles certainly learned at university about the importance of nursery rhymes and traditional songs. They are a part of our literary, cultural, historical and social heritage. Generations of children have delighted in nursery rhymes and so for the first time, the 'fab four of fun' recorded some of their favourites to delight a new generation on Pop Go The Wiggles! The release featured classics such as This Old Man, Twinkle, Twinkle Little Star, Mary Had a Little Lamb and Hickory Dickory Dock. Of course, the shoot involved a lot of dressing up which The Wiggles had great fun doing. With a knick-knack paddy-whack, families loved this release from The Wiggles!
Live, Live, Live!
The Wiggles continued to perform around the world, with a touring schedule that made Willie Nelson look downright lazy! The majority of the year is spent travelling and performing.
Syd-De-Ney (NSW)
The Wiggles and their characters worked with Tourism New South Wales to help promote NSW as a destination for people all around the world. Murray was originally from country NSW, as was Sam and Jeff, and so they were able to help promote travel to their home towns and regions.
You Make Me Feel Like Dancing
Having worked with Leo Sayer on Dorothy the Dinosaur's TV series, we wondered if he would like to work with The Wiggles. Sooner than you could say Thunder in My Heart, Leo was in Hot Potato Studios re-recording one of his biggest hits around the world, You Make Me Feel Like Dancing! Apart from his amazing voice, it was so much fun listening to Leo's anecdotes of life as one of the biggest stars in the world. He was so much fun to work with and the film clip we made is one of our favourites, with Anthony throwing in some Greek singing and dancing as well. Troy Cassar-Daley also joined us again for a traditional folk song, Old Dan Tucker. Wiggly fans catapulted this release to the top of the video charts, while The Wiggles' peers voted You Make Me Feel Like Dancing as the Best Children's Album of 2008 in the ARIA awards. If you heard Dr Knickerbocker, Day-O aka The Banana Boat Song and The Shimmie Shake! then you'd agree that You Make Me Feel Like Dancing did exactly as the title suggests.
UNICEF Concert
In 2008 The Wiggles were asked by UNICEF to be goodwill ambassadors. Apart from spreading the word about the good work UNICEF do around the world, The Wiggles decided to raise funds to assist their work. As a musician friend of ours, Paul Stewart, has a close personal relationship with Timor–Leste, I suggested we do something in this country. UNICEF developed a project which involves the supply of clean water and 300 low cost sanitary latrines (including hand-washing facilities) for five schools and surrounding communities in Timor-Leste. And so I sent out a letter to some of Australia's best entertainers to see if they would join us to help raise funds for this specific project. Jimmy Barnes, Leo Sayer, John Paul Young, The McClymonts, Ross Wilson, Kate Ceberano, Katie Noonan, Beccy Cole, Damien Leith, Shannon Noll and even Miss World Australia, Caroline Pemberton, helped sell out the Sydney Entertainment Centre!
In Wiggles We Trust
Later that year, Reader's Digest published a list of the nation's (Australia) most trusted. The Wiggles were voted the fifth most trusted Australians. The list went as follows:
Dr. Fiona Wood (Burns specialist)
Prof. Ian Frazer (Cancer researcher)
Ian Kiernan (Clean Up Australia)
Dr. Harry Cooper (TV Veterinarian)
The Wiggles (Entertainers)
Sing a Song of Wiggles
Such was the success of Pop Go The Wiggles!, the guys wanted some more rhyme and rhythm and so produced another nursery rhymes release called Sing a Song of Wiggles. Research into learning suggests that exposure to rhyme and rhythm during the early childhood years greatly facilitates children's success in learning to read.
Murray in Mozambique
In February of 2009, Murray travelled to Mozambique with UNICEF Australia to see the UNICEF Schools for Africa project. Murray saw how communities had rallied to build and renovate their own schools (after UNICEF provided cement and plans). He also learned of the many issues related to educating children (lack of teachers, girls dropping out, children fetching water which keeps them out of school). It affirmed the wonderful work UNICEF does around the world.
Kylie!
My wife was reading an interview with Kylie Minogue in the weekend papers where Kylie mentioned The Wiggles. Kylie recalled, "One of my nephews is a big fan of The Wiggles, so I thought if an opportunity came up I would love to be a part of one of their shows." I got in contact with Kylie and invited her to Hot Potato Studios to record and film a song together. She was to be touring Australia at the same time as The Wiggles and so we didn't quite know how we'd make those schedules work. In the end, Kylie cancelled some of her appointments to record and film just hours before performing one of her sold out shows. Anthony had selected the song Monkey Man, an old Toots and the Maytals song, and we determined that we'd donate the performance royalties from the song to UNICEF. Kylie wore her special pink skivvy (that she adapted herself with a pair of scissors), black pants, a low slung Wiggles belt and some shiny pink Christian Louboutin shoes! She was such a joy to work with and was a very popular aunty indeed! Kylie later told London's The Sun newspaper that "it was so much fun" and that she hoped it would impress her nephew Charles. "He will think I'm really cool." Monkey Man was included on the CD and DVD release The Wiggles Go Bananas!
Dorothy The Dinosaur Touring
Such was the popularity of Dorothy the Dinosaur's TV series that live shows written by Anthony toured around Australia. The show delights around 100,000 children a year as it travels around Australia and New Zealand, often covering great distances. In an 18 month period, the show performed over 400 times over 200 show days. A third Dorothy TV series was later completed and broadcast.
Macquarie University
On September 25th, 2009, a wonderful event took place at Sydney's Macquarie University. Murray, Jeff, Anthony, Sam and Greg were awarded a Doctor of Letters (honoris causa) as part of the significant contribution they have made to early childhood education in Australia and internationally.
Dorothy The Dinosaur Meets Santa Claus
For the first time ever, we created a Dorothy animated adventure, Dorothy the Dinosaur Meets Santa Claus. The music-filled adventure had songs with Kasey Chambers, John Paul Young and Ireland's Morgan Crowley.
The Kingdom of Paramithi
The Kingdom of Paramithi is a TV series made by The Wiggles' production team. Another of Anthony's creations, I worked with him to develop it and wrote it with Paul Paddick. Each episode features singing, dancing and storytelling, as well as a king (played by, soon to be Red Wiggle, Simon Pryce), a queen, a butler, a maid and a castle! It's all set to music from Sir Arthur Sullivan with new words, and folk tales and fairy tales. It's on with the show!
The Wiggles began hosting a morning segment called The Wiggly Waffle, which is broadcast in the USA on Sprout and in Australia on the ABC. The Wiggly Waffle has lots of fun segments, including the fifth Wiggle segment where parents send in photos of their child whose head is superimposed on a dancing green shirt Wiggle, so it looks like the child is dancing with The Wiggles.
Wiggle Time
In 2009, Wiggle Time was launched as an online destination that provided children with Wiggles games, activities, videos, a pre-school style virtual world, and access to a resource centre for parents with a library of valuable parenting articles and tips. In 2011, The Wiggles introduced Wiggle Time TV to the site, which showcases full-feature episodes of The Wiggles, along with their other brands, Dorothy the Dinosaur, Baby Antonio's Circus, and The Kingdom of Paramithi. The service provides over three hours of video content and is refreshed fortnightly. Recently, The Wiggles acquired The Adventures of Gracie Lou, Five Minutes More and The Fairies for global distribution across the Wiggle Time TV service, and we are currently in discussions with other well-established third party brands, including locally produced children's shows to support the Australian Film Industry. Wiggle Time TV is now accessible across a range of devices, including selected Samsung and Sony devices, extending the reach of Wiggle Time into families' lounge rooms through their TVs.
2009 also saw the release of The Wiggles Big, Big Show! on DVD and Hot Poppin' Popcorn. People often say that The Wiggles have been clowning around for a long time and these two releases saw the guys indulge their love of circus. Hot Poppin' Popcorn kicks off with It's a Wiggly Circus, then onto Doing a Handstand and, what must be one of the great song titles of all time, Murray's Guitar Saved the World. Australia's Jamie Redfern also made a guest appearance on the title track.
2010 started with a bang as the first greatest hits collection for The Wiggles was released. Titled Hot Potatoes! The Best of The Wiggles it contains 35 clips as well as special features such as interviews with The Wiggles' Mums, some original film clips from 1991 and Latin American and Taiwanese Wiggles clips! Later that year, The Wiggles teamed up with Aussie rock legends Mental As Anything to produce Lets Eat! Cover art that was more than a nod to the fab four, The Wiggles delivered music that was deliciously delightful! It was the second Wiggles release to be on Blu-Ray.
Baby Antonio's Circus
Baby Antonio's Circus is a TV series created and directed by Anthony. Each episode features Baby Antonio and his young friends who perform in his circus. The grown-up circus performers observe what Baby Antonio and his friends do and try to replicate their actions. Whether it's jumping on the trampoline, playing with balls, spinning plates or swinging on the trapeze, Baby Antonio's Circus is lots of fun! So roll up, roll up, take a seat and enjoy the circus!
Sam Goes Solo
Sam Moran recorded and then released a solo album in 2010 called Colour of Love. The album was recorded in Sydney and includes songs such as Fleetwood Mac's You Make Loving Fun and Extreme's More Than Words. Sam then sang the national anthem live on TV across the country at the first State of Origin rugby league game, which was an exciting surprise for us all. This followed Sam's solo performance at Carols in the Domain where he soared on O Holy Night!
20 Years!
2011 saw The Wiggles set sail on the celebrations of their 20th year as a group. The Wiggles were a part of the Australia Day celebrations in Canberra and performed at the concert in front of Parliament House. After this performance they presented a pink Wiggles shirt to Australia's Prime Minister, Julia Gillard.
Queensland Floods
People across the world were saddened to hear the devastation and loss caused by severe flooding in Queensland in January, 2010. Following many requests, The Wiggles made a number of trips to affected areas and evacuation centres across Brisbane, Ipswich and the Lockyer Valley. Ipswich Mayor Paul Pisasale said that it was tremendous that The Wiggles visited and performed for the city's young people of life. "The flood has left many people devastated, in particular children. I've seen children traumatised by seeing their toys thrown out in a soggy mess in rubbish piles." Anthony Field said, "We mourn the loss of life and the devastation of so many homes. Our thoughts and prayers are with those families who are suffering." He remembers, "It was good to visit the affected communities and bring a smile back to the faces of some of the children." The Wiggles continued to support a number of charities and community groups, such as, UNICEF, St Vincent de Paul Society, the Australian Children's Music Foundation and, of course, Red Nose Day for SIDS and Kids.
Order Of Australia
The Governor of New South Wales, Marie Bashir, presented Anthony, Murray and Jeff with the Member of the Order of Australia for their service to the Arts and Entertainment. It was a special moment for The Wiggles and their family members who attended. The Governor said, "At this investiture of these dearly loved men, they've given so much happiness to countless children." She continued, "It has been a very great pleasure at being able to present these awards to these three fine Australians. My two eldest grandchildren introduced me to The Wiggles 17 years ago!"
Exhibition Time!
In September 2011, The Wiggles Exhibition at the Powerhouse Museum opened. Over 200,000 people have since viewed this display. Young children can play Anthony's fruit salad game, try to wake up Jeff, play guitar with Murray, draw on a digital screen, and even watch The Wiggles perform in 3D in a virtual performance. There's so much for the children to do and there's even a trivia quiz for grown-ups. Peter Cox, curator Australian History and Society, spoke about The Wiggles' place in Australian performing arts, history and culture, "We know it will engage and excite not only our pre-school audience, but also the young adults that grew up with The Wiggles, their parents and their grandparents. The exhibition has already been extended until the end of 2013.
Ukulele Baby!
The sweet sound of ukuleles wafted through Hot Potato Studios as The Wiggles produced Ukulele Baby! Featuring twenty-three new Wiggles songs, The Wiggles teamed up with Mental As Anything's Peter O'Doherty and his brother Chris (Reg Mombassa), and Greedy Smith, who wrote with The Wiggles on some of the catchy songs like Hula, Hula Baby; When I'm Painting and My Curly Sue Doll.
Rewiggled
I met with ABC music in 2010 and spoke about a new project I wanted to develop. A tribute album to The Wiggles done by contemporary artists. I drew up a list of the artists we'd love to hear do their version of Wiggles songs that we would suggest. Of course, I needed the input of those who are hip and in touch with modern music. The young cast and crew members, Clare, Luke, Molly, Tim and Jonesy, all suggested artists and then we worked out what songs they might do. Of course, Murray Cook (resident music guru) approved the final list before we approached the artists. It really was the who's who of Aussie cool. The Living End singing Hot Potato, Sarah Blasko - I Love It When It Rains, Washington - The Monkey Dance, Jebediah - Getting Strong!, Snowdroppers - Wags the Dog and Busby Marou - Dressing Up. By 2011, the album was released. The Wiggles just loved these versions of their songs and Rewiggled remains a project that was the best fun! Wouldn't it be great to have a live version of this album?
Documentary
Another pet project for the 20th birthday celebrations was a documentary, Everybody Clap! Everybody Sing!, about the first 20 years of The Wiggles. It was a part of The Wiggles Big Birthday! DVD release and featured interviews with The Wiggles and Paul Paddick, as well as their mums, music commentators and some of those involved in their career. An updated version will be broadcast late 2012 on cable in Australia. In an historic moment, ARIA inducted The Wiggles into the Hall of Fame by the great Australian actor David Wenham. All five Wiggles, Greg, Murray, Jeff, Anthony and Sam, attended the ceremony! In a nice coincidence, The Wiggles were inducted in the same ceremony as Kylie Minogue. It was a great social occasion and it was where The Wiggles saw that Greg had returned to good health.
Jeff's Condition
Jeff Fatt never missed a gig in twenty years, but late in 2011 Jeff had been feeling unwell and luckily agreed to have some tests done. It was found that he had arrhythmia, a condition where the heart beats irregularly, and so Jeff was fitted with a pacemaker at Sydney's Mater Hospital. Jeff missed a North American tour, joking that he was forming a band called Jeffrey and the Pacemakers. Jeff had some clots form after the operation, which meant that he had to modify his medication and also his workload. In deference to Jeff's condition, we cancelled The Wiggles' annual performance at Carols in the Domain. This caused a bit of controversy in the press, as The Wiggles had previously never missed a Carols performance.
Christmas Time!
To finish the year, The Wiggles created their most joyful and triumphant Christmas release to date. It's Always Christmas With You! celebrates Christmas around the world. It features spectacular sequences shot on location in Ireland with the group Anúna, New York with Joey Fatone for O Holy Night, as well as a song with Australia's Indigenous dance group The Chooky Dancers.
The Big Tent Tour in Australia was a massive undertaking and finished in Sydney at Fox Studios. The total attendance for the tour was over 200,000 people!
2012 And The Future
The Wiggles approached Greg Page and asked him to return to the group. After spending the last few years recovering from his condition and getting his health back on track, Greg was thrilled to have the opportunity to help us out and have another chance to perform as a Wiggle. He said, "This takes me full circle. I'm excited to be back with my friends and to be entertaining our incredible fans again. I didn't get a chance to say farewell last time, so this is an opportunity I couldn't refuse. I'm feeling great and looking forward to doing what I love."
It was announced to the public on January 18th that Sam would be leaving the group and Greg would be returning. Sam met with Greg at Hot Potato Studios to pass the yellow skivvy back to him and a photo was taken to commemorate the event. Greg spoke of the event to the press stating, "Sam and I saw each other yesterday morning and he handed over the yellow skivvy and gave me a hug and said, `All the best and good luck. I'm really comfortable with it, I'm happy'.'' Sam was also quoted saying he enjoyed every minute of his time with the group and that he looked forward to new opportunities and more time spent with his wife and daughter.
The Wiggles started recording a new album titled Surfer Jeff and filmed it around Sydney and the Gold Coast. It also included clips shot around the world in places such as Paris, Rome, London and Abu Dhabi. The Wiggles started touring Australia to promote this release.
Jeff had been experiencing back pain over the last year that had developed to the point where he could no longer surf for a time, his movements on stage were somewhat restricted and he started contemplating his future. Murray had also been thinking about his future and wanting to spend more time with his family, and so once they both started speaking of these thoughts they decided that it was the right time to bow out.
With his mates' decision to retire, Greg felt that it would be great to finish the year performing with the group on a celebratory farewell tour and then retire with them at the end of it.
The Wiggles' replacements were soon after announced: Lachlan Gillespie (Purple Wiggle), Simon Pryce (Red Wiggle) and Emma Watkins (Yellow Wiggle).
This announcement made the front page of every major newspaper in Australia and the press were particularly interested in the fact that there will be a female Wiggle for the first time. Sam sent Emma an SMS wishing her the best. In Australia at this time, we had the first Australian Governor-General (the Queen's representative), the first Australian female Prime Minister, the first female Governor of New South Wales, and now the first female Wiggle. Of course Emma was selected for her talent, not her gender. It was truly was an historical moment.
At the same time, it was announced that Sam Moran would be touring with opera singer Mirusia Louwerse throughout July on the east coast of Australia. Sam commented, "I am excited to join her onstage and once again stretch my vocal chords in ways they haven't been for the past few years." It was also announced that in August, Sam would be singing at the Duets event for the ACMF.
The Wiggles are long-time supporters of SIDS and Kids. The Wiggles first TV appearance was supporting Red Nose Day in 1991 and their first album (1991)was dedicated to Bernadette Field who died from SIDS in 1988. Since that time, The Wiggles have worked with SIDS and Kids to promote their safe sleeping campaign. In 1988, there were 500 deaths due to SIDS, whereas in 2008, there were 59 deaths due to SIDS. While 59 deaths is still a tragedy, there are thousands of children in those ensuing years who are alive as a result of the campaign. The Wiggles once again become the face of the Red Nose Day campaign in June 2012, and Anthony, Simon, Emma and Lachy are the face of the Red Nose Campaign in 2013.
In May 2012, The Wiggles commenced their farewell tour of Asia, UK and Ireland. The Wiggles Celebration will travel to New Zealand, the USA and Canada before finishing in Australia.
The last TV appearance of the original Wiggles line-up is planned to be their performance at Carols in the Domain which will be broadcast around Australia on December 23rd. There are plans in discussion for the new Wiggles group to perform on Australia Day 2013 in a big concert in Sydney. The last 21 years have been an amazing musical journey for The Wiggles. In Australia, children who once came to see The Wiggles are now bringing their children to see them. Around the world, The Wiggles' name is synonymous with the best in early childhood entertainment. They are performing in their 21st year with a celebratory tour of the original line-up. Thanks for your support over the years and we hope you'll enjoy The Wiggles' music for many years to come.
In May 2012, The Wiggles original line up commenced their farewell tour of Asia, UK, Ireland, New Zealand, The USA and Canada before finishing in Australia in December 2012. It did remarkable business drawing over 400,000 people over the tour. The final shows of the original line-up in Sydney were quite emotional and it was touching to see (right around Australia) the numbers of teenagers who attended the shows to say farewell to the original line up they grew up with.
We finished the year with a bang on TV with the "Carols in the Domain" broadcast. The Wiggles performed in an extended segment which we played the greatest hits, then introduced Santa and did Christmas songs, then finally introduced the new line-up to the national audience.
The ratings for the broadcast were sensational and The Wiggles were a major factor in this result. The broadcast pulled 1,782,000 viewers (including metro and regional). The repeat on 7two pulled 190,000 and the encore on Christmas Day on Seven, 360,000, so a total of 2,332,000 saw this event!
Prior to the end of 2012, I filmed over twenty interstitials with the new Wiggles line-up and the ABC in Australia has already agreed to screen these from February/March of 2013. I travelled to Canada to visit Corus (Treehouse) and Sprout in the USA who will be screening the interstitials from February? March 2013 as well.
2013 started with a bang with The Wiggles signing a deal with a new Master Toy Licensee (Wicked Cool Toys) for North America and Australia. The press release went as follows,
"January 2, 2013 – Newtown, PA -- US Toymaker Wicked Cool Toys announced that it has signed a Master Toy License for the world's most famous children's entertainment group, The Wiggles. Wicked Cool will manufacture, distribute and market a broad range of toys for preschoolers based on the beloved children's property to coincide with The Wiggles' debut of its highly anticipated new cast and 2013 worldwide tour.
Under the new Master Toy agreement for North America and Australia facilitated by The Wiggles' licensing agency, Brandberry, Wicked Cool intends to develop plush, musical instruments and more. The Wiggles line targets children ages 2-6, and is expected to launch at retail beginning in Fall 2013.
"The Wiggles have touched the lives of millions of preschool aged children and families around the world," said Michael Rinzler, President of Wicked Cool. "We are thrilled to bring to life the colourful characters, music and spirit of this favorite preschool kids brand to coincide with the brand new incarnation of Wiggles for a whole new generation of kids to love."
"We are very excited to partner with toy veteran Michael Rinzler and his new toy company, Wicked Cool, and are confident that the new Wiggles toy line will keep children engaged with imaginative play that embodies the excitement of the brand that families around the world love." said Paul Field, Managing Director."
This is a great sign of confidence in the new line up of The Wiggles and following meetings in December 2012 in the USA, a huge North American retailer has already committed to ordering the range in all of its stores for Fall 2013. The Wiggles produced a radio show for SIRIUS radio in North America. The scripts were written by The Wiggles long term writer Greg Truman and it contains the usual wit and humour of their TV shows. New shows are being created for the Anthony, Emma, Simon and Lachy.
The Wiggles new line up had been performing with their mentors, Greg, Murray, Jeff and Anthony as they travelled around the world on the Celebration tour. Simon, Emma and Lachy would perform three to four songs every show and as a way of introducing the new line up to the Wiggles audience. Meet and greets are mainly with children with additional needs or sick children and require special attention. Anthony tasked Simon, Emma and Lachy with running the Meet and greets with the children and their parents and carers. Their confidence as early childhood performers grew with each show and their experiences at the meet and greets also developed their awareness of the impact of The Wiggles music on children and a deeper understanding of their audience. Anthony, Murray and Greg, with their degrees in Early Childhood Education would explain the reasons for the way they did things. Six months as "Wiggles in Training" was a wonderful, exciting and enriching time for Emma, Simon and Lachy. After a brief holiday break., A new era began in January 2013 at Dreamworld, the premier theme park on Australia's Gold Coast. On January 22 and 23, The Wiggles performed to over 3,600 people over four shows for the first time as the new line up. The CEO ,Todd Coates, summed up the shows with his email to the group after the performances. "The performance by the Wiggles, were just fantastic - I was able to get to two shows - and audience was full of shining eyes and glowing faces.
For all of us – a moment of real pride – Dreamworld will never forget being there at the start of the new Wiggles – and thank you for providing us the opportunity to be part of Wiggles history." Of course, the most important feedback was from the audience and on social media the parents wrote to express their views. Here are some snippets:
"Just left the show..results?!? Absolutely fantastic! Well done guys!!" (D Hillard Tuesday 7.22pm)
"Both my children knew the old Wiggles and both LOVED the new Wiggles and new songs" (C Taylor 7.38pm)
"My kids and I loooooved it! Love the fresh new faces same good vibes just revamped. Awesome!" (L Cooper 7.59pm)
"We went last night It was fantastic! My daughter loved it and Anthony even came and said hello during the show! it was fantastic to meet Lachy after the show-he was so good with my daughter, (she has special needs)" (E Layfield 6.55am)
"The whole show was full of energy" ( A Duckworth 8.15)
Sydney is The Wiggles home and so it was a great honour for The Wiggles to be asked to headline the children's festival on Australia Day (January 26th 2013) knowing that their appeal is not only nationwide but international as Sydney becomes a focus of holiday fun during the holidays over December and January. The Wiggles will be performing in the Australia Day Summer Playground in Hyde Park North. While tens of thousands of families will be there to watch The Wiggles it is estimated that over 100,000 people will travel through the precinct.
What a journey it's been. The Wiggles will release their first CD and DVD entitled "Taking Off!" in Australia in the first quarter of 2013. The hit song writing team from 21 years ago, Anthony, Murray, Greg, Jeff and Johnny Field (Mr Hot Potato) will continue to write and record the songs and music with Simon, Emma and Lachy and the wider team. And for those who have heard some of the new songs like "Do the Propeller" and "Everybody's Here", they are as appealing and child-centric as any Wiggles song ever written. The touring begins in Australia in March with The Wiggles performing in regional areas for a number of months before travelling to the USA for a PR tour in late May (to showcase the new line up, announce the release of "Taking Off!" and the tour for Fall 2013). The Wiggles have already recorded the music for three music CDs this year and so the creative energy they possess seems to have a new energy indeed.
Around the world, The Wiggles name is synonymous with the best in early childhood entertainment. It's wonderful that there are now generations of children who have been engaged an entertained by The Wiggles. Thanks for your support over the years and I'm sure that this amazing story will continue for another generation of children!
Paul Field
Managing Director
The Wiggles
Community content is available under
CC-BY-SA
unless otherwise noted.