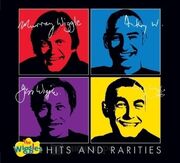 "Hits And Rarities" (known on digital platforms as "Hit Songs and Rarities") is a Wiggles compilation released on October 19th, 2012. It includes songs from the past 21 years and including some that are considerably rare, as well as two The Wiggles Radio Show episodes.
It was released in North America almost 6 years later on August 31st, 2018, the same year as the release of The Wiggles Reunion Show.
Song List
iTunes LP Bonus features
The iTunes LP version of this album also includes a menu screen where you can choose each song, view a biography of The Wiggles, a gallery of posters, as well as watch the following bonus video clips:
Personnel
Executive Producers: Murray Cook, Jeff Fatt, Anthony Field
Music Produced by Anthony Field
Mastered by Don Bartley
Graphic Design: Georgia Kemmis
Trivia
Goofs
The song credits list Murray and Jeff's name for Rock-A-Bye Your Bear.
Wigglemix, which appears in The Wiggles Radio Show episode Hip Hop Henry, is not listed in the credits of the album booklet. Instead, Can You (Point Your Fingers And Do The Twist?) and Fruit Salad are listed separately, with no mention of It's A Pirate Party On The Good Ship Feathersword, of which the piano and guitar are prominently featured in Wigglemix.
Despite being released in 2018, the North American CD retains the previous ABC for Kids logo from the original Australian release. In addition, the defunct wiggletime.com is still mentioned on the back. Not only that, its promoting sentence, "Visit www.wiggletime.com for more Wiggly fun!", has the word "fun!" mistakenly cut off.
The Wiggles Discography
Murray

,

Jeff

,

Anthony

,

Greg

and Phillip (1991)
The Wiggles (1991)

Murray

,

Jeff

,

Anthony

and

Greg

(1992-2006, 2012)
Here Comes a Song (1992) • The Adventures Of Captain Feathersword, The Friendly Pirate (1993) • Yummy Yummy (1994) • Big Red Car (1995) • Wake Up Jeff! (1996) • Wiggly, Wiggly Christmas (1996) • The Wiggles Movie Soundtrack (1997) • Toot Toot! (1998) • It's a Wiggly Wiggly World! (2000) • Wiggle Time! (2000) • Yule Be Wiggling (2000) • Hoop-Dee-Doo it's a Wiggly Party (2001) • Wiggly Safari (2002) • Wiggle Bay (2002) • Go To Sleep Jeff! (2003) • Whoo Hoo! Wiggly Gremlins! (2003) • Top of the Tots (2003) • Cold Spaghetti Western (2004) • Santa's Rockin'! (2004) • LIVE Hot Potatoes! (2005) • Sailing Around the World (2005) • Here Comes The Big Red Car (2006) • It's Time to Wake Up Jeff! (2006) • Racing to the Rainbow (2006) • Surfer Jeff (2012) • Celebration! (2012)
Karaoke Albums
Karaoke Songs 1 (2005) • Karaoke Christmas Songs (2005) • Karaoke Songs 2 (2006) • Karaoke Songs 3 (2006)
International
Splish Splash Big Red Boat (USA/Canada, 2006)
Singles
Eagle Rock! (2003) • Christmas Single (2004) • Beep! Beep! Buckle Up! (2012)

Murray

,

Jeff

,

Anthony

and

Sam

(2007-2011)
Getting Strong! (2007) • Pop Go The Wiggles! (2007) • You Make Me Feel Like Dancing (2008) • Sing a Song of Wiggles (2008) • The Wiggles Go Bananas! (2009) • Hot Poppin' Popcorn (2009) • Let's Eat! (2010) • Ukulele Baby! (2011) • The Wiggles' Big Birthday! (2011) • It's Always Christmas With You! (2011)
Singles
Monkey Man (2009)

Anthony

,

Lachy

,

Simon

and

Emma

(2013-2021)
Taking Off! (2013) • Furry Tales (2013) • Pumpkin Face (2013) • Go Santa Go! (2013) • Apples & Bananas (2014) • Wiggle House (2014) • Rock & Roll Preschool (2015) • The Wiggles Meet The Orchestra! (2015) • Wiggle Town! (2016) • CinderEmma! Fairytale (2016) • Dance Dance! (2016) • Nursery Rhymes (2017) • Duets (2017) • Wiggly, Wiggly Christmas! (2017) • Nursery Rhymes 2 (2018) • Wiggle Pop! (2018) • The Wiggles' Big Ballet Day! (2019) • Party Time! (2019) • Fun and Games (2020) • Choo Choo Trains, Propeller Planes & Toot Toot Chugga Chugga Big Red Car! (2020) • Lullabies with Love (2021) • Halloween Party (2021)
Spin-off Albums
Emma! (2015) • Carnival of the Animals (2016) • Dial E For Emma! (2016) • Lachy! (2016) • The Emma! & Lachy! Show (2018) • Emma! 2 (2019)
Digital-Exclusive Albums & EPs
Wiggly Barbershop (2020) • Emma's Bowtiful Ballet Studio (2020) • Le James Café (2020) • Sweet Dreams: White Noise Sleep Aid for Baby (2021) • Calm & Quiet: Soothing Sounds for Relaxing Baby (2021)
Live from Hot Potato Studios Soundtracks
Let There Be Rock-a-Bye Your Bear (2020) • Wash Your Hands (2020) • How Are You Today Friend? (2020) • Tiny Play Time (2020) • It's a Galloping Day! (2020) • Come & See the Animals! (2020)
Singles
Power Through the Day (2013) • Rise For Alex (2014) • NSW Blues Song! (2017) • The Toilet Song (2019) • Drum Chronology (feat. Kye Smith) (2019) • Big4 Wiggly Song (2019) • Singing Like A Rock Singer (2019) • Handwashing Song (2019) • Anthony Ant (2019) • Social Distancing (2020) • Brush Your Teeth (2020) • Little Wiggles Theme Song (2020) • Do the Propeller! (feat. Sesame Street) (2020) • Digital Party! (2020) • Click Go the Shears (2020) • The Twins Song - Double Happy (2020) • We're All Fruit Salad! (2021) • The ABC New Zealand Alphabet Song (feat. Robert Rakete) (2021) • Humpty Dumpty Sat On A Wall (2021) • The Wellerman (2021) • The Before You Go to Bed Song (2021) • We're All Fruit Salad! (Korean & English version) (2021)
Album Pre-release Tracks
The Alphabet Ballet (2019) • My Ballet Goat (2019) • I Am A Fine Musician (2019) • The Ants Go Marching (2019) • What's the Time, Mr Wolf? (2019) • E-M-M-A Theme Song (2019) • Emma's Hello Song (2019) • Here Come The Wiggles (2020) • Baby Shark (2020) • When I'm Painting (2020) • Skinnamarink (2020) • Trains, Planes and the Big Red Car (2020) • Rocket Ship (2020) • Emma's Bowmobile, Beep Beep! (2020) • Lullabies with Love (2021) • Googy, Googy, Baby Dorothy (2021) • Halloween Party (2021) • Toilet Paper Mummy (2021)

Anthony

,

Lachy

,

Tsehay

and

Simon

(2022-present)
Super Wiggles (featuring the Fruit Salad TV Wiggles) (2022)

F

r

u

i

t

S

a

l

a

d

T

V

(2021-present)
First Lineup

(2021)

Evie

,

Anthony

,

Lachy

,

Kelly

,

Tsehay

,

John

,

Simon

and

Emma

Digital-Exclusive Albums
Fruit Salad TV (2021)
Second Lineup (2021-present)

Evie

,

Anthony

,

Lachy

,

Kelly

,

Tsehay

,

Caterina

,

John

and

Simon

Digital-Exclusive Albums
Fruit Salad TV Christmas (2021)
Singles
Hey Tsehay! (2021)

Dorothy the Dinosaur

(2007-2012)
Dorothy the Dinosaur (2007) • Dorothy the Dinosaur's Memory Book (2008) • Dorothy the Dinosaur Meets Santa Claus (2009) • Dorothy the Dinosaur's Rockin' Christmas (2010) • Dorothy the Dinosaur's Travelling Show! (2011) • Dorothy the Dinosaur's Beach Party! (2012)
More from The Wiggles
The Kingdom Of Paramithi (2009) • ReWiggled: A Tribute to The Wiggles (2011) • Och Aye the G'Nu! (2017) • ReWiggled (2022)
Singles & EPs
Elephant (triple j Like A Version) (2021) • We're All Fruit Salad (triple j Live Recording 2021) (2021) • ReWiggled (EP) (2021) • Apple Crumble (2022)
Compilations
Christmas Classics (2006) • Hot Potatoes! The Best of The Wiggles (2009) • Hits And Rarities (2012) • Christmas Crackers! (2012) • Hot Potatoes! The Best of The Wiggles (2013) • Hot Potatoes & Cold Spaghetti! (2015) • The Best of The Wiggles on Vinyl (2016) • The Best of The Wiggles (2016) • We're All Fruit Salad!: The Wiggles' Greatest Hits (2021)
Samplers
The Wiggles (1999) • Celebrating The Wiggles' 10th Birthday! (2001) • Compliments of Brach's and The Wiggles (2003) • A Wiggly Music Sampler (2003) • Wiggle Bay (2003) • Milky, Milky, Milky (2003) • Toot Toot! 3 Bonus Songs (2004) • Magical Adventure! A Wiggly Movie: 3 Bonus Songs (2004) • Wake Up Jeff!: 3 Bonus Songs (2004) • Wiggle Into Apple-Healthy Snack Time with Mott's (2005) • Snack Time is Wiggle Time With Mott's (2006) • 4 Song CD (2006) • Omo Colourlock Limited Edition CD Sampler (2006) • Getting Strong! & Dorothy the Dinosaur (2007) • Dorothy the Dinosaur's Memory Book (2008)
Books w/ CDs
Sing-a-long CD (2006) • We're All Friends (2007) • Play Piano with... The Wiggles (2007) • A Wiggly Sing-Along Box Set (2012) • Super Singalong Slipcase (2015) • Singalong Slipcase (2018)
Other Compilations featuring The Wiggles
ABC Kids
ABC For Kids: Greatest Hits (1991) • A Menagerie Of Songs All About Animals (1992) • More ABC For Kids Greatest Hits (1992) • Rock 'N' Roll Kids (1992) • ABC For Kids Live (1993) • Lots And Lots Of Great Music For Kids (1994) • Rock Roll Rap! (1994) • ABC For Kids Dance Party (1995) • Hottest Hits (2003) • ABC For Kids Hits (2004) • Best of ABC for Kids (2006) • ABC For Kids Favourites (2009) • ABC For Kids Favourites 2 (2010) • The Best of ABC for Kids (2013) • ABC for Kids TV Themes (2014) • The Best of ABC for Kids Volume 2 (2014) • ABC For Kids Christmas (2014) • The Best of ABC Kids Volume 3 (2015) • ABC Kids Christmas - Volume 2 (2015) • The Best of ABC Kids Volume 4 (2016) • ABC Kids Christmas Volume 3 (2016) • Sing and Learn (2017) • The Best of ABC Kids Volume 5 (2017) • ABC Kids Christmas Volume 4 (2017) • ABC Kids Let's Play! Holiday Fun with Friends! (2017) • ABC KIDS Listen (2018) • ABC Kids Hits (2018) • Christmas With ABC Kids (2018) • ABC KIDS Favourites (2019)
Playhouse Disney
Playhouse Disney 2 (2003) • Playhouse Disney: Imagine and Learn With Music (2005) • Disney Music Block Party (2008)
Christmas compilations
The Spirit of Christmas 1998 (1998) • The Spirit of Christmas 2003 (2003) • So Fresh Songs For Christmas 2005 (2005) • The Spirit Of Christmas 06 (2006) • Carols in the Domain: 25th Anniversary (2007) • So Fresh Songs for Christmas 2008 (2008) • My Favourite Christmas Songs (2010) • Greatest Ever! Christmas: The Definitive Collection (2010) • So Fresh Songs for Christmas 2011 (2011) • The Spirit of Christmas 2011 (2011) • My Christmas Album (2012) • So Fresh Songs for Christmas 2012 (2012) • Making Spirits Bright Christmas Charity Collection (2013) • The Spirit of Christmas 2014 (2014) • Making Spirits Bright 2014 Christmas Charity Collection (2014) • Superstar Christmas (2014) • Pop for Tots Christmas (2016) • 101 Christmas Classics (2017) • The Spirit of Christmas 2017 (2017)
Other compilations
Advance Australia Fair (1997) • Anthem - Celebration of Australia (1997) • The Andrew Denton Breakfast Show Musical Challenge (2000) • Andrew Denton's Musical Challenge 2: Even More Challenged! (2001) • Triple M Musical Challenge 3 – Third Time Lucky! (2002) • Pop Jr 2 - The Beginners Guide To Pop (2006) • Are We There Yet? Songs for a Great Car Ride (2007) • Pop Jr TV Songs (2008) • Koch Records March 2008 New Release Sampler (2008) • Hits for Kids Pop Party 4 (2008) • Ultimate Pop Jr. (2010) • Artist Karaoke, Vol. 164: The Wiggles (2010) • Greatest Ever! Kids' Favourites (2010) • World of Karaoke, Vol. 93 (2010) • My Favourite Mini Disco Songs (2011) • Karaoke Playbacks, Vol. 207 (2011) • Karaoke Playbacks, Vol. 222 (2011) • My Favourite Party Songs (2012) • Music From The Home Front (2020)