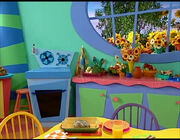 Hot-Pots is an oven in Wigglehouse. He appears in Wiggle Food, Nutrition, Manners, & Cows and Ducks. He is voiced by Paul Field in TV Series 2. (He has the exact same voice as the TV Series 1 Wiggly Trivia Announcer). He is later shown in A Musical Cake when Emma and Lachy grab a cake beside him, but he does not speak. He is also seen in episodes of series 4 and 5. Like Flora Door, he only spoke in TV Series 2 (1999-2001). In 2020, Hot-Pots The Oven is seen in Fun and Games. Now, Hot Pots isn't much of a character. He's mainly just a prop.
Gallery
Community content is available under
CC-BY-SA
unless otherwise noted.