Hot Potatoes!



Release Date

January 2, 2014 (AUS)
June 10, 2014 (US)

Filmed

2013

Running Time

1:17:22

Previous Video

Go Santa Go! (2013)

Next Video

Apples & Bananas (2014)
Hot Potatoes! The Best of The Wiggles is a 2014 update to the 2010 video of the same name. It is a compilation featuring some of The Wiggles' best songs from every generation.
Song List
Bonus Songs from 1993
Trivia
Fruit Salad, Wiggly Party, Tie Me Kangaroo Down Sport, The Zeezap Song, To Have A Tea Party, Dr Knickerbocker, Over In The Meadow, and Wags The Dog Is Chasing His Tail, all of which appeared in the 2010 version, are removed and replaced by new songs featuring the current generation of Wiggles. Twinkle, Twinkle, Little Star is also replaced with a newer version from a 2013 video.
New prologues were filmed featuring the current generation for various songs. Like the 2010 version, Do The Owl's original prologue appears, making it the only one to feature an original Wiggle (Jeff) and to feature a guest (the late Steve Irwin).
This is to date the only current generation video to feature multiple instrumental songs throughout the entire end credits, and the first Wiggles video in general since since The Wiggles' Big Birthday!. Previously, Celebration began its credits with one short instrumental before switching to a normal song, and later in 2017, Wiggle Around Australia and Nursery Rhymes (DVD version) did the same.
Each of the current Wiggles mentioned the former Wiggles at the beginning of this video, Simon mentioned that Murray was the first red Wiggle, Emma mentioned that Sam and Greg were the first yellow Wiggle (Sam was the second yellow Wiggle while Greg was recovering his illness for five years) and Lachy mentioned that Jeff was the first purple Wiggle.
Goofs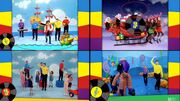 Release Dates
Australia/New Zealand: January 2, 2014 (ABC Video/Roadshow)
North America: June 10, 2014 (NCircle)
Trailer
The Wiggles videography
Murray

,

Jeff

,

Anthony

and

Greg

(1993-2006, 2012, 2018)
| | |
| --- | --- |
| Feature Film | The Wiggles Movie (1997) |
| Spin-Offs | The Dorothy the Dinosaur and Friends Video (1999) • Captain Feathersword the Friendly Pirate (2000) |
| TV Series Collections | Wiggly TV (2000) • Lights, Camera, Action, Wiggles! (2003) • Lights, Camera, Action! (2005) • TV Series 1 Collector's Box Set (2005) • TV Series 2 Collector's Edition (2007) • TV Series 3: Lights, Camera, Action! (2008) • The Wiggles Show: The Pick of TV Series 4 (2010) • Ready, Steady, Wiggle! The Pick of TV Series 5 (2010) |
| Other | Dorothy the Dinosaur Goes to Hospital (Promo video, 1999) • Happy 15th Birthday! (Documentary, 2006) |
Murray

,

Jeff

,

Anthony

and

Sam

(2007-2011)
Anthony

,

Lachy

,

Simon

and

Emma

(2013-present)
Dorothy the Dinosaur

(2007-2012)
Community content is available under
CC-BY-SA
unless otherwise noted.