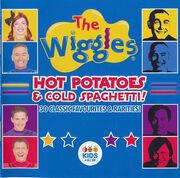 Hot Potatoes & Cold Spaghetti - is a best of album released in 2015. It features 30 songs, most of which were pulled from either Hot Potatoes! The Best of The Wiggles (2013) or Hit Songs and Rarities.
Songs
Notes
Of the 30 songs included, 21 songs had previously appeared on the 2013 version of Hot Potatoes! The Best of The Wiggles, 14 songs had appeared on Hit Songs and Rarities, and 7 songs appeared on both.
The only songs included not available on either album are Emma's Theme and Apples and Bananas.
Sam is not featured on the cover or the booklet, despite singing in 3 songs.

Additionally, Anthony appears twice on the cover, grouped in with both the original and current generations.
The photo of the original Wiggles was on the Hits Songs and Rarities album and the current Wiggles was on the Hot Potatoes: The Best of The Wiggles.

Both versions of Ooey, Ooey, Ooey allergies are included the current version being track 10 And the original version being in the wiggles radio show episode-The Comedy Show.
Goofs
In the song credits Murray Cook and Jeff Fatt's names are listed in Rock-a-Bye Your Bear whereas Anthony Field's name is listed in Get Ready To Wiggle.
Gallery
Booklet Gallery
The Wiggles albums
Murray

,

Jeff

,

Anthony

,

Greg

and

Phillip

(1991)
Murray

,

Jeff

,

Anthony

and

Greg

(1992-2006, 2012)
Murray

,

Jeff

,

Anthony

and

Sam

(2007-2011)
Anthony

,

Lachy

,

Simon

and

Emma

(2013-present)
Dorothy the Dinosaur

(2007-2012)