"
I've always loved lying in bed listening to the rain on the roof. It makes me feel snug and secure. This song came from that feeling.
"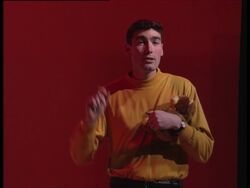 "I Love It When It Rains" is a song first sung in Here Comes a Song.
Listen
Song Lyrics
I love it when it rains
And I lie in bed at night
I listen to it patter
On the roof soft and light
But then a storm may come
And the thunder starts to crash
The rain beats on the window
And I see the lightning flash

I hold on teddy tight
And sink down in my bed
I close my eyes so tight
And pull the covers over my head
I feel so snug and warm
I know that everything's alright
I love when it rains
As I lie in bed at night
Song Credits
Written by Murray Cook, initially published by EMI Music.
Beginning with the Wiggle Time! album in 2000, Jeff Fatt, Anthony Field and Greg Page have received writing credits. Since the Let's Wiggle album in 1999, publishing rights have been controlled by Wiggly Tunes Pty Ltd, although EMI was still sometimes credited afterward.
Duets
Trivia
Marlee Matlin guest stars in the 2017 version of the song while performing American Sign Language with Emma. As she does not sing on the track, it is the only song on the Duets album not to have a guest star.
When Greg sings "The rain beats on the window" in the 1992 version, a click is heard on the left channel.
The 1992 and 2006 versions play in D, the 2003 version plays in G and the current version since 2016 plays in A.
On The Wiggles' YouTube channel, the Emma! version was uploaded on 21st May 2017 as part of Emma's Bowtiful Ballet Studio. Then on 10th May 2018, the Duets version was uploaded.
The Go To Sleep Jeff! version of the song's instrumental track is played on the electronic storybook Wags in New York.
The 1998 version of the music video shows Jeff playing the accordion and Greg the Hofner bass although the actual 1992 song has neither of those instruments.
Performances/Appearances
Video Performances
Album Appearances
Episode Appearances
Video
Community content is available under
CC-BY-SA
unless otherwise noted.