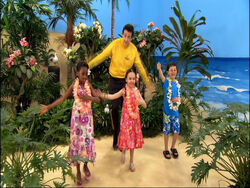 La Paloma is a song from Ukulele Baby! and The Wiggles' Big Ballet Day!. It means "the sun" in Spanish.
Song Lyrics
Ukulele Baby!
The sun peeking softly
Over the mountains high
The sun smiles so brightly
Up in the morning sky
All of the gentle creatures
Arise completely
All of the flowers' petals
They smell so sweetly
Yes, the beautiful sun
Yes, the beautiful sunshine
The Wiggles' Big Ballet Day!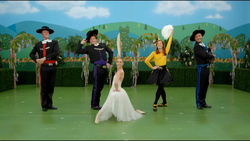 Lachy and Emma: Softly
Feathered wings of the beautiful dove
Softly
Dance the dance of the gentle love
(in Spanish) Una paloma blanca
Me canta al alba
The white dove
She sings softly to me at dawn
Cu-cu-cu-cu-curoo
Cu-cu-cu-curoo-oo
Cu-curoo, cu-curoo
Cu-curoo
Cu-cu-curoo
Curoo-oo
Curoo-ooo
Curoo
Cu-curoo, cu-curoo
Curoo!
Song Credits
Ukulele Baby!
Trad. Arr. Murray Cook, Jeff Fatt, Anthony Field, Sam Moran, Nicolino Di Sipo, Noel Heraty, Paul Paddick, Simon Pryce (Wiggly Tunes Pty. Ltd.)
The Wiggles' Big Ballet Day!
Trad Arr Anthony Field, Lachlan Gillespie, Simon Pryce, Emma Watkins, Oliver Brian, Alex Keller (Wiggly Tunes Pty Ltd)
Trivia
The 2011 version plays in C whereas the 2019 plays in D.
The Ukulele Baby! version is about the sun, but the Big Ballet Day! version is about a dove.
Performances/Appearances
Video Performances
Album Appearances
Episode Appearances
Community content is available under
CC-BY-SA
unless otherwise noted.