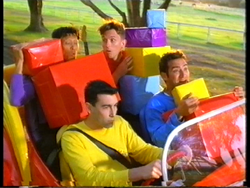 "Let's Have A Party (Instrumental) is a version of the song Let's Have A Party from The Wiggles Movie and its soundtrack.
This song has been played at the end of Wiggles concerts since around 1998. Beginning in 2008, it would follow an instrumental version of The Fairy Dance for a time until being played on its own again. Do the Propeller! would replace it in 2013, but it has occasionally been used since. It has also been used as background music for scenes in TV Series 2 and It's a Wiggly Wiggly World!
Since The Wiggles Movie Soundtrack, it appeared in the album for LIVE Hot Potatoes! during its Farewell track, with a new live recording from that concert's Wiggly orchestra. Likewise it could be heard during the goodbyes in the original Wiggles' final album, Celebration!, in a track attached to Wiggle 2012 Medley.
Song Credits
Written and composed by Murray Cook, Jeff Fatt, Anthony Field and Greg Page. Published by Wiggly Tunes Pty Ltd.
Appearances
Video Appearances
Album Appearances
Episode Appearances
Miscellaneous
Community content is available under
CC-BY-SA
unless otherwise noted.