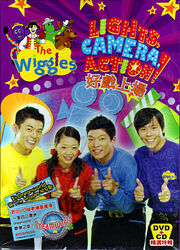 Lights, Camera, Action! is a Taiwanese Wiggles DVD released in 2006.
Plot
Intro - where the Taiwanese Wiggles and the Wiggly Friends are in Wiggly Animation setting up a show together.
The Taiwanese Wiggles greet everyone and invite them to wiggle along.
Song #1: Get Ready to Wiggle
The Taiwanese Wiggles introduce the next song.
Song #2: Lights, Camera, Action, Wiggles!
Dorothy shows off her dance moves to Danny.
Song #3: Dorothy (Would You Like to Dance With Me?)
Vivi and Samuel introduce Wiggly Animation.
Song #4: Uncle Noah's Ark - Wiggly Animation
Arthur is with some of his young friends who are playing with clay. Most of all, hammering the clay is so much fun!
Song #5: Joanie Works with One Hammer
Arthur, Samuel and Vivi try to wake up Danny but it doesn't work.
Song #6: Wake Up Danny!
Samuel pretends to be an ant at a picnic. Arthur and Samuel then introduce Wiggly Animation.
Song #7: Little Brown Ant - Wiggly Animation
The Taiwanese Wiggles hear lots of outside sounds. But how could they figure out all of them? They can ride in the Big Red Car!
Song #8: Let's Go (We're Riding In The Big Red Car)
Captain Feathersword starts to tickle everybody, and he can't stop. He decides to do a pirate dance instead.
Song #9: Captain Feathersword
Samuel says it feels hot. Arthur offers him a glass of water.
Song #10: Gulp Gulp - Wiggly Animation
Arthur and Danny get ready for a Wiggly party.
Song #11: Wiggly Party
Arthur introduces Henry the Octopus and his underwater big band.
Song #12: Henry's Underwater Big Band - Wiggly Animation
Danny teaches everyone how to play the guitar.
Song #13: Play Your Guitar With Danny
Danny is at a train station, showing everyone a train.
Song #14: Pufferbillies - Wiggly Animation
Arthur introduces a traditional Jamaican Caribbean song that is fun to sing.
Song #15: Brown Girl in the Ring
Samuel is in the kitchen making vegetable soup, and tells the Wiggles about all the types of vegetables in it.
Song #16: Vegetable Soup - Wiggly Animation
Vivi is with Claire, who shows off her Irish dance moves.
Song #17: Di Dicki Do Dum
Arthur and the kids use paint droppers to paint. It looks a bit like it's raining.
Song #18: I Love It When It Rains
Vivi introduces Captain Feathersword, who keeps saying "Well, blow me down."
Song #19: Go Captain Feathersword, Ahoy!
Song #20: Take A Trip Out On The Sea - Wiggly Animation
Song List
Gallery
Promo Pictures