TV Series 3



Episodes

52

Filmed

2002

Created by

Directed by

Original Network

Opening Theme

Original airdate

September 30 2002
(By the Beach)

Finale airdate

December 10 2002
(Finger Painting Fun)

Preceded by

Followed by
Lights, Camera, Action, Wiggles!
(also known as
Network Wiggles
) is the Wiggles' third TV series, first aired in late 2002.
Episodes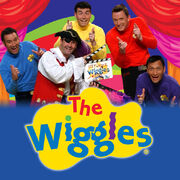 NOTE: This episode list is for the 11-minute versions.
Format
Version Differences
The original 11-minute versions of episodes, as shown on the ABC, usually only feature 2 songs. Odd numbered episodes usually contain News and Music With Murray segments, while even numbered ones contain Anthony's Workshop, Captain's Magic Buttons, and Where's Jeff? segments. Community Service Announcements appear randomly in any episodes.
An extended version that lasts 22 minutes, as aired on Playhouse Disney and released on the DVD Box Set, will have a Network Wiggles News scene, an Anthony's Workshop scene, a Captain's Magic Buttons scene, a Music With Murray scene, and a Where's Jeff? scene, in that order. Songs (usually 4-5), short skits, and Community Service Announcements appear in-between.
Trivia
Gallery
Promo
Theme Song
Promo Pictures
The Credits