TV Series 3



Episodes

52 (11-minute versions)
26 (22-minute versions)

Filmed

2002

Created by

Directed by

Original Network

11-minute:
ABC1 (AUS)
TVO (CA)
Sprout (US)
22-minute:
Playhouse Disney (AUS/US)

Opening Theme

Original airdate

11-minute:
September 30, 2002 (AUS)
January 3, 2003 (CA)
2011 (US)
22-minute:
October 13, 2003 (US)

Preceded by

Followed by
Lights, Camera, Action, Wiggles! (also known as Network Wiggles!) is the Wiggles' third TV series, first aired in late 2002.
Episodes
The series existed in two versions.
Episodes running 11-minutes aired on ABC1 in Australia, on TVO in Canada, and PBS Kids Sprout in the United States, with 52 episodes total. However, some of the episodes run 9 minutes, some such as Episode 17 run 10 minutes, while others such as Episode 12 run 12 minutes.
Episodes running 22-minutes in length aired on Playhouse Disney in both countries (among others), with 26 episodes total. These are the versions released on the complete series DVD set, as well as iTunes.
The pages linked below are of the 22-minute versions, as the DVD set provides us with information on all of these episodes. Due to the several 11-minute versions have never been released on DVD, we didn't know the contents of them. For airdates and pages on the known 11-minute versions, click the aptly-named tab below.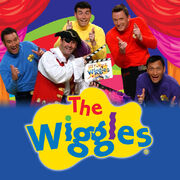 Note: The order of episodes is based on the DVD box set and iTunes, where these are simply titled "Episode 1" - "Episode 26". To differentiate these pages from the 11-minute versions, the titles given to them by Playhouse Disney (sourced from tv.com) are used. All dates are the original Playhouse Disney airdates.
11-minute versions
Note: Episodes that are available on DVD or have surface online are marked in bold.
Format
Songs
The songs used in the series are primarily taken from the videos Wiggle Bay and Whoo Hoo! Wiggly Gremlins, with each song from both videos appearing in their original widescreen presentation. For the first time in a Wiggles series, no concert clips appear within the show. New music videos, which are exclusive to the series, use songs from Wake Up Jeff!, The Wiggles Movie Soundtrack, Toot Toot!, the North American version of Yummy Yummy, Wiggle Time, It's a Wiggly Wiggly World! and Hoop-Dee-Doo it's a Wiggly Party. All of the songs are filmed on the main set, with the alternating purple and gold curtains. The only exception is Toot Toot, Chugga Chugga, Big Red Car, which is filmed around the whole studio as the car travels.
Version Differences
The original 11-minute versions of episodes, as shown on the ABC, usually only feature 2 songs. Odd-numbered episodes usually contain Network Wiggles News and Music With Murray segments, while even-numbered ones contain Anthony's Workshop, Captain's Magic Buttons, and Where's Jeff? segments. Community Service Announcements appear randomly in any episode.
An extended version that lasts 22 minutes, as aired on Playhouse Disney in Australia & United States & Treehouse TV in Canada & released on the DVD Box Set, will have a Network Wiggles News segment, an Anthony's Workshop segment, a Captain's Magic Buttons segment, a Music With Murray segment, and a Where's Jeff? segment, in that order. Songs (usually 4-5), short skits, and Community Service Announcements appear in-between.
Some of the 11-minute episodes contain scenes not included in the 22-minute versions. Below are some known examples.
Home Video Releases
22-minute versions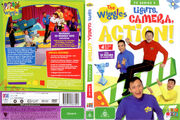 In Australia, the series received a complete DVD set release in December 2008, containing all 26 episodes from the series, plus the documentary A Wiggly Postcard From Asia and two bonus episodes of the Dorothy the Dinosaur TV Series. Outside of this release, an edited version of Instruments (one that removes Rock-A-Bye Your Bear and the Where's Jeff segment) was included as a bonus feature on the Whoo Hoo! Wiggly Gremlins! DVD, while Swim Lessons and Transportation was included as a bonus feature for Wiggledancing! Live In The U.S.A.
These individual releases mark the only time (outside of iTunes) that the 22-minute versions of the series were made available to purchase internationally.
11-minute versions
As mentioned in the Episodes tabs above, various 11-minute episodes were included as bonus features for Wiggles DVD's, beginning in 2004 with the Toot Toot! Australian DVD release and ending in 2006 with Splish Splash Big Red Boat's American DVD release.
In 2003, a video containing Episode 1 and Episode 2 was released in Australia, while a DVD version, released later in 2006, replaced episodes 1 & 2 with Episodes 13, 14 & 15. The DVD release was made more for promotional purposes, and as such, was packaged with various Wiggles DVDs throughout that year (such as Wiggle Bay & LIVE Hot Potatoes!).
In 2005, an episode compilation containing Episode 12 & Episode 16, as well as Episode 15 & Episode 11 from Wiggly TV was released exclusively in North America. A screener version of the DVD possibly included Episodes 11 & 15 of Lights, Camera, Action!, as indicated by its back cover, but were replaced before its official release.
Trivia
The original 11-minute versions have additional segments of Music with Murray that were not used in the 22-minute versions. Some segments were separated in both 11-minute and 22-minute versions as exclusives.
This is the first series to be filmed and released in widescreen. 
As mentioned above, songs used in the series are primarily taken from the videos Wiggle Bay and Whoo Hoo! Wiggly Gremlins. These videos were shot around the same time as the series, were also directed by Bufalo and produced and aired by the ABC as specials for this series.
This is the first and to date only Wiggles series to use comical sound effects aside from The Wiggles Movie, The Taiwanese Wiggles, and The Wiggles' North American trailers by HIT Entertainment.
This is the first Wiggles series to feature Maton Guitars aside from Fender Guitars and instead of Takamine guitars.
The song "Taba Naba" appears in the series, with Christine Anu's vocals from the It's a Wiggly Wiggly World! album removed and Greg Page's vocals re-recorded.
Unlike The Wiggles' other TV Series, this series didn't have any story based scenes.
This is the first Wiggles TV series not to feature the song "Fruit Salad".
This is the first series not to feature Live in Concert songs. The only other is TV Series 6.
The 11-minute versions have been released in different aspect ratios such as 4:3 and 14:9.
A Sydney Morning Herald article mistakenly claims that the series contains 54 11-minute episodes,[1] whereas the flyer correctly states that it has 52 11-minute episodes.[2]
This was the last appearance of the Excelsior S108 until Pop Go The Wiggles!, however, Jeff still played it in December 2003 for The Wiggles' Live TV Performance with The Moguel Family on Channel 9's Today Show.
This was the first, and to date, only Wiggles TV series to receive a Logie Award nomination for Most Outstanding Children's Program, but lost to Tracey McBean.
References
Community content is available under
CC-BY-SA
unless otherwise noted.