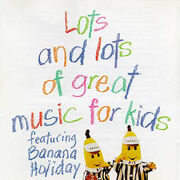 Lots And Lots Of Great Music For Kids is a compilation album released in 1994.
Songs
Lift Off (Main Theme) - Lift Off
Summertime - Andy Jones and the Funky Monkeys
D.O.R.O.T.H.Y. (My Favourite Dinosaur) - The Wiggles
Wally Had a Dolly - Incy Wincy
Tigers - Monica Trapaga
V-E-G-E-T-A-B-L-E-S - Colin Buchanan
Dr Knickerbocker - Mike Jackson
Spoons - Christine Hutchinson
Jollity Farm - Mic Conway
Johnson and Friends Theme - Johnson and Friends
Banana Holiday - Bananas in Pyjamas
Aussie Mossie - Don Spencer
Whoosh! Went the Rocket - George Spartels
Whistle Song - Blinky Bill
Oomba Baroomba - Play School
Sunshine Rainbows and Violins - Franciscus Henri
Community content is available under
CC-BY-SA
unless otherwise noted.