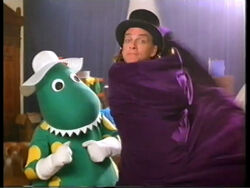 "Magic Club Music" was first heard at the titular location in The Wiggles Movie. Since then, it has usually appeared in a scene where Greg does magic tricks, such as in the second Wiggles TV series and the re-recordings of Wiggle Time! and Yummy Yummy.
It was also used for Wags' Tap Dance in The Wiggly Big Show in place of the original Tap Wags music. It also plays in It's a Wiggly Wiggly World! during the intro to Tie Me Kangaroo Down Sport.
Song Credits
Written and composed by Murray Cook, Jeff Fatt, Anthony Field and Greg Page. Initially published by EMI Music, later Wiggly Tunes Pty Ltd.
Appearances
Video Appearances
Album Appearance
Episode Appearance
Community content is available under
CC-BY-SA
unless otherwise noted.