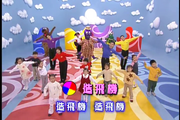 Make an Airplane is a Taiwanese Wiggles song from 歡樂Party!.
Lyrics
製造飛機,製造飛機,
聚集在外地。
深蹲,下蹲,
我將成為螺旋槳,
蹲下,下蹲,
你將成為翅膀。
腰部彎曲,腰部彎曲,
我們做了一架飛機。
飛起來,飛起來,
飛入白雲.
English Translation
---
Make an airplane, make an airplane,
gather at the field.
Squat, squat,
I will be the propeller,
squat, squat,
You will be the wings.
Bend at the waist, bend at the waist,
We made an airplane.
Fly up, fly up,
Fly into the white clouds.
Community content is available under
CC-BY-SA
unless otherwise noted.