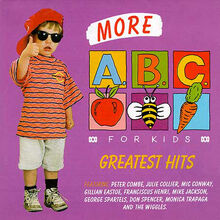 More ABC For Kids Greatest Hits is a compliation album released in 1992.
Track List
Busy Baby Bubby - George Spartels
Thumbs Up! - Don Spencer
Ferry Boat Fred - Michael Young
One Man Went To Mow - Mike Jackson
Mr Squiggle (Main Theme)
Dorothy the Dinosaur - The Wiggles
Dancing In The Kitchen - Franciscus Henri
Insects And Bugs - Gillian Eastoe
Ch..ch..ch.. The Toothbrush Song - Play School
The Teddy Bears Picnic - Don Spencer and Anne Kirkpatrick
I'm Blinky Bill - Robyn Moore and Keith Scott
It's Not Fair - Lift Off
The Diesel Rap - Johnson and Friends
Saturday Night - Peter Combe
Rana The Sultana - Julie Collier
The Kangaroo - Mic Conway
Water For The Flowers - Sharon O'Neill
Bananas in Pyjamas - Monica Trapaga
Community content is available under
CC-BY-SA
unless otherwise noted.