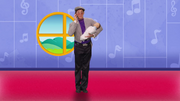 Mr Polly Had A Dolly is a song from the Nursery Rhymes 2 video and album.
Lyrics
Simon: Mr. Polly had a dolly who was sick, sick, sick.
So he called for the doctor to come quick, quick, quick.
The doctor came with her bag and her hat
And she knocked on the door with a rat-a-tat-tat.
She looked at the dolly and she shook her head
And she said
Emma: Mr. Polly, put her straight to bed!
Simon: She wrote on a paper for a pill, pill, pill
Emma: I'll be back in the morning with my bill, bill, bill.
Song Credits
Trad. Arr. Oliver Brian, Anthony Field, Lachlan Gillespie, Alex Keller, Simon Pryce, Emma Watkins (Wiggly Tunes Pty Ltd)
Trivia
On November 22nd 2018, the song was uploaded on The Wiggles' YouTube channel.
Video