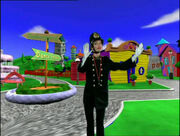 "Officer Beaples" is a police officer that has had various roles in Wiggles videos, TV shows and concerts. They are a supporting character in the second series and a minor character in the rest.
Trivia
They were originally confirmed as female, despite their credits in Wiggledance! and The Wiggles Movie ("Policeperson" and "Policeman"), because of the line in Let's Go (We're Riding In The Big Red Car) "We'll all be waving to her too."
They first debuted in 1996 in Wiggledance!, not under the name Officer Beaples, but under the "Policeperson" seen in the Dorothy the Dinosaur song.
Leanne Halloran was the most well-known performer for Officer Beaples, playing the role from 1996-2000 (Halloran later reprised the role for two reunion shows in 2020). In 2005, Lucy Stuart played Officer Beaples. Since 2013, Caterina Mete has played the role.
In The Taiwanese Wiggles second lineup, they was played by Yarima Herrera.
Apart from their appearance in The Wiggles Movie, they never talk. They speaks by gestures and whistles, because of this they're nonverbal.
They were more of a main character around 1998-2000.
In TV Series 2, their gestures used cartoon sound effects (mostly by Hanna-Barbera)
Every so often, they have been seen with a moustache. They first wore a thin moustache in some early appearances, such as in the Movie and first TV Series. In 2014, it returned and it is much bigger.
They were officially given their name "Officer Beaples" in TV Series 1.
Sometimes, their name is spelt like "Officer Beeples".
Most of the time they communicate using gestures, the first time they spoke was in The Wiggles Movie.
Appearances
Cameos
References