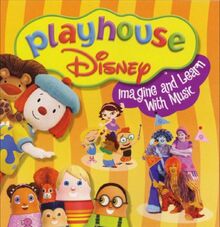 Playhouse Disney: Imagine and Learn with Music is a Disney album released on October 11, 2005 featuring The Wiggles and the other characters from Playhouse Disney.
Track listing
The Wiggles
1. Playhouse Disney Theme - The Wiggles
Jojo's Circus
2. JoJo's Circus Theme Song
3. Hope You Like Spinning
4. Stop 'N Go Pretzel
5. Brush Your Teeth
6. Clown Around
7. Sharing with Your Friends
Higglytown Heroes
8. Here in Higglytown
9. New Friends (The Translator Song)
10. Friends Are Heroes
11. Ripped Pants Blues (The Tailor Song)
12. Hot Hot Day (The Lifeguard Song)
13. A Rainy Day (The Teacher Song)
14. Hey, It's a Brand New Day
15. The Morning Mambo
16. The Breakfast Song
The Koala Brothers
17. The Koala Brothers Theme Song
18. The Helping Song
Rolie Polie Olie
19. Rolie Polie Olie Theme Song
20. The Twirl
The Wiggles
The Doodlebops
22. Wobbly Whoopsy
23. Together Forever
24. Woodland Valley Cha Cha
25. We're All Different
Stanley
26. My Man Stanley Theme Song
27. Just You And Me
They Might Be Giants
28. Q U
29. Clap Your Hands
Little Einsteins
30. Little Einsteins Theme Song
Trivia
Gallery
Community content is available under
CC-BY-SA
unless otherwise noted.