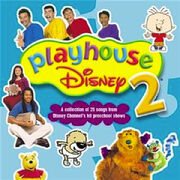 Playhouse Disney 2 is a Disney album released on January 28 2003 featuing The Wiggles and the other characters from Playhouse Disney.
Track listing
The Wiggles
1. Playhouse Disney Theme
(Character Version)
2. Woodland Valley Cha Cha
3. No Harm
4. It Takes All Kinds
5. Where Would You Be Without Your Friends
Disney's PB&j Otter
6. An Oodely-Doodely Day
7. No Big Deal
8. All Together We Can Build It
9. Imaginings
10. No Place We'd Rather Be
Out of the Box
11. Heartbeat
12. Just Say This
13. Listen To Me
14. Turn a Mistake Into Something Great
15. Box Beat
The Book of Pooh
16. What Piglets Are
17. If I Could Be Big
18. Carry On
19. The Bluebird Song
20. What's Your Name, River
Stanley
21. Just You and Me
22. Everyday Is Earthday
23. Good As Gold
24. Goodnight, Dennis
25. Playhouse Disney Theme
(Generic Version) - The Wiggles
Trivia
There are two different versions of the Playhouse Disney song. One is the character version and one is the generosity version.
Gallery
Album Booklet
Community content is available under
CC-BY-SA
unless otherwise noted.