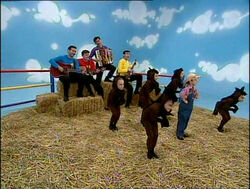 "Ponies" is an Wiggles song from the Yummy Yummy album and the Wiggle Time! (1998) video.
Listen
Song Lyrics
Watching the ponies galloping home
Their tails in the air going swish, swish, swish
Their hooves are making... (clip clop sounds)
As they ride home to Farmer Brown
Song Credits
Written and composed by Murray Cook, Jeff Fatt, Anthony Field and Greg Page. Initially published by EMI Music, later Wiggly Tunes Pty Ltd.
Trivia
An alternate instrumental track is played in TV Series 2 episode Imagination.
On Xuxa's album and video "So Para Baxinhos 3", the song is titled as Pôneis.
In the 1998 version, The Wiggles are seen playing their Instruments while sitting on haybales, whereas in the 2006 version, Jeff is the only Wiggle that is seen feeding a pony since it's technically pre-filmed stock footage of the Series 5 episode Musical Bonanza.
Like Havenu Shalom Alechem, The Original Wiggles filmed this song for over two years, 1998 and 2006
Performances/Appearances
Video Performances
Album Appearances
Episode Performances
Community content is available under
CC-BY-SA
unless otherwise noted.