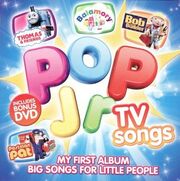 Pop Jr TV Songs is a compilation album released in 2008.
Songs
CD
Bob the Builder - Can We Fix It?
Thomas The Tank Engine & Friends - Theme Tune
Lazy Town - Welcome to Lazy Town Theme Tune
Balamory - Theme Tune
Postman Pat - Theme Tune
Charlie and Lola - Theme Tune
The Gruffalo - The Graffalo Song
Fifi & The Flowertots - Fifi's Lemonade
The Tweenies - Hey Hey Are You Ready To Play
Me Too! - Theme Tune (extended version, DJ Klonkie)
Pocoyo - Theme Tune
Tommy Zoom - Theme Tune
Mr Ray - Family Ride
Arnie & Barnie Worm - The Wiggle Song
Engie Benjy - Engie Benjy Engine Man (Engie Benjy Theme Tune)
Fireman Sam - Theme Tune
Numberjacks - Numberjacks Are On Their Way - Medley
Jim Jam & Sunny - Medley - Theme Tune, Wiggles Song
Fimbles - Theme Tune
Maisy - Maisy's Song (Original Theme Tune)
Finley The Fire Engine - Theme Tune
Mr Ray - Gimme A Hi-5
Bob the Builder - Crocodile Rock (with Elton John)
Rupert the Bear - Follow the Magic
Teletubbies - Say Eh Oh!
DVD
Bob the Builder - Can we fix it Video
Jim Jam & Sunny - The Wriggle Song Video
Pocoyo - The Pocoyo Surf Dance!
The Tweenies - No 1 (live performance on Top of the Pops)
Numberjacks - Numberjacks Montage
Postman Pat - Postman Pat's Great Big Party Video
Teletubbies - Say Eh Oh! Video
Mr Ray - I'd be a Dinosaur
Trivia
Gallery (DVD)
For the "Toot Toot, Chugga Chugga, Big Red Car" gallery, see here

​​​​​​
The Wiggles Discography
Murray

,

Jeff

,

Anthony

,

Greg

and Phillip (1991)
The Wiggles (1991)

Murray

,

Jeff

,

Anthony

and

Greg

(1992-2006, 2012)
Here Comes a Song (1992) • The Adventures Of Captain Feathersword, The Friendly Pirate (1993) • Yummy Yummy (1994) • Big Red Car (1995) • Wake Up Jeff! (1996) • Wiggly, Wiggly Christmas (1996) • The Wiggles Movie Soundtrack (1997) • Toot Toot! (1998) • It's a Wiggly Wiggly World! (2000) • Wiggle Time! (2000) • Yule Be Wiggling (2000) • Hoop-Dee-Doo it's a Wiggly Party (2001) • Wiggly Safari (2002) • Wiggle Bay (2002) • Go To Sleep Jeff! (2003) • Whoo Hoo! Wiggly Gremlins! (2003) • Top of the Tots (2003) • Cold Spaghetti Western (2004) • Santa's Rockin'! (2004) • LIVE Hot Potatoes! (2005) • Sailing Around the World (2005) • Here Comes The Big Red Car (2006) • It's Time to Wake Up Jeff! (2006) • Racing to the Rainbow (2006) • Surfer Jeff (2012) • Celebration! (2012)
Karaoke Albums
Karaoke Songs 1 (2005) • Karaoke Christmas Songs (2005) • Karaoke Songs 2 (2006) • Karaoke Songs 3 (2006)
International
Splish Splash Big Red Boat (USA/Canada, 2006)
Singles
Eagle Rock! (2003) • Christmas Single (2004) • Beep! Beep! Buckle Up! (2012)

Murray

,

Jeff

,

Anthony

and

Sam

(2007-2011)
Getting Strong! (2007) • Pop Go The Wiggles! (2007) • You Make Me Feel Like Dancing (2008) • Sing a Song of Wiggles (2008) • The Wiggles Go Bananas! (2009) • Hot Poppin' Popcorn (2009) • Let's Eat! (2010) • Ukulele Baby! (2011) • The Wiggles' Big Birthday! (2011) • It's Always Christmas With You! (2011)
Singles
Monkey Man (2009)

Anthony

,

Lachy

,

Simon

and

Emma

(2013-2021)
Taking Off! (2013) • Furry Tales (2013) • Pumpkin Face (2013) • Go Santa Go! (2013) • Apples & Bananas (2014) • Wiggle House (2014) • Rock & Roll Preschool (2015) • The Wiggles Meet The Orchestra! (2015) • Wiggle Town! (2016) • CinderEmma! Fairytale (2016) • Dance Dance! (2016) • Nursery Rhymes (2017) • Duets (2017) • Wiggly, Wiggly Christmas! (2017) • Nursery Rhymes 2 (2018) • Wiggle Pop! (2018) • The Wiggles' Big Ballet Day! (2019) • Party Time! (2019) • Fun and Games (2020) • Choo Choo Trains, Propeller Planes & Toot Toot Chugga Chugga Big Red Car! (2020) • Lullabies with Love (2021) • Halloween Party (2021)
Spin-off Albums
Emma! (2015) • Carnival of the Animals (2016) • Dial E For Emma! (2016) • Lachy! (2016) • The Emma! & Lachy! Show (2018) • Emma! 2 (2019)
Digital-Exclusive Albums & EPs
Wiggly Barbershop (2020) • Emma's Bowtiful Ballet Studio (2020) • Le James Café (2020) • Sweet Dreams: White Noise Sleep Aid for Baby (2021) • Calm & Quiet: Soothing Sounds for Relaxing Baby (2021)
Live from Hot Potato Studios Soundtracks
Let There Be Rock-a-Bye Your Bear (2020) • Wash Your Hands (2020) • How Are You Today Friend? (2020) • Tiny Play Time (2020) • It's a Galloping Day! (2020) • Come & See the Animals! (2020)
Singles
Power Through the Day (2013) • Rise For Alex (2014) • NSW Blues Song! (2017) • The Toilet Song (2019) • Drum Chronology (feat. Kye Smith) (2019) • Big4 Wiggly Song (2019) • Singing Like A Rock Singer (2019) • Handwashing Song (2019) • Anthony Ant (2019) • Social Distancing (2020) • Brush Your Teeth (2020) • Little Wiggles Theme Song (2020) • Do the Propeller! (feat. Sesame Street) (2020) • Digital Party! (2020) • Click Go the Shears (2020) • The Twins Song - Double Happy (2020) • We're All Fruit Salad! (2021) • The ABC New Zealand Alphabet Song (feat. Robert Rakete) (2021) • Humpty Dumpty Sat On A Wall (2021) • The Wellerman (2021) • The Before You Go to Bed Song (2021) • We're All Fruit Salad! (Korean & English version) (2021)
Album Pre-release Tracks
The Alphabet Ballet (2019) • My Ballet Goat (2019) • I Am A Fine Musician (2019) • The Ants Go Marching (2019) • What's the Time, Mr Wolf? (2019) • E-M-M-A Theme Song (2019) • Emma's Hello Song (2019) • Here Come The Wiggles (2020) • Baby Shark (2020) • When I'm Painting (2020) • Skinnamarink (2020) • Trains, Planes and the Big Red Car (2020) • Rocket Ship (2020) • Emma's Bowmobile, Beep Beep! (2020) • Lullabies with Love (2021) • Googy, Googy, Baby Dorothy (2021) • Halloween Party (2021) • Toilet Paper Mummy (2021)

F

r

u

i

t

S

a

l

a

d

T

V

(2021-present)
First Lineup

(2021)

Evie

,

Anthony

,

Lachy

,

Kelly

,

Tsehay

,

John

,

Simon

and

Emma

Digital-Exclusive Albums
Fruit Salad TV (2021)
Second Lineup (2021-present)

Evie

,

Anthony

,

Lachy

,

Kelly

,

Tsehay

,

John

and

Simon

Digital-Exclusive Albums
Fruit Salad TV Christmas (2021)
Singles
Hey Tsehay! (2021)

Dorothy the Dinosaur

(2007-2012)
Dorothy the Dinosaur (2007) • Dorothy the Dinosaur's Memory Book (2008) • Dorothy the Dinosaur Meets Santa Claus (2009) • Dorothy the Dinosaur's Rockin' Christmas (2010) • Dorothy the Dinosaur's Travelling Show! (2011) • Dorothy the Dinosaur's Beach Party! (2012)
More from The Wiggles
The Kingdom Of Paramithi (2009) • ReWiggled: A Tribute to The Wiggles (2011) • Och Aye the G'Nu! (2017) • ReWiggled (2022)
Singles & EPs
Elephant (triple j Like A Version) (2021) • We're All Fruit Salad (triple j Live Recording 2021) (2021) • ReWiggled (EP) (2021)
Compilations
Christmas Classics (2006) • Hot Potatoes! The Best of The Wiggles (2009) • Hits And Rarities (2012) • Christmas Crackers! (2012) • Hot Potatoes! The Best of The Wiggles (2013) • Hot Potatoes & Cold Spaghetti! (2015) • The Best of The Wiggles on Vinyl (2016) • The Best of The Wiggles (2016) • We're All Fruit Salad!: The Wiggles' Greatest Hits (2021)
Samplers
The Wiggles (1999) • Celebrating The Wiggles' 10th Birthday! (2001) • Compliments of Brach's and The Wiggles (2003) • A Wiggly Music Sampler (2003) • Wiggle Bay (2003) • Milky, Milky, Milky (2003) • Toot Toot! 3 Bonus Songs (2004) • Magical Adventure! A Wiggly Movie: 3 Bonus Songs (2004) • Wake Up Jeff!: 3 Bonus Songs (2004) • Wiggle Into Apple-Healthy Snack Time (2005) • Snack Time is Wiggle Time With Mott's (2006) • 4 Song CD (2006) • Omo Colourlock Limited Edition CD Sampler (2006) • Getting Strong! & Dorothy the Dinosaur (2007) • Dorothy the Dinosaur's Memory Book (2008)
Books w/ CDs
Sing-a-long CD (2006) • We're All Friends (2007) • Play Piano with... The Wiggles (2007) • A Wiggly Sing-Along Box Set (2012) • Super Singalong Slipcase (2015) • Singalong Slipcase (2018)
Other Compilations featuring The Wiggles
ABC Kids
ABC For Kids: Greatest Hits (1991) • A Menagerie Of Songs All About Animals (1992) • More ABC For Kids Greatest Hits (1992) • Rock 'N' Roll Kids (1992) • ABC For Kids Live (1993) • Lots And Lots Of Great Music For Kids (1994) • Rock Roll Rap! (1994) • ABC For Kids Dance Party (1995) • Hottest Hits (2003) • ABC For Kids Hits (2004) • Best of ABC for Kids (2006) • ABC For Kids Favourites (2009) • ABC For Kids Favourites 2 (2010) • The Best of ABC for Kids (2013) • ABC for Kids TV Themes (2014) • The Best of ABC for Kids Volume 2 (2014) • ABC For Kids Christmas (2014) • The Best of ABC Kids Volume 3 (2015) • ABC Kids Christmas - Volume 2 (2015) • The Best of ABC Kids Volume 4 (2016) • ABC Kids Christmas Volume 3 (2016) • Sing and Learn (2017) • The Best of ABC Kids Volume 5 (2017) • ABC Kids Christmas Volume 4 (2017) • ABC Kids Let's Play! Holiday Fun with Friends! (2017) • ABC KIDS Listen (2018) • ABC Kids Hits (2018) • Christmas With ABC Kids (2018) • ABC KIDS Favourites (2019)
Playhouse Disney
Playhouse Disney 2 (2003) • Playhouse Disney: Imagine and Learn With Music (2005) • Disney Music Block Party (2008)
Christmas compilations
The Spirit of Christmas 1998 (1998) • The Spirit of Christmas 2003 (2003) • So Fresh Songs For Christmas 2005 (2005) • The Spirit Of Christmas 06 (2006) • Carols in the Domain: 25th Anniversary (2007) • So Fresh Songs for Christmas 2008 (2008) • My Favourite Christmas Songs (2010) • Greatest Ever! Christmas: The Definitive Collection (2010) • So Fresh Songs for Christmas 2011 (2011) • The Spirit of Christmas 2011 (2011) • My Christmas Album (2012) • So Fresh Songs for Christmas 2012 (2012) • Making Spirits Bright Christmas Charity Collection (2013) • The Spirit of Christmas 2014 (2014) • Making Spirits Bright 2014 Christmas Charity Collection (2014) • Superstar Christmas (2014) • Pop for Tots Christmas (2016) • 101 Christmas Classics (2017) • The Spirit of Christmas 2017 (2017)
Other compilations
Advance Australia Fair (1997) • Anthem - Celebration of Australia (1997) • The Andrew Denton Breakfast Show Musical Challenge (2000) • Andrew Denton's Musical Challenge 2: Even More Challenged! (2001) • Triple M Musical Challenge 3 – Third Time Lucky! (2002) • Pop Jr 2 - The Beginners Guide To Pop (2006) • Are We There Yet? Songs for a Great Car Ride (2007) • Pop Jr TV Songs (2008) • Koch Records March 2008 New Release Sampler (2008) • Hits for Kids Pop Party 4 (2008) • Ultimate Pop Jr. (2010) • Greatest Ever! Kids' Favourites (2010) • My Favourite Mini Disco Songs (2011) • My Favourite Party Songs (2012) • Music From The Home Front (2020)