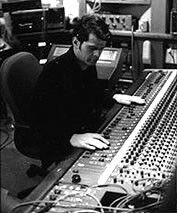 Robin Gist is a musician & engineer who worked on The Wiggles albums as listed.
CD Production History
Musician
Engineer
Songs Engineered
Wiggle Bay
Go to Sleep Jeff
Whoo Hoo! Wiggly Gremlins!
Top of the Tots
Cold Spaghetti Western
Santa's Rockin'!
Live Hot Potatoes!
Sailing Around the World
Here Comes the Big Red Car
It's Time to Wake Up Jeff!
Trivia
Robin mastered some of The Wiggles' albums such as LIVE Hot Potatoes!
Robin played guitars on some of the Wiggles' albums such as Wiggle Bay.