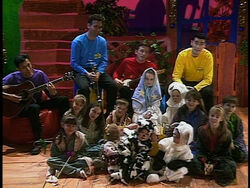 Silent Night is a Christmas song from Wiggly, Wiggly Christmas and Go Santa Go!. The original version that was written in German is called Stille Nacht, which was written by Franz Xaver Gruber .
Song Lyrics
Silent night, holy night
All is calm, all is bright
Round yon virgin, mother and child
Holy Infant, so tender and mild
Sleep in heavenly peace
Sleep in heavenly peace

Silent night, holy night
Shepherds quake at the sight
Glories stream from heaven afar
Heavenly hosts sing "hallelujah"
Christ the savior is born
Christ the savior is born
Song Credits
Trad. arr. M Cook/J Fatt/A Field G Page (EMI)
Trivia
Performances/Appearances
Video Performances
Album Appearances
Video
Community content is available under
CC-BY-SA
unless otherwise noted.