Simon is the current red Wiggle. He replaced Murray in 2013. He and Lachy are the two main vocalists of the current generation.
Character Information
Unlike Murray, the original red Wiggle, Simon does not play guitar but usually instead lead sings in new Wiggles' songs. He sings in a baritone and operatic voice. His favorite game to play is Simon Says.
Trivia
Simon sings opera much like Sam Moran and Paul Paddick.
He has an off-screen relationship with Lauren Hannaford. 
He was an understudy for Murray before he was officially a Wiggle.
He is afraid of cold water.
He got married to Lauren in 2017.
He is 14 years older than Lauren.
Unlike Emma and Lachy, Simon has never done a television show or released a DVD and album of his own.
He drove the Big Red Car in Fly Through the Sky.
Gallery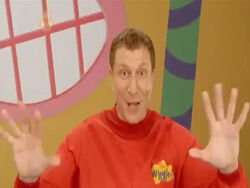 Click here to view the gallery.