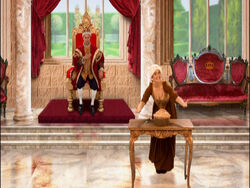 Sing A Song Of Sixpence is a Nursery Rhyme from Sing a Song of Wiggles and Nursery Rhymes 2.
Song Lyrics
Sing a song of sixpence,
A pocket full of rye.
Four and twenty blackbirds,
Baked in a pie.

When the pie was opened,
The birds began to sing;
Wasn't that a dainty dish,
To set before the king?

The king was in his counting house,
Counting out his money;
The queen was in the parlor,
Eating bread and honey.

The maid was in the garden,
Hanging out the clothes,
When down came a blackbird
And pecked off her nose.
Song Credits
Sing a Song of Wiggles
Trad. Arr. Murray Cook, Jeff Fatt, Anthony Field, Sam Moran, Carolyn Ferrie, Dominic Lindsay (Wiggly Tunes Pty Ltd)
Nursery Rhymes 2
Trad. Arr. Oliver Brian, Anthony Field, Lachlan Gillespie, Alex Keller, Simon Pryce, Emma Watkins (Wiggly Tunes Pty Ltd)
Trivia
An instrumental track of this song is played over the credits of the Sing a Song of Wiggles DVD.
On December 27th 2018, the song was uploaded on The Wiggles' YouTube channel.
Video
Community content is available under
CC-BY-SA
unless otherwise noted.